Tyrone Continues to Rumble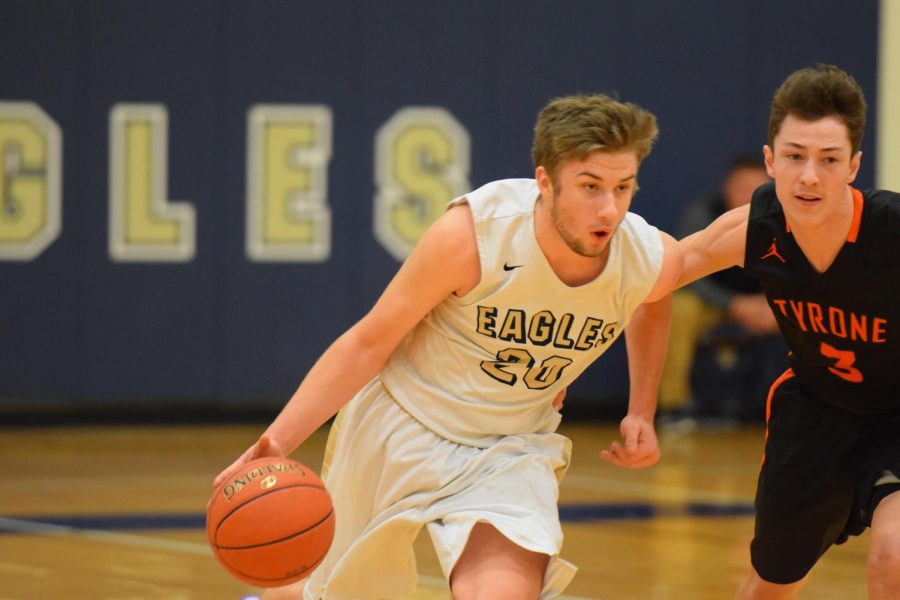 Tyrone refuses to be stopped by anyone so far this season, beating Penns Valley 76-45 to make them 3-0.
The first quarter started off slow and even with 11 points for both teams. Then in the second quarter, they blew Penns Valley out of the water scoring 21 to Penns Valley's 6 points.
Top scorers Damon Gripp with 25, Brando Lucas coming close with 21, and DeHaas finish it off with 11.
Tyrone ended up getting 26 rebounds and went 14-20 from the line, dropping 76 points. Penns Valley got 17 rebounds and went 6-10 from the line.
BOX SCORE
TYRONE (76): Gripp 9 2-2 25, Lucas 8 7-8 21, DeHaas 3 2-3 11, Hoover 1 1-3 3, Locke 0 1-2 1, Rhoades 2 0-0 5, Lang 3 0-0 7, Gampe 0 0-0 0, Gwinn 0 0-0 0, Legars 0 0-0 0, Johnson 0 1-2 1. Totals–26 14-20 76
PENNS VALLEY (45): Tobias 1 0-0 2, Braucht 9 1-2 23, Narber 1 1-2 4, Snyder 4 1-2 9, Aston 0 1-2 1, Emel 1 2-2 4, Culver 0 0-0 0, Crater 0 0-0 0, Niewinski 0 0-0 0, Brinker 1 0-0 2. Totals–17 6-10 45
SCORE BY QUARTERS
Tyrone 11 21 26 18 — 76
Penns Valley 11 6 15 13 — 45
3-point goals: Tyrone 10 (Gripp 5, DeHaas 3, Hoover 2, Rhoades, Lang); Penns Valley 5 (Braucht 4, Narber 1)
Records : Tyrone (3-0); Penns Valley (2-2)