Olivia Grugan Named 2019 Renaissance Teacher of the Year
Eight Tyrone teachers/staff members were nominated as the Renaissance Teacher/Staff Member of the Month this school year, but only one could be voted by TAHS students as the 2019 Renaissance Teacher of the Year.
This year the winner is Spanish and Social Studies teacher Mrs. Olivia Grugan.
"
Mrs. Grugan was probably the best teacher I've ever had and she will be greatly missed
— Chloe Sprankle
Upon receiving the award, Grugan beamed and was very appreciative. Grugan was named the September Teacher of the Month winner.
"It was a really nice surprise," said Grugan.
Tyrone students appreciate Grugan for being kind, involved, and very understanding.
"She's very interactive with her students," says sophomore Anna-Lynn Fryer.
Fryer and junior Nick Delbaggio were students in Grugan's DE psychology class this year.
"Her class is very involved, so you aren't listening to just speeches," said Delbaggio.
In addition to her duties in the classroom Grugan also served as the assistant Mock Trial Team coach, was the adviser for the Language Club, and hosted the school's first Mental Health Symposium.
The Mental Health Symposium came out of her psychology class and highlighted the importance of mental health, its effects on the body and well-being, and more. Students in the class wrote speeches similar to TED Talks™ with a mental health topic of their choosing.
A variety of talks were shown the whole week, such as Jaden Graham's talk about cults and their mentalities.
"I thought it was super interesting and encouraging for writers," said junior Megan Dale.
Grugan's impact as a teacher has been felt not only in Tyrone, but also outside of the country: specifically, in Palestine.
Before moving back to central Pennsylvania, where she is originally from, Grugan taught English as a second language in Palestine for three years.
"I learned a ton because my students' culture and history was different from my own," said Grugan. "So I felt like while I was a teacher, I was honestly just as much a student."
She made bonds with many students in Palestine and even stays in contact with a few. One of her former students, now an adult, even attended her wedding last summer.
"To have a former student show that kind of commitment was a real honor," said Grugan.
Unfortunately, Grugan announced this week that she will be leaving Tyrone High School at the end of this school year to take a job in the Pittsburgh area. She is doing this in order to be closer to her husband, who is in graduate school there.
"Mrs. Grugan was probably the best teacher I've ever had and she will be greatly missed," said Chloe Sprankle.
Overall, the Tyrone community was happy to have her as a member of the staff and wish her the best of luck in the future.
Leave a Comment
About the Contributor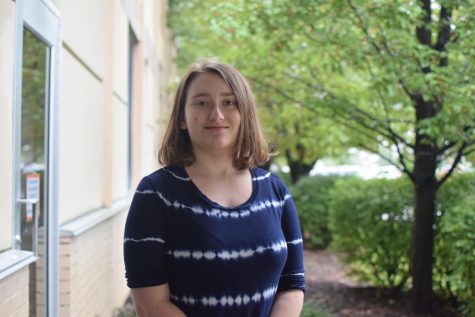 Taylor Laber, Staff Writer
こんにちは!僕はテイラです。

Oh wait, that's not English.

Hi, I'm Taylor. I don't normally do bios, but TL;DR, I'm a homosapien...