Longest Running Teacher of the Month: Sra Holly Sechler
In March of 2020, the Renaissance Club recognized Senora Holly Sechler as Teacher of the Month, and she continues to be recognized as such, allowing her to hold the record of the longest-running teacher of the Month with a total of 20 months that may continue to grow.
Sechler was initially chosen by the Renaissance Club for her positive attitude, amazing personality, fun Spanish lessons, dedication to her students and motherhood, kindness, bilingual ability, and her love of dogs, travel, and summer. These were stated in their list of "10 Things we Love About Mrs. Sechler" alongside her photo in the since forgotten Renaissance Club trophy case.
"I love teaching. It gives me such a feeling of satisfaction when students are able to connect ideas and concepts, especially in Spanish III & IV," said Sechler.
As a Spanish teacher, Sechler helps students break down language barriers. Likewise, the club that granted her the honorable title has since broken down. Mrs. Leah Deskevich used to run the Renaissance Club in Tyrone but resigned in 2013, after ten years of holding the position, to focus on instructional coaching duties.
"Former High School Principal Dr. Rebecca Erb asked me to apply for the Renaissance Club advisor position around 2003 or 2004," said Deskevich, "I held that position for ten or so years, enjoying the club homeroom (for the first year or so)..and years of truly encouraging Renaissance trustee meetings, where I met awesome Golden Eagle moms."
On top of selecting the Teacher of the Month, the club was in charge of organizing several other school events including the Icecream Sundae Bar, Holiday Door Decorating Contests, Read Across America, Talent Shows, Spirit Week, HS Awards Assembly, and the Senior Walk.
"
I trust that these programs will continue, regardless of who's at the helm
— Leah Deskevich
"I trust that these programs will continue, regardless of who's at the helm," said Deskevich.
Deskevich's successor was Mrs. Tiffany Johannides then Mrs. Cynthia Isenberg. However, the club would seem to dissolve after Isenberg resigned, "a long time ago". The board advertised for an advisor and no one applied.
Despite this setback, her trust appears to be well kept as some of the other clubs, specifically the Youth Action Network (YAN), Golden Revolution, and Student Council, appear to have taken the torch from Renaissance Club and are continuing to organize some of these events.
"Renaissance has been changed into Golden Revolution and is pretty much run by students," said Golden Revolution and YAN president Paige Shultz. "Golden Revolution doesn't host as many events as they used to because of COVID…what [we] have been doing this year is the GOLDEN raffle…our goal is to motivate students to be the best they can be and these incentives usually encourage that."
The main goal of these clubs and organizations is to motivate students and staff with incentives and rewards for their dedication to the school and their careers.
Sechler may continue to be rightfully recognized as the "Teacher of the Month" for many more months, but there must be action taken to memorialize the club that started this all and not let its legacy be forgotten.
Leave a Comment
About the Contributor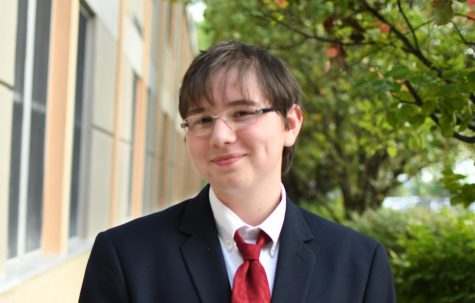 Steven Sessamen, Staff Writer
Salutations, my name is Steven and I'm a sophomore Eagle Eye staff member. I hope to give to you fun and interesting articles for this 2019-20 school year....