BG varsity hockey goes 1-0-1 for the week
Tyrone has eight players on the roster of the BG Marauder Ice Hockey Team
Editor's Note: The Eagle Eye's mission is to cover as many Tyrone Area High School student activities as possible. Thanks to Tyrone sophomore and BG hockey player Zac Jamison, we are pleased to begin covering Bishop Guilfoyle Ice Hockey in the Eagle Eye this week. Look for weekly Ice Hockey game stories and occasional features in the Eagle Eye this winter.
---
Despite the fact that the Tyrone Area School District does not field a varsity hockey team of its own, high school hockey is alive and well at Tyrone High School.
Similar to Tyrone and Bellwood's cooperative agreements for soccer, swimming and tennis, varsity hockey is a cooperative team sport made up of players from multiple school districts. The current Bishop Guilfoyle Marauder squad has athletes from five area high schools: Bishop Guilfoyle, Tyrone, Bellwood, Great Commission, and Northern Bedford.
Unlike Tyrone's other cooperative sports, the BG Hockey team is not affiliated with the PIAA.  It is a club team that plays in the Laurel Mountain Hockey League, competing against teams from Altoona, Central Cambria, Conemaugh Valley, Forest Hills, Hollidaysburg, Johnstown, Richland, Somerset, and State College.
There are currently eight Tyrone students playing for the Marauders: Dalton Berry, Noah Taylor, Jack Lehner, Trevor Fink, Zac Jamison, Jeremy Maier, Nick Bonsell, and Trent Bogert.
With a 3-1-0 record coming into the week, the Marauders Ice Hockey club won a game and tied a game, scoring seven goals and giving up only four. Last week the Marauders beat Forest Hills 4-1 on Tuesday (12-15) and tied Conemaugh Valley 3-3 on Thursday (12-17), bringing their overall record to 4-1-1.
Bishop Guilfoyle 4, Forest Hills 1
12/15/15
Dalton Berry was the only Tyrone player to have a point in this weeks games, tallying his first assist of the season in the win Tuesday night. BG dominated in play only allowing one goal 6:25 into the second period.
This win gave them another two points in the standings putting them in fourth on Wednesday.
Scoring Summary:
Marauders
Jack Barnes (2): Dalton Berry, Alex Lieb
Trevor Jamison (1): unassisted
Dan Landon (2): unassisted
Alex Lieb (1): unassisted
Rangers
Robert Bambino (8): unassisted
---
Conemaugh Valley 3, Bishop Guilfoyle 3
12/17/15
No Tyrone players scored in Thursday's game, but Dan Landon (BG) had a superb week adding four of his five points, three of which came Thursday.  
Landon scored two goals in the second period tying the game at two only 5:51 into the second period, but only 3:01 later Dylan Valinsky (CV) helped Conemaugh Valley regain the lead.
The late game heroics came from Alec Bakale (BG) when he score with 1:12 left in the game, helping BG walk out of the rink with a tie.
After this week, BG stands in 5th place in the standings with nine points in six games.
Scoring Summary:
Marauders
Dan Landon (3): unassisted
Dan Landon (4): Jack Barnes
Alec Bakale (1): Austin Klinger, Dan Landon
Conemaugh Valley
Trey McGough (12): unassisted
Nicholas Letosky (2): Troy Hamula — PP
Dylan Valinsky (4): Marshall Kurchak
Upcoming games:
The Marauders are in action next at Galactic Ice in Altoona on the following days:
Monday,

1-4-16 at

 

7:00pm

vs. Greater Johnstown

Thursday

, 

1-7-16 at 

 

6:00pm

vs. Hollidaysburg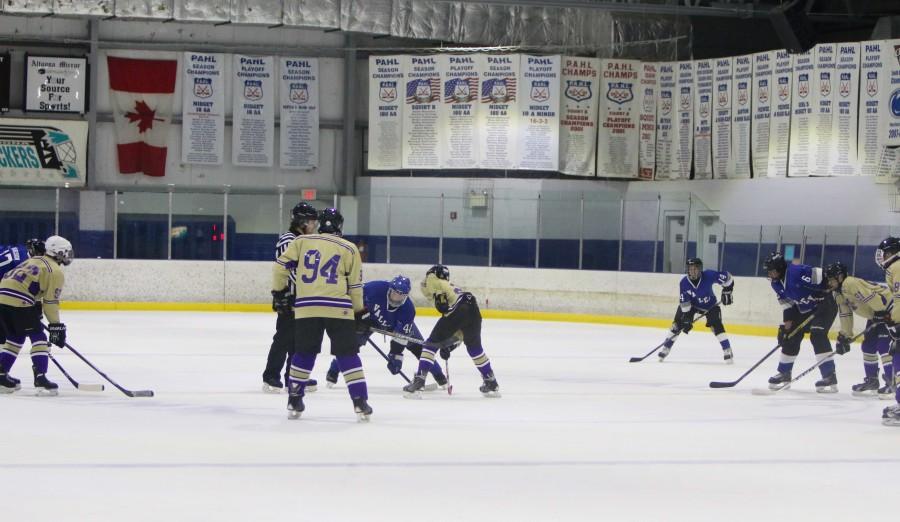 Leave a Comment