BG Marauder Hockey gets historic win over rival Altoona
The 5-3 win was a first for the BG Marauders
On Monday the Bishop Guilfoyle ice hockey club faced the 9-5-0 Altoona Mountain Lions, a team that BG had never defeated. In their first meeting of the season, Altoona topped BG 5-1.  But this time the Marauders turned tables on the Mountain Lions to notch the program's first win over their cross-town rivals, 5-3.
"We were all really excited after the game.  We lost to them pretty badly the first time and to come back and defeat them felt pretty good," said sophomore winger Zac Jamison.
It was mostly back and forth throughout the game, BG would score and Altoona would respond.  BG's John Will started the scoring with a rebound goal. He scored again in the second period to help BG regain the lead after a Catcher Cumming goal for Altoona.
Tyrone freshman Dalton Berry scored his second goal of the year in the last minute of the second period, giving BG a 3-2 lead heading into the second intermission.
Altoona would tie it up again halfway through the final period on a Nate Della goal, but BG's Dan Landon broke the tie only three minutes later to give the Marauders a 4-3 advantage.
Holding on tightly to the lead heading into the last 90 seconds of the game, Altoona pulled the goalie to add an extra skater, giving them a 6-on-5 advantage. That plan failed as BG's Ben Oakley wrestled the puck from the Altoona offense and scored an empty net goal to put the game away for the Marauders.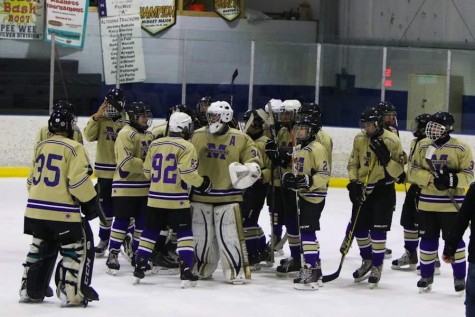 Scoring Summary
Marauders
John Will (1)- (unassisted)
John Will (2)- (Austin Klinger, Ben Oakley)
Dalton Berry (2)- (Dan Landon)
Dan Landon (8)- (unassisted)
Ben Oakley (3)- (Dan Landon)
Altoona
Catcher Cumming (16)- (AJ Thompson)
Cam Yoder (14)- (Cole Yeackely, Cameron Yeackely)
Nate Della (6)- (Catcher Cumming, AJ Thompson)
Leave a Comment