Marauders Ice Hockey Season Preview
This season's BG ice hockey squad features five members of the Tyrone Class of 2019
While Tyrone doesn't field a hockey program of its own, the sport has been making its presence known in our high school for years, especially among the class of 2018.
A group of five Tyrone seniors quietly look to make an impact at the varsity level in the upcoming 2018-2019 season for the Bishop Guilfoyle Marauders ice hockey team.
The gang of Tyronians includes Dalton Berry, Noah Taylor, Trevor Fink, Wyatt Miles, and Jack Lehner are waiting in anticipation for the start of their last year of high school hockey, and with preseason practices underway as of September 20th, a new year of hockey is closer than ever.
"
I've been around this program for a long time, there are 5 kids from Tyrone who are seniors this year… Tyrone hockey players have been part of BG for a long time and you have some great players coming out of there. "
— Gary Landon
Head coach Gary Landon, who's entering his 6th year at the Marauder's helm has high praise for Tyrone's hockey players, current and alumni alike.
"Tyrone players have been part of BG hockey for a long time and you have some great players coming out of there. Trent [Bogert] and Ambrose Aquadro are both playing club hockey with Penn State. I also have very fond memories of [the current group of seniors] and frankly, I'm going to miss them. I hope to have success with them this year," said Landon.
The Marauders scrimmaged State College on September 27 to give a slightly retooled but experienced Marauders squad up to game speed prior to the season's start in mid-October. While no score was kept, the Marauders got a taste of what regular season play should look in the upcoming 18′-19′ season.
While there is much to work on as far as stylistic elements for the team, there were many positive moments and learning opportunities for the Marauders to take away from the Thursday night exhibition.
Until the season is officially underway, the Marauders will take part in weekly 50-minute half ice practice sessions to better prepare plays and solidify line combinations.
The Marauders look to build off of the success of last season.
They qualified for the playoffs last season and made it to the semifinal round, where they lost to Greater Johnstown. Tyrone's senior class of players are going to work toward making an appearance in the Laurel Mountain Hockey League finals game in which Altoona beat Johnstown to capture their second title in as many years this past season.
Friends of players and hockey fans alike are encouraged to attend home games and support their local seniors.  The season begins October 16th with an away game against Somerset.
After a five-game road stretch, the Marauders host Altoona at Galactic Ice for their home opener on November 20th.
The 2018-2019 schedule is as follows: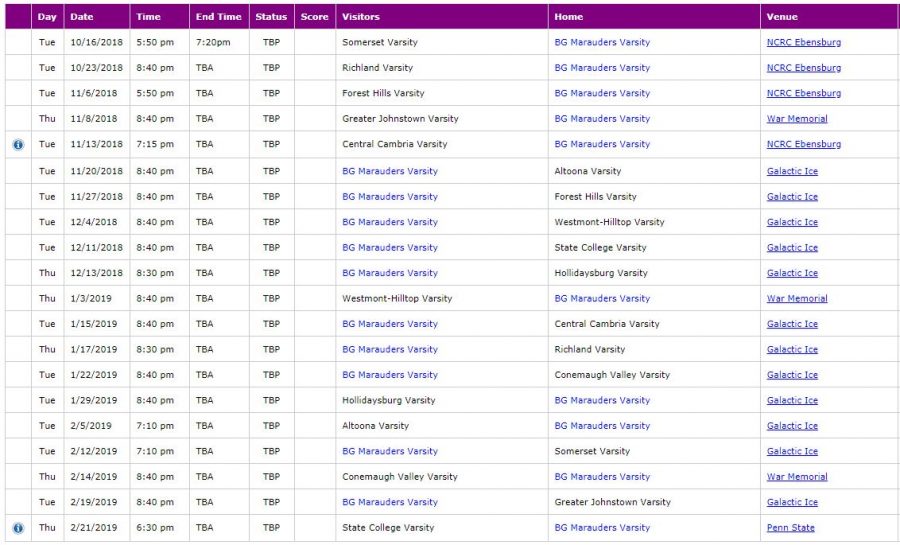 .
About the Contributors
Noah Taylor, Staff Writer
My name is Noah Taylor and I'm a senior at Tyrone High School. I'm a huge fan of hockey and have played the sport for about six years. I'm an avid...
Meghan McMullen, News Editor
Oh, hi there! My name is Meghan McMullen, I'm a senior here at Tyrone and this is my second year in Eagle Eye News. At school, I'm involved with a lot...