Senior Damon Gripp Joins Tyrone's 1000 Point Club
Gripp becomes the 10th boys player in school history to reach 1,000 career points.
Senior Damon Gripp claimed his spot among the most elite players in Tyrone basketball history last Wednesday by scoring his 1,000th career point on a free throw at the end of the first half in the win over Central High School.
Gripp joins a group of just nine other Tyrone players to reach the 1,000 career points mark, including his brother Brandon, who is second on the career points list with 1,470 points.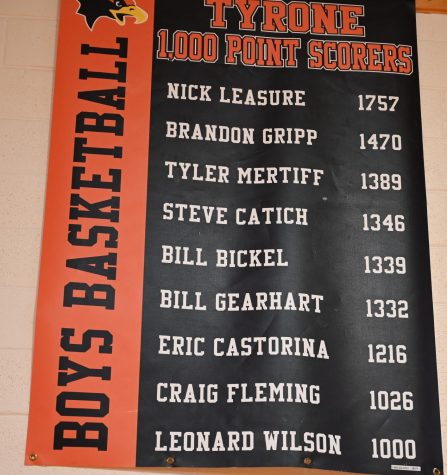 "I have put so many hours into basketball and to see it all pay off at the beginning of this season was really exciting for me," said Gripp.
Gripp was the top scorer for Tyrone against Central as Tyrone improved their record in the Mountain League 3-0 with an overall record of 3-1. Gripp had 18 points, 14 of them in the first half.
For Tyrone Head Coach George Gripp it was a particularly proud moment, both as a coach and a father.  
"Through his hard work and dedication to the sport, he made this goal of his achievable. You don't get to this point without spending hours and hours in the gym with your team and countless hours by yourself fine-tuning your skills. No matter what other sport he played, he always found time to get a basketball in his hand and work 6 days a week," said Coach Gripp.
Gripp has been a four-year starter for Tyrone and has made an impact in every game he has played. He is currently ranked 14th in the state averaging 20.5 points per game.  
"Damon is very deserving of this achievement, after all the hard work he's put in for many years. It was a cool moment for all of us," said senior teammate Blaine Hoover.
Although reaching 1000 career points is a huge accomplishment for Gripp, it's not something he is going to dwell on.  His focus has been on the team's goals. 
"His main focus is getting the team's goal of a District title to Tyrone and a run in states," said Coach Gripp.
View Comments (1)
About the Contributor
Kelton Raabe, Sports Editor
Kelton Raabe is a man of many talents. His hard work has earned him a promotion to Sports Editor in his third year on the Eagle Eye staff. You can catch...