PSU Students Offer Free Medical Clinic in Tyrone
The clinic is open every other Saturday
LionCare is a free health clinic held at the office formally known as Tyrone Medical Associates that is run by students of the Penn State Medical and Nursing Schools.
Healthcare is provided to patients of all ages, regardless of insurance or ability to pay. Services that are available include general and mental health check-ups, sick visits, and adult work and driver's physicals.
"
LionCare wants one main message to be sent to the members of the Tyrone community: ALL patients are accepted regardless of insurance state and ability to pay."
Clinics are held every other Saturday from 9:00 AM – 1:00 AM  at 221 Hospital Drive, Suite 6. Patients are accepted on a walk-in basis.
The clinic is staffed by Penn State-affiliated third and fourth-year medical students and nurse practitioner students who see patients under the supervision of practicing physicians and nurse practitioners.
"For us, this is a great opportunity to perfect our clinical skills and learn from our patients. It also allows for medical students to experience the administrative aspects of running a free clinic," said PSU medical student and LionCare clinic volunteer Ali Saher. "Finally, it is the best way for us to meet and work with community members. We feel that is it imperative for medical students to know about their community before they can serve it."
The clinic opened in March 2016 when two medical students and a Penn State faculty member wanted to replicate the LionCare clinic in Hershey, PA.
The staff faced numerous obstacles getting started, the main one being location. After considering many sites in the area, the founders of LionCare met with the Tyrone Hospital administration and made a plan for the new clinic. Since then, both parties have been working to continually develop the clinic to the best of its ability.
Other obstacles have been apparent throughout the past two years include issues with funding, advertising, patient numbers, and limitations to the services that the members are able to provide.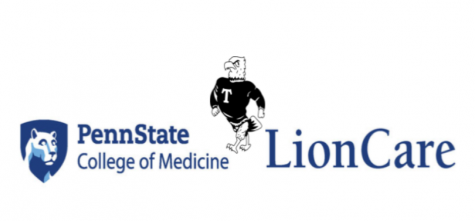 LionCare members are working hard towards obtaining more funding so that the services available can be expanded. Advertising has also been an issue, so the staff would like help from the community to spread information about LionCare to anyone who could benefit from their services.
LionCare is the only Penn State student-run clinic in the area and provides services regardless of insurance or ability to pay, which makes LionCare different than most of the clinics in the area.
This free clinic is not only benefitting members of the community, though. Medical students at Pennsylvania State University are also in on this great experience.
For more information about the Tyrone LionCare health clinic visit http://lioncaretyrone.wixsite.com/lioncaretyrone/about , or visit their Facebook page at https://www.facebook.com/lioncaretyrone/ or email LionCare Tyrone ar [email protected] with questions.
View Comments (1)
About the Contributor
McKenzie Johnson, Features Editor




My name is McKenzie Johnson, I am a senior here at Tyrone and this is my first year in Eagle Eye News. Outside of school, you can find me at the...