Lady Eagles Clinch First Mountain League Win of the Season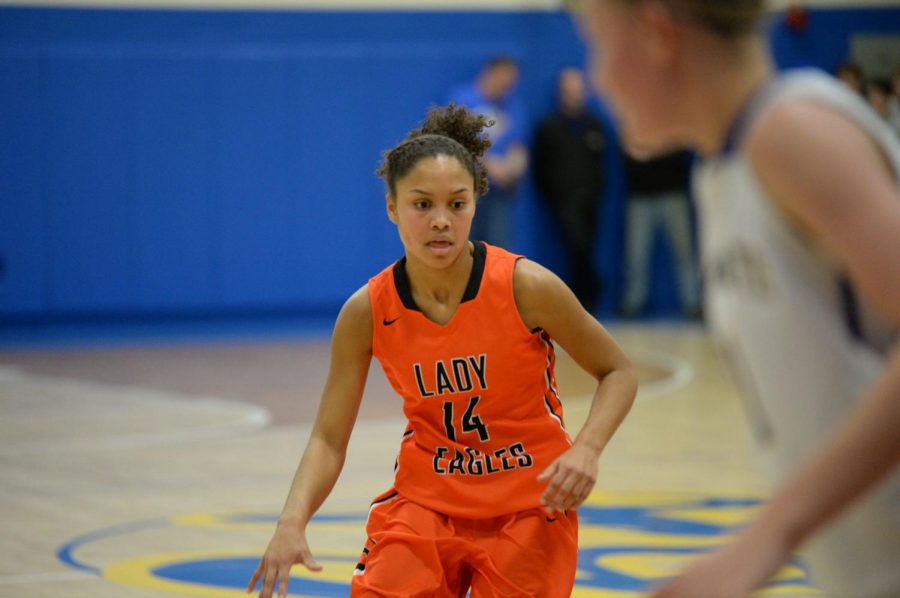 The second game of the season may have been the Lady Eagles' first win, but it did not go exactly as they had hoped. Sydney Shaw once again led all scorers with 20 points knocking down 3 threes, but as a result of some sloppy team play and foul trouble the 59-44 outcome was closer than they expected.
The Lady Eagles were feeling it from outside the arc as they hit nine threes as a team.
The first quarter was dominated by the Lady Eagles. They outscored Bellefonte 16-7.
"
We shot the ball well early but we didn't make a few big momentum plays and left them hang around"
— Coach Rhoades
"We shot the ball well early but we didn't make a few big momentum plays and left them hang around," said Coach Rhoades.
Both teams scored the same amount of points in the second quarter, giving Bellefonte a big momentum swing going into half time.
Other factors also did not go the Lady Eagle's way Tuesday night were turnovers and missed foul shots.
The Lady Eagles had a combined total of 19 fouls, 20 turnovers and went 12 for 25 from the foul line.
"I think we could have executed the offense better, had less turnovers, and played better defense," said freshman Stephanie Ramsey, who finished the night with 10 points.
Even though the girls did not do as well as they thought they would, a win is a win. They hope to build off of this game and focus on the next instead of dwelling on the past.
"We played well, but I think we definitely could've played better. There's room to improve," said freshman Jaida Parker.
The win puts the Lady Eagles up 1-1. They look to clean up some of their mistakes from this game as they travel to Penns Valley Friday night to become one step closer to winning the Mountain League. The game starts at 7:30 for varsity.
BOX SCORE
TYRONE (59): Ramsey 3 3-5 10, Fusco 1 2-4 4, Ronan 1 0-0 3, Parker 4 0-0 9, Sy. Shaw 6 4-6 20, Sh. Shaw 1 0-0 3, Getz 1 3-7 5, Saltsgiver 0 0-0 0, Johnson 2 0-0 5, Welsh 0 0-3 0. Totals – 19 12-25 59
BELLEFONTE (44): Steiner 1 1-2 3, Smith 8 3-3 20, Tice 2 1-2 7, DeHaas 1 0-2 2, Kerr 0 4-6 4, Galdnell 1 0-0 2, Johnson 0 2-2 2, Corman 0 0-0 0, Lauck 2 0-0 4. Totals – 15 11-17 44
SCORE BY QUARTERS
Tyrone 16 16 15 12 — 59
Bellefonte 7 16 10 11 — 44
3-point goals: Tyrone 9 (Sydney Shaw 4, Ramsey, Shannon Shaw, Ronan, Parker, Johnson ), Bellefonte 3 ( Tice 2, Smith )
About the Writer
Brooke Welsh, Staff Writer
Hello, my name is Brooke with an "e" and I decided to join Eagle Eye this year to experience something new! I am a senior and surprisingly this is...