Tyrone Loses Hold of Mountain League Lead
Tyrone boys basketball team had a chance to take their third straight Mountain League Championship on Tuesday but a 59-42 loss to Bellefonte means they will need a win Friday against Bald Eagle and get some help from Clearfield to win the title.
The game started out fairly well for the Golden Eagles with senior guard David Lang scoring the first points of the game with a three from the top of the key. The Red Raiders immediately followed with three of their own and two more scores on their following possessions compared to none for Tyrone.
Tyrone and Bellefonte matched the rest of the quarter. Tyrone forward Keegan Gwinn had 8 points in the first quarter and helped propel the Eagles to a 14-12 lead.
The second quarter was slow for the Golden Eagles only scoring 5 points and going into the half down 22-19.
The third quarter is where it got really hazy for the Golden Eagles. Tyrone allowed Bellefonte to go on a 15-0 run to start the quarter, really putting it out of reach for Coach Gripp and his squad.
At the end of the third quarter, Tyrone had a sluggish offense for the second straight quarter and only put up 6 points compared to Bellefonte's 22 points. The score was 44-25 heading into the 4th quarter and the Eagles were going to have to put on a press and run around hard playing great defense.
Tyrone started the quarter out good scoring on their first four possessions but the Red Raiders had scored on three of their four so it was still a 20 point game around the four-minute mark.
Tyrone could not pull off the comeback win against Bellefonte with a final score of 59-42.
Notable for Tyrone were high scorers Seniors and Keegan Gwinn each with 12.
The boys will travel to Bald Eagle Friday for one last Mountain League matchup to gear up for the District VI playoffs. Tip-off is secluded for 7:30.
BOX SCORE
TYRONE (42): Lang 3 0-0 9, Rhoades 1 2-4 5, DeHaas 5 1-12 12, Gampe 3 0-2 6, Gwinn 5 0-0 10, Walk 0 0-0 0, LeGars 0 0-0 0, Johnson 0 0-0 0. Totals — 17 3-8 42.
BELLEFONTE (59): Kroell 4 3-4 12, Way 5 2-3 13, Ebeling 1 0-0 3, Crissmen 3 1-2 7, Brungard 2 1-2 5, McCaslin 1 0-0 3, Eckley-Jones 5 6-6 16. Totals — 21 13-17 59.
SCORE BY QUARTERS
Tyrone 14 5 6 17 — 42
Bellefonte 12 10 22 15 — 59
3-point goals: Tyrone 5 (Lang 3, Rhoades, DeHaas); Bellefonte 4 (Kroell, Way, Ebeling, McCaslin).
Records: Tyrone (14-7); Bellefonte (16-3).
JV: Tyrone, 60-54. High scorers–Walk, T, 16.
Leave a Comment
About the Writer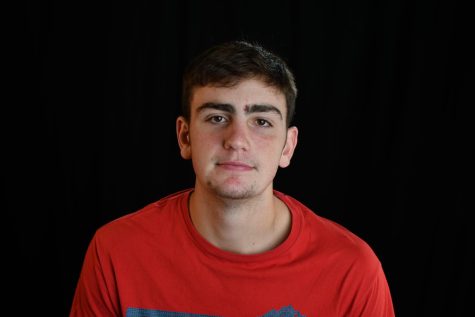 Keegan Gwinn, staff writer
Keegan Gwinn is in his first year in Eagle Eye, and is also a senior. His interests and hobbies are golfing, and sports. Plans after high school are to...