Bearcats Best the Golden Eagles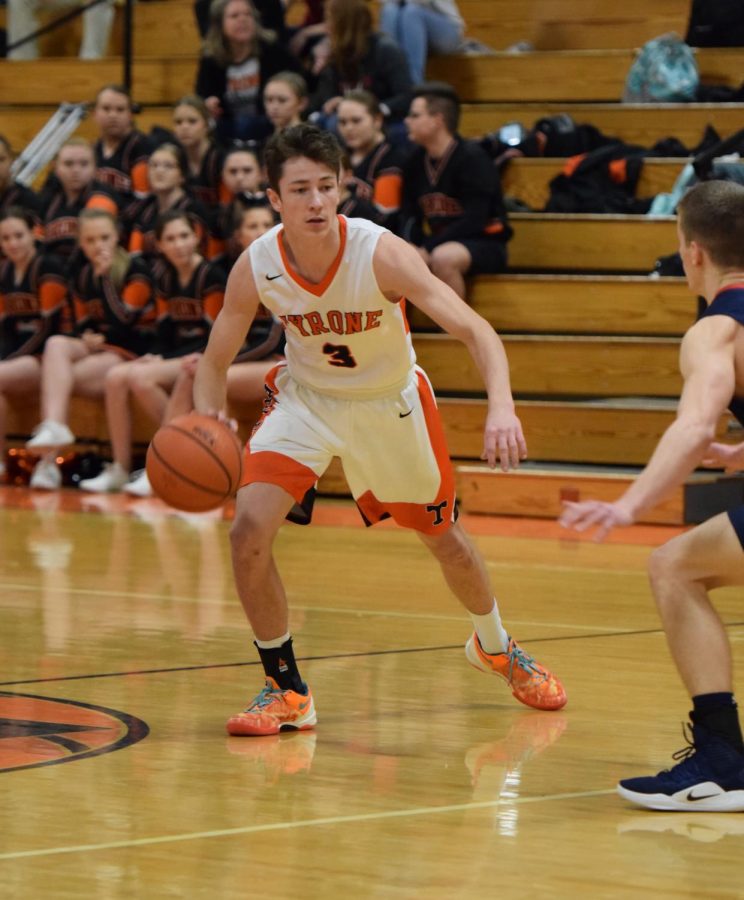 In their first game without its starting point guard Jake Taylor, who was lost for the season due to an injury sustained at practice last week, the Tyrone Golden Eagles lost to the Huntingdon Bearcats in a close contest, 59-48. 
Freshman Landon DeHaas started in Taylor's absence, scoring eight points.
Tyrone started slow, losing the tip and the lead the until the closing minutes of the first quarter.
The Eagles gained the lead by the end of the first quarter. Both teams then scored 12 points in the second quarter with Tyrone still leading 27-21. 
In the third quarter, Huntingdon gained momentum, tying the score at 40.
"
Even though we lost it was a hard fought game so it's not a loss we can hang our head on"
— Sophomore Blaine Hoover
In the nail-biting fourth quarter, both teams were neck-and-neck. The Bearcats dominated Tyrone scoring 18 points and holding Tyrone to 8. The Bearcats defense became too strong for the Golden Eagles and contained their many players.
"Even though we lost it was a hard fought game so it's not a loss we can hang our heads on," said sophomore Blaine Hoover.
Sophomore Brandon Lucas, who scored five on the night, said that both losses should improve their chances of winning against the Bearcats. He also hopes to see them again in the playoffs.
The Bearcats are currently undefeated with a record of 17-0.
Sophomore Damon Gripp lead the team in points with 16 and also helped the team on defense with multiple steals.
"It's the same thing every time we play a good team. We play them neck-and-neck. It comes down to just executing. Some of that can be attributed to youth," said Tyrone Head Coach George Gripp.
BOX SCORE
HUNTINGDON (59): Ritchey 5 5-7 15, Gearhart 5 3-6 14, Lane 0 0-0 0, Sulesky 2 0-0 4, Rigby 9 2-4 24, Miller 1 0-0 2. Totals — 22 10-17 59.
TYRONE (48): Gripp 6 3-4 16, Lucas 2 1-2 5, DeHaas 3 0-1 8, Hoover 3 4-4 10, Ferguson 0 2-4 2, Rhoades 2 0-0 5, Moon 1 0-0 2. Totals — 17 10-15 48.
SCORE BY QUARTERS
Huntingdon 9 15 19 19 — 59
Tyrone 15 12 13 8 — 48
3-point goals: Huntingdon 5 (Rigby 4, Gearhart); Tyrone 4 (Gripp, DeHaas 2, Rhoades).
Records: Huntingdon (16-0); Tyrone (9-6).
JV: Tyrone, 78-56. High scorers–Harman, Via (H) 11; Rhoades (T) 31.
About the Writer
Kelton Raabe, Staff Writer
Hello, my name is Kelton Raabe. I am Junior at Tyrone. This is my second year in Eagle Eye. I am a part of the prestigious boy's varsity soccer team and...