Tyrone XC Wins Altoona Invitational
The Golden Eagle Cross Country team had a busy but successful opening week for the 2020 season, the highlight of which was a first-place finish in their division at the annual Altoona Mountain Lion Invitational on Saturday, September 19.
Tyrone's top finisher for the boys was senior Garin Hoy, who placed ninth overall with a time of 17:45. Junior Colton Fink was thirtieth with a time of 19:05. Junior Adam Detwiler placed 40th with a time of 19:56. Senior Blaine Hoover placed 41st with a time of 20 minutes flat, senior Ian Imler placing 45th with a time of 20:14, junior Rory Quigley placing 52nd with a time of 21:25, and senior Andrew Savino placing 62nd with a time of 22:15.
"
I thought the girls team did well for our first meet, we all did a great job of staying together
— Stephanie Ramsey
Tyrone's top finishers for the girls were junior Beth Pearson, who placed 17th with a time of 23:54, junior Marissa Lewis placed 20th with a time of 24:07, senior Ella Pearson placed 21st with a time of 24:12, junior Stephanie Ramsey placed 28th with a time of 25:05, and senior Paige Webster placed 63rd with a time of 30:57.
Twenty teams from across the region competed at the event, including Altoona, Windber, Juniata Valley, West Branch, Penns Valley, Cranberry, United, Bellwood Antis, Hempfield, Hollidaysburg, Bellefonte, Conrad Weiser, Grier School, Marion Center, North Star, Northern Bedford, Penns Manor, Purchase Line, and Portage.
Last Saturday the Golden Eagle boys and girls finished second at a tri-meet against Penns Valley and Moshannon Valley.
On Tuesday, September 15th the Golden Eagles lost to Bellefonte.
The home tri-meet resulted in Tyrone placing second out of the three teams. The Golden Eagles suffered a 21-9 loss to the Penns Valley Rams, but got the win over the Moshannon Valley Black Knights with the clean sweep.
The top finishers for the Tyrone boys were senior Garin Hoy at 18 minutes and 15 seconds, then junior Colton Fink with 19:55, next was Blaine Hoover with a 20:32 followed by junior Adam Detwiler with a time of 20:47, and finally senior Ian Imler with a strong time of 21:14.
The top finishers for the Tyrone girls were junior Marissa Lewis at 23:38, sophomore Beth Pearson with 23:43, junior Stephanie Ramsey with a time of 25:25, senior Ella Pearson with 25:32, and senior Laura Kohler with a strong finish at 32:30.
"I thought the girl's team did well for our first meet, we all did a great job of staying together," said junior Stephanie Ramsey on the opening race.
Tyrone's trip to Bellefonte resulted in another tough 40-75 loss to the Red Raiders. With Bellefonte being part of the Mountain League, that will make Tyrone's goal of winning the mountain league a lot more difficult.
The leaders for the boys have been consistent so far with Hoy on top with a 18:30, Fink running closely behind with a 19:57. Finishing third for the boys was Blaine Hoover with a time of 20:02. Coming in 4th and 5th for the team Detwiler and Imler bring it home with times of 20:29 and 20:30.
Although the girl's team had a couple of changes with Ella Pearson finishing 1st at 23:47. Finishing 2nd and 3rd again Beth Pearson and Stephanie Ramsey coming in at 25:00 and 25:22, next was Marissa Lewis with a strong time of 25:47, and placing 5th for the team again was Laura Kohler with 31:55.
"Bellefonte was a tough team, and even though we lost our team ran very good times," said senior Blaine Hoover.
Leave a Comment
About the Contributor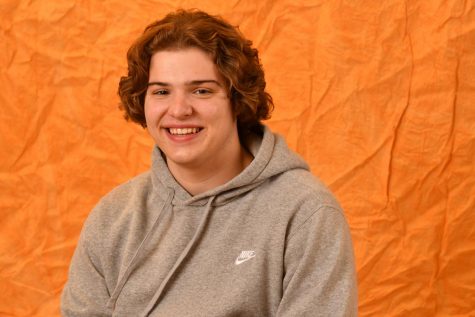 Andrew Savino, staff writer
Andrew Savino is part of the wonderful senior class at Tyrone High. This is Andrew's first year on the Tyrone Eagle Eye News team. Andrew loves to be outside...