Tyrone Swimmers Record Double Win VS. Bellefonte in Season Opener
Bishop Guilfoyle sophomore Blake Slobodnik was a double winner for the boys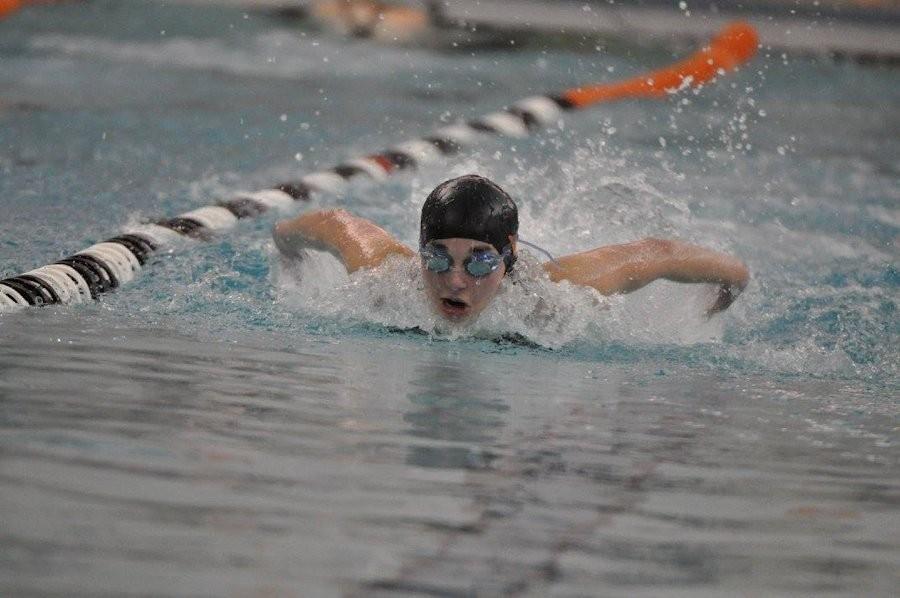 Tyrone swimming opened the season with a double win as the boys and girls both defeated Bellefonte at the Penn State Natatorium in State College on Thursday night.
The boys meet came down to the final event which led them to a 76-68 victory while the girls cruised to a comfortable 93-65 victory.
To download a PDF with the full meet results click below:
Bellefonte vs Tyrone swimming 12-10-15
Tyrone girls 93, Bellefonte girls 65
"The girls had a strong showing," said Assistant Coach Justin Brown, "anything can really happen in PA swimming. The seconds, thirds, fourths and fifths were really big factors in this meet. We didn't have a star, but rather a team collaborative effort."
"
Anything can really happen in PA swimming. The 2nds, 3rds, 4ths, and 5ths were really big factors in this meet. We didn't have a star, but rather a team collaborative effort"
— Assistant Coach Justin Brown
First place winners for the Lady Eagles were Bellwood Junior Abby Luensmann in the 50 free (30.13), Emma Hoover in the 200 free (2:42.50), Emily Beam in the 200 IM (2:45.34), Allison Hosko in the 100 back (1:26.11) and Gwen Dougherty in the 100 Breaststroke (1:27.87).
Unfortunately for the girl's relays, there were no first place finishers, but they got second or third in each of the three relays.
"I was very impressed with my 100 breaststroke time," said Bellwood freshman Dougherty about her time of 1:27.87, only two seconds away from the District qualifying time.
Even the first time swimmers did a great job and were excited for the team's first win of the season.
"The girls did better than I thought," said junior Maddie Branstetter. "[I liked how] the team cheered and supported one another during events. As for my first high school meet, I did good, but I definitely have a lot to improve on."
Tyrone boys 76, Bellefonte boys 68
"The boys ran away with a great meet with only eight swimmers," said Brown. "We had some good swims. The deciding factor of the meet was when swimmer Ben McConnell won the 100 breaststroke by .02 seconds."
According to Brown, a big help for the boys team was being able to have two relays in the water. The boys took two out of the three relays from Bellefonte, scoring eight points each.
A double winner from the boys team was Bishop Guilfoyle sophomore Blake Slobodnik in the 200 free, with an impressive time of 2:06.38 and the 500 free (5:59.07). Slobodnik qualified for Districts in both the 200 and 500 free.
"
"[The boys team] stepped up when we needed to. We won key events that led us to win the meet"
— Senior Ben McConnell
"I need to fix my stroke for freestyle because of my cast last year," Slobodnik said. Halfway through last season, his arm was in a cast, but continued to swim anyway. Now with the cast off, he hopes to get back to his normal speed.
"It was really cool that [the boys] finally won the first meet," he added.  According to Slobodnik, the boys team haven't won the opening meet in a while.
The other winner for the boys was senior McConnell, who won the 100 breaststroke in a very close race. McConnell defeated his opponent by only .02 seconds, and his winning time of 1:11.99 already qualifies him for the district championship meet.
Both teams hope for another win against Clearfield on home turf this Tuesday and Friday with Ligonier.
About the Contributors
Hannah Gampe, Editor in Chief
Hello! My name is Hannah and I'm (finally) a senior at TAHS. I hope to be writing the swim stories and other student and alumni spotlights. This is my...
Samantha Aungst, Staff writer
Hi, I'm Samantha and I'm a senior here at Tyrone. This is my first year writing for the Eagle Eye.  I also participate in the high school marching band...