Tyrone Senior Earns Full Tuition Scholarship to Syracuse
For every student-athlete who receives an athletic scholarship, there are many more who earn scholarships of similar or greater value as a result of their hard work and talent in academics and extracurricular activities. Unfortunately, these academic stars often receive less attention and accolades for their accomplishments than their athletically gifted classmates.
Tyrone senior Hailey Vanish is a perfect example of a student whose academic and extra-curricular achievements have earned her a prestigious academic scholarship.
"
Don't limit yourself to the colleges that your friends are planning on attending. Look at all the opportunities that are available to you and what different colleges have to offer before deciding where you want to go"
— Hailey Vanish
Vanish will attend Syracuse University in the fall on a full tuition scholarship worth over $58,000 a year.
Syracuse University, located in upstate New York, is ranked #62 among the Best National Universities and #42 for Best Undergraduate Teaching by US News and World Report.
"When I first applied, an admissions counselor reached out to me to do an interview over Zoom so she could get a better understanding of who I am as a person and what led me to choose Syracuse," said Vanish.
The counselor encouraged Vanish to apply for the university's "1870 Scholarship," named for the year Syracuse was founded. It is the highest recognition offered by the Office of Admissions and is awarded only to a few incoming freshmen each year.
When she found out that she got the scholarship, Vanish was ecstatic.
"I think my application stood out due to how involved I am through extracurricular activities and my commitment to challenge myself academically through honors and dual enrollment courses. I also love to volunteer in my community and go out of my way to help others," said Vanish.
Vanish's mother Amanda Burega, who is also a business education teacher at Tyrone Area High School, agreed that it was not only her daughter's grades but also her extracurriculars and community service that helped to earn the scholarship.
"Colleges look for students that not only have good grades but are also heavily involved in their school," said Burega.
According to the Syracuse Univerity website, recipients of this scholarship are chosen for their "academic and creative accomplishments, commitment to community service and demonstrated financial need."
The 1870 scholarship "recognizes students of talent and promise of all identities and backgrounds who have further exemplified values like innovation, discovery and courage."
The scholarship covers full tuition for the length of the student's undergraduate program and recipients are also admitted into the Renée Crown University Honors Program at Syracuse.
Throughout her high school career, Vanish has won many academic and community service awards, including the Challenge Program Community Service Award.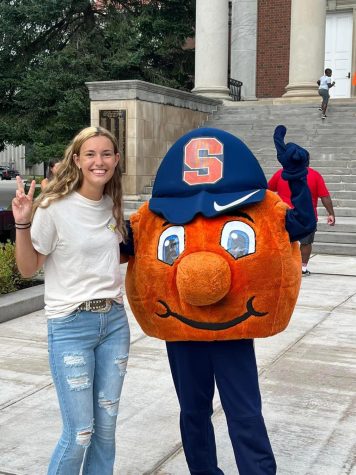 She is the current president of the TAHS National Honor Society (NHS) and Future Business Leaders of America (FBLA).
Vanish has also been the news editor for the Tyrone Eagle Eye News online student newspaper during her junior and senior years. Her work has contributed to the site winning several Keystone Student Media Awards and she has had numerous stories published nationally on the Best of Student Newspapers Online website.
Vanish is also a member of the Youth Action Network, Student Council, Quiz League, and Prom Committee.
Youth Action Network advisor and TAHS social studies teacher Cummins McNitt complimented Vanish on her commitment to extracurriculars.
"One of Hailey's strengths is that she is willing to put herself in unfamiliar situations which has made transitions for her much easier," said McNitt, "She is involved in many of our clubs and is active in all of them. Some students sign up for clubs but never really help, but Hailey is just the opposite. She has a very strong work ethic and I'd like to add, she gets along easily with just about everyone."
Vanish toured Syracuse's campus during her junior year, and said she knew almost immediately that it was exactly what she was looking for in a university.
"Although it is a large school, the class sizes are smaller to ensure that students can have connections with their professors. Syracuse also has a highly respected honors program and alumni program that will help me make connections with people in my intended career path," said Vanish.
While at Syracuse, Vanish plans to major in social work, and possibly double major or minor in political science. She says her future career goals are to work at a United States Embassy abroad.
"[I would like to] help children who are caught in foreign affairs get the help they need," said Vanish.
Although Vanish said her college search was stressful, it opened up many opportunities for her and worked out very much in her favor.
Vanish's advice to underclassmen is to cast a wide net when looking at colleges.
"Don't limit yourself to the colleges that your friends are planning on attending. Look at all the opportunities that are available to you and what different colleges have to offer before deciding where you want to go," said Vanish.
"
One of Hailey's strengths is that she is willing to put herself in unfamiliar situations which has made transitions for her much easier," said McNitt, "She is involved in many of our clubs and is active in all of them."
— Cummins McNitt
Leave a Comment