Tyrone Marching Band Returns with Silver
The Tyrone Marching Band has made incredible progress this year and is looking forward to competing at the PA State Championships this weekend and the Atlantic Coast Championships on November 6.
The band started the competition season without having all the drills completed, yet they have had the dedication to work and improve each week, and have earned silver in their last two competition.
In their first competition at Huntingdon on September 24th, the band scored 76.98, good enough for third place, but they knew they weren't done. They continued to practice harder and perform to their best ability.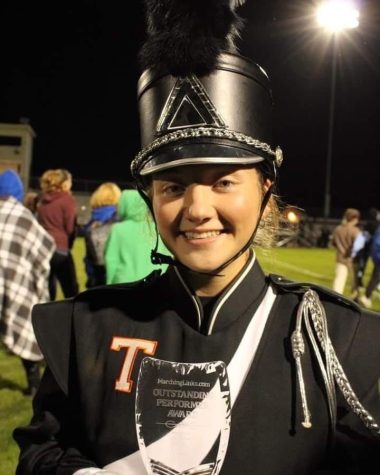 The first home show of the season was on October 1st, and they increased their score to 80.03. Although the home band cannot place on the leaderboard at their own show, they were still very proud and confident in their achievements.
The band then traveled to Homer-Center on October 8th and returned home with a second-place finish with a score of 85.09 out of the seven bands who participated.
At every Saturday night competition, the Tournament Of Bands honors one student from each Region 11 competition. The award is named the Outstanding Performance Award which is given to the student who proves they went the extra mile within each week of the competition.
During the Homer Center competition, Tyrone drum major and trumpet player Kaleigh Brodznia was honored as the show's outstanding performer. Brodzina earned the Tournament Of Bands Region 11 performer of the week award which brought her to tears of pure joy.
"At first I didn't even know they called my name because they had messed it up. But after I figured it out I was overwhelmed with excitement," said Brodzina.
Last weekend, the band traveled to Conemaugh Township High School. After learning and cleaning more visuals the morning prior to the competition, the band was able to see all their hard work and dedication pay off.
At their Region Championships, the band was honored with another second-place trophy with a score of 88.23.
On October 29th the band will perform at their Pennsylvania State Championship and then the Atlantic Coast Championship on November 6th.
Leave a Comment
About the Contributors
Allison Beeman, Staff Writer
Allison Beeman is a Junior in High School, and it is her second year of Eagle Eye. Most of her time is spent at the softball field or hanging out with...
Xena Sieminski, Staff Writer
Xena Sieminski is currently a senior at Tyrone. Running in Cross Country and playing the clarinet in the Marching Band. She is very interested in going...