Tyrone Cheerleaders make their first trip to PIAA state championships
The Tyrone Cheerleading Competition Squad had an experience of a lifetime this past weekend at the Hershey Giant Center for the PIAA State Competitive Cheer  Championships. The Lady Eagles made history as the first Tyrone cheer squad to go to either districts or states.
"To represent TAHS at the state level for the first time was an awesome experience," said Coach Chris Hunter, "This year's squad has surpassed so many goals we set for ourselves at the beginning of the season. I'm so proud of them."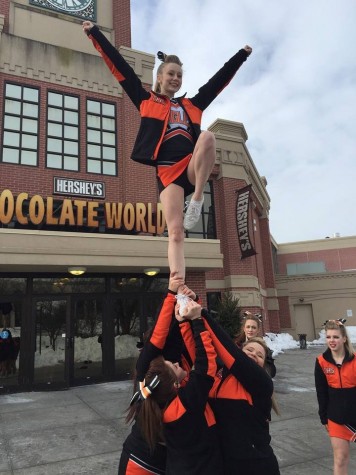 Although the squad did not make the top 20, which would have qualified them for the finals on the second day of competition, the cheerleaders and their coaches were all proud of their achievements.
"Opening the curtain and stepping on to the mat was the best feeling I've ever had," said co-captain Kendra Walker, "That first step assured me that we belonged there and that every hour of hard work we put in was worth it."
The squad's  journey began on Thursday evening as they left Tyrone for Hershey by van. They got to their hotel around 10:00pm and settled in to prepare for an early morning.
Most of the team members woke up around 6am for the big day. "Everyone got ready together and it was really fun. Some people did hair and others did people's makeup. By the time everyone was ready, everyone had teased hair and sparkles everywhere," said sophomore Laura Gunter.
After a quick practice, the team headed to Chocolate World. They stopped to do some stunts and a photo opportunity in front of the Chocolate World sign and went on the tour. The squad satisfied their chocolate fix and left for the competition site.
"When I walked into the stadium and saw a group competing, I got chills. The experience was so surreal," said junior Makayla Ritchey.
The squad had an hour before warmups. They found front row seats and watched the competition.
"It was like a 'bring it on' movie. The teams were so amazing to watch," said Ritchey.
"States has been my dream since we first started competing four years ago. It's awesome to be able to say I went my senior year! I'm beyond proud of all the girls," said co-captain Harley Walters.
After the ladies competed, they stayed to watch Philipsburg-Osceola perform before heading back to the hotel.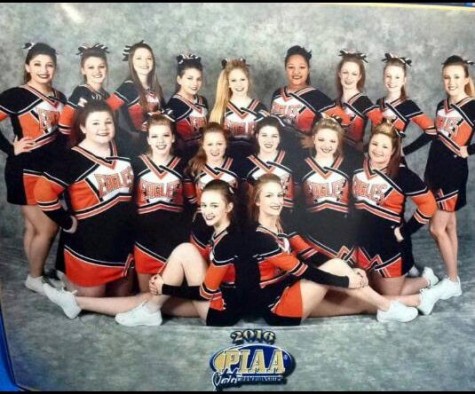 The squad also surprised junior Makenzie Stauffer with a small birthday party. "I wouldn't want to spend my birthday any other way. This was such a great experience and I know next year we'll come back stronger than ever," Stauffer said.
Overall the team agreed that it was an experience of a lifetime.
"It was an eye opener for all the girls, but now they know what they need to do for next year. I have no doubts that they will be there next year," said Walker.
The cheerleaders still have one more competition left this season, the Mountain League Championships on February 13 at Bald Eagle Area High School.
About the Contributor
Kendra Walker, staff writer 12
Hello, my name is Kendra Walker. I'm a senior at TAHS. This is my first year as an Eagle Eye staff member. I've been a cheerleader for four years,...