Track Sends Five to States
Freshman sprinter McKenzie Latchford, junior jumper Nick Vasbinder and the girls 4x100 relay qualified for the State Meet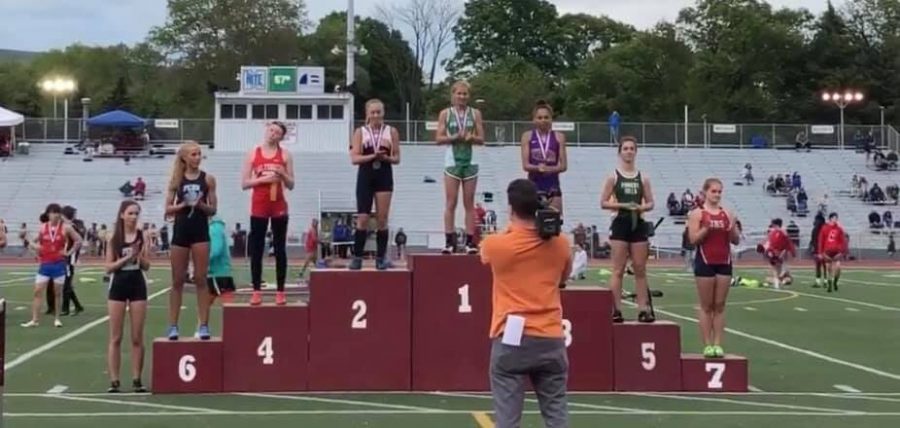 Five Tyrone track and field athletes and two alternates are heading to the PIAA State Track and Field Championships at Shippensburg University this weekend.
Individually for the boys, junior Nick Vasbinder placed third in the triple jump at districts, with a jump of 42 feet and 2 inches.  For the girls, freshman McKenzie Latchford placed second in the 100m dash with a time of 13.14, just .02 seconds off of first place. But the big surprise winner of the day was the girls 400m relay.  Despite being seeded fourth, they were able to pull of a win with a time of 51.66.
"
Going into states as a freshman is a huge deal for me. I never imagined I'd get as far as I have this year.  I'm excited to see what will happen the rest of my varsity seasons"
— McKenzie Latchford
In the 4×100 relay Tyrone freshman Natalie Saltsgiver was just able to hold off Penn Cambria junior Lyric Janosik at the end of the race to take gold in 51.66.
"I was (across the stadium) and I couldn't see (the finish). I looked up at the (scoreboard), and I was freaking out because it seemed like a million years. Once I saw (we had won), I started bawling," said Elise Gailey to the Altoona Mirror after the race.
This team is composed of McKenzie Latchford, Elise Gailey, Brianna Foy, and Natalie Saltsgiver.  Being seeded fourth, they were just hoping to get a top three finish.  The team has been experimenting all year, trying to get better and perfect their race.  This team has come a long way this year, and they are hoping to prove that at states.  The alternates are junior Brianna Decker and sophomore Chesney Saltsgiver.
"I am really excited about being able to go to states.  I didn't expect to make it, but we put in a lot of time and effort and it showed. I'm so happy that I'm going to states with such a great group of people," said Foy, who runs the third leg of the relay.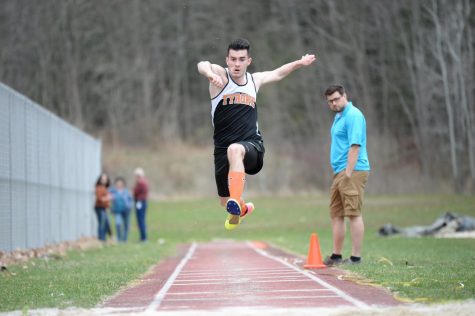 For Vasbinder, this will be his second appearance at states for the triple jump.
"I'm extremely excited about how this years competition will be.  I feel like it's going to be tough, but overall a close meet for everyone competing," said Vasbinder.
After a performance last year that he wasn't too happy with, he is hoping to leave his mark this year.
This meet was an especially big one for Latchford.  As a freshman, Latchford has been competing exceptionally well this year.  She has been improving all year, and and it really showed with her performance at districts.  Latchford has a really bright future ahead of her, and she is hoping to further improve her times in the upcoming years.
"Going into states as a freshman is a huge deal for me. I never imagined I'd get as far as I have this year.  I'm excited to see what will happen the rest of my varsity seasons," said Latchford.
These athletes are leaving on Thursday morning and are competing on Friday.  They are all really excited to compete and show how far they all have come at states.
District Results
Girls 100 dash: 1, Shaffer, P, 13.12; 2, Latchford, T, 13.14; 3, Brunner, BG, 13.16; 4, Simpson, ST, 13.19; 5, Caddy, FH, 13.30; 6, Janosik, PC, 13.35; 7, Burns, J, 13.37; 8, Papi, PC, 13.48.
Girls 400 relay: 1, Tyrone (Latchford, Gailey, Foy, N. Saltsgiver), 51.66; 2, Penn Cambria (Harvey, Papi, Lilly, Janosik), 51.74; 3, Juniata, 51.87; 4, Richland, 52.10; 5, Bishop McCort, 52.37; 6, Huntingdon, 52.65; 7, Bishop Carroll, 53.07; 8, Forest Hills, 53.09.
Boys long jump: 1, Lane, HUN, 21-1; 2, Wholaver, CH, 20-7; 3, Learn, HC, 20-4 ¢; 4, Tsikalas, PC, 20-1; 5, Vasbinder, T, 20-0; 6, Sral, CC, 19-11 ¢; 7, Bailey, SH, 19-9; 8, Mallon, BA, 19-4
About the Contributor
Nathan Walk, Staff Videographer
What's up?  My name is Nathan Walk, and this is my second year as a part of the Eagle Eye.  I am a videographer this year because I  wanted to try something...