Three FBLA Members Qualify for States at Regional Conference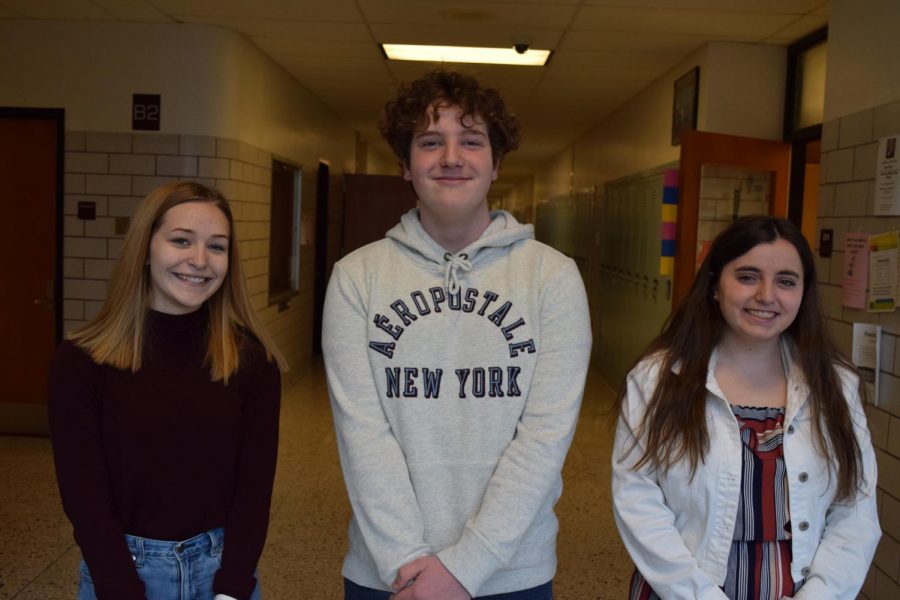 Seven Tyrone FBLA members competed at the Regional FBLA Conference at Mt. Union High School on December 4th and three qualified for states.
The three students who placed at regionals and qualified for the state conference are seniors Olivia Ake and Jessica Chronister, and junior Colin Jackson.
Both Ake and Chronister are returning members of FBLA.
"
I wanted to join FBLA because it seemed like a good tool to help me with my future, whether I pursue business [as a career] or not"
— Senior Olivia Ake
The seven who competed are juniors Garrett Martin and Jacob Taylor in accounting, junior Madison Wineland in business law, junior Morgan Garman in public speaking, senior Jessica Chronister in entrepreneurship, senior Olivia Ake in Global Business, and junior Colin Jackson in agribusiness.
At the conference, students participated in objective tests and performance events that make up the state competition. They attended workshops, keynote speaker presentations, business dinners, and award ceremonies, as well.
Ake took second place for global business at the regional conference.
According to the FBLA website, the test for the global business category included the following topics: "Basic International Concepts; Ownership and Management; Marketing; Finance; Communication (including culture and language); Treaties and Trade Agreements; Legal Issues; Human Resource Management; Ethics; Taxes and Government Regulations; Currency Exchange; International Travel; [and] Career Development."
"I wanted to join FBLA because it seemed like a good tool to help me with my future, whether I pursue business [as a career] or not," said Ake.
Chronister placed third in entrepreneurship.
The entrepreneurship category test had questions on "Business Plan, Community/Business Relations; Legal Issues; Initial Capital and Credit; Personnel Management; Financial Management; Marketing Management; Taxes; [and] Government Regulations."
"It was fun going to an FBLA conference. I met a lot of new people and made some new friends," said Chronister.
Despite this being only Jackson's first year in FBLA, he ranked fourth at the competition in agricultural business.
The agribusiness category tested on the following: "Economics; Finance and Accounting; Health, Safety, and Environmental Management; Management Analysis and Decision Making; Marketing; [and] Terminology and Trends."
"I felt like it would be an enjoyable experience to keep me occupied and meet more people," says Jackson.
The State Leadership Conference is on April 6th to the 8th at the Giant Center and Hershey Lodge in Hershey.
Some students may not know what FBLA is really about and might not be sure if they would want to join.
The club offers over 75 subject choices from Health Administration to Sports Management. No matter what members choose s a future career, FBLA will likely have something to help prepare them.
"FBLA is for more than just business students," said FBLA Adviser Amanda Oliver. "This club teaches you important skills to become the next future business leader of America."
About the Contributors
Trent Anderson, Staff Writer
Hey! My name is Trenton Anderson. This year I am a junior at Tyrone Area High School, and this is my first year in Eagle Eye. I have a strong interest...