TAHS YAN Club raises $2K for Panzi Hospital in Congo
The club also presented a check for $350 to the Tyrone Food Bank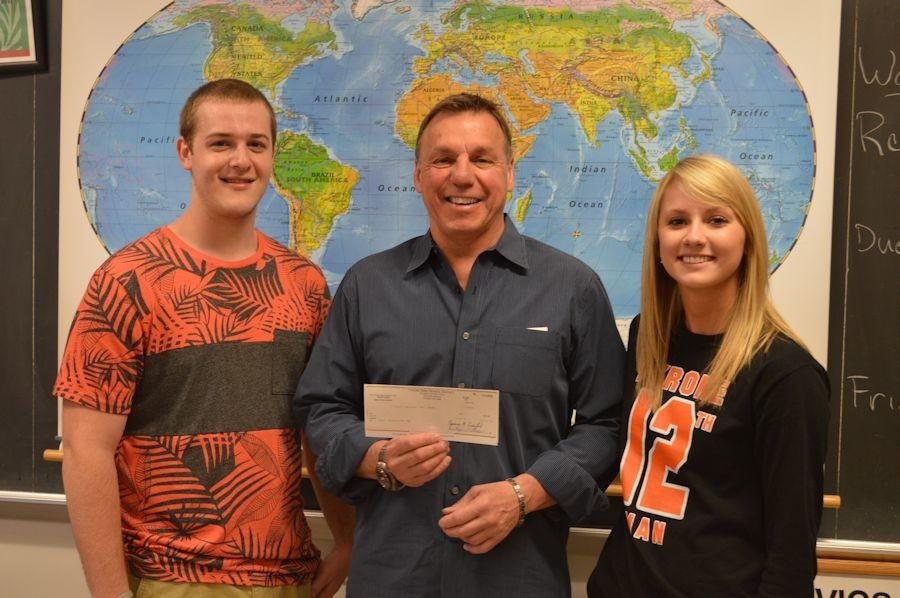 Tyrone's Youth Action Network (YAN) Club held two fundraisers to raise money for the Panzi Foundation over the 2015 school year. YAN raised $2,350 through its fundraising efforts – $350 was donated to Tyrone's Food Bank, and $2,000 was donated to The Panzi Hospital in the Democratic Republic of Congo.
The fundraiser goal was originally set at $1,000 but YAN raised $1350 over their goal.
The money was raised from donations made during the YAN Halloween Event and the Pennies for Panzi fundraising drive.
"This year was tremendously successful. I just hope we can keep things close to this level. Our YAN members are some of the greatest students on our school," said YAN adviser Cummins McNitt, "They have compassion, passion, and dedication to their beliefs. We are the most consistent high school supporters of Panzi in the nation."
Peter Frantz, a professional artist and Tyrone native, is the co-founder of the Panzi Foundation, accepted the check on behalf of the Panzi Foundation at Tyrone Area High School.  Franz, who has more than 20 years of experience in tech & project management start-ups, has deep commitment to the fight against sexual violence in DRC, and violence against women everywhere.
The money sent to the Panzi Foundation will be used to purchase food, supplies, and/or make repairs and additions to their facilities.
"I think its cool that we have been the only schools to stick with the Panzi Foundation and raise money for them year in and year out because they deserve it," said YAN member Carly Crofcheck.
"YAN is the best club going in the high school today! We encourage all of our students to consider joining our ranks," said McNitt.
The foundation was founded Dr. Denis Mukwege. He recently sent a short video presentation to YAN to thank them.
About the Contributor
Kendra Wertz, Photo Editor
My names Kendra and I'm a senior at Tyrone Area High School. It's my second year of being a part of Eagle Eye! I'm planning on going to college next...