Local wrestling club helps athletes learn and connect
Several Tyrone athletes are among the many local wrestlers training with the Young Guns Team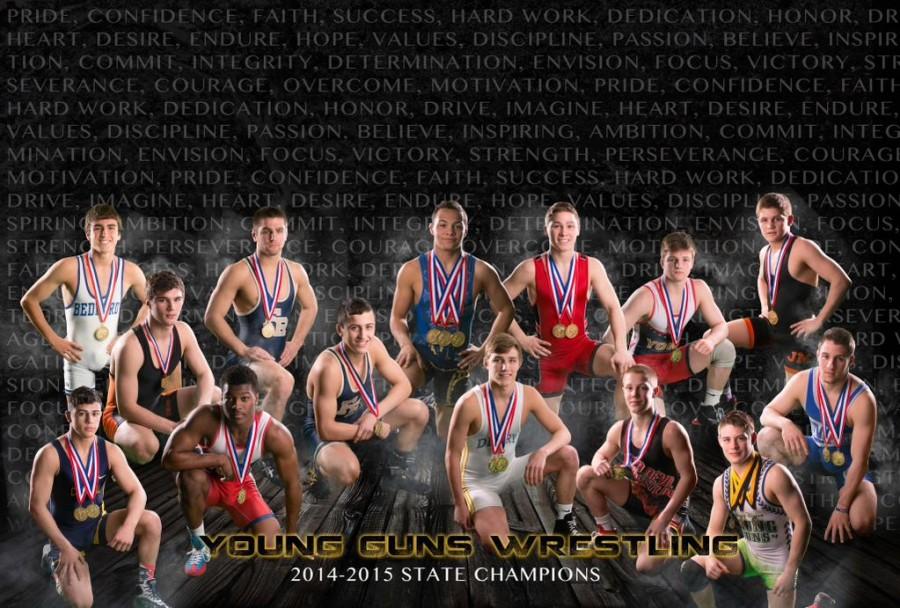 Young Guns is a premier wrestling club for scholastic wrestlers from elementary school up through high school.  The team was founded by accomplished wrestlers Eric Juergens and Jody Strittmatter. The two coaches were teammates at the University of Iowa.  Today the club operates in both Michigan and Pennsylvania and is building a good reputation in the wresting world.
"
I like how I can go up to a practice and meet some new wrestlers. Plus, I can get different partners than from just Tyrone"
— Tyrone sophomore Sage Dixon
Tyrone sophomores Sage Dixon, Mikey Cherry and freshman Derrick Harris are currently members of the Young Guns team.
The experience has not only improved their wrestling skills, they have also become friends with wrestlers that until recently they only knew as opponents.
"You get good coaching and you get to work with kids that you usually see on the district and regional podiums," said sophomore Mikey Cherry.
"Going to tournaments is more fun because you know more people than you wouldn't have known previously," said Cherry.
"I like how I can go up to a practice and meet some new wrestlers. Plus, I can get different partners than from just Tyrone," added Dixon.
"It's a really great atmosphere there, everyone works so hard and its really a great experience," said Altoona's Mike Sarbo.
Practices are held on Tuesdays and Thursdays in Altoona and Latrobe and Mondays and Wednesdays at Franklin Regional High School and Pitt-Johnstown.  Most wrestlers attend two days a week at one location, but others wrestle four days a week at two locations, almost year round.
The Young Guns team is a family affair for coaches Jody, John and Joey Strittmatter, who were all very successful local high school and college wrestlers.  They all wrestled for the University of Pittsburgh, Johnstown.   Jody won two NCAA Division II national championships before transferring  to the University of Iowa, where he became a two-time Big-Ten Champion and a two-time All-American with a third-place finish in 2000 and a national runner-up finish in 2001. John was a three-time All-American with second, fifth and first-place Division II finishes, was a three-time National Wrestling Coaches Association (NWCA) All-Academic Team selection.  Joey was a two year starter at UPJ, a two time national qualifier and an academic All-American.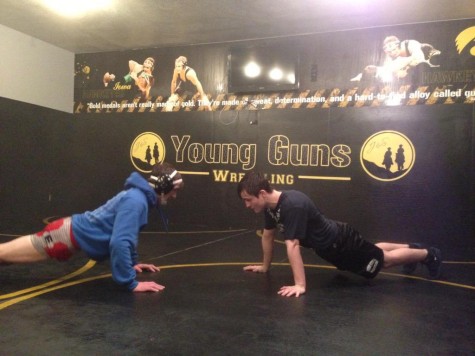 The club has succeed greatly in the past 10 years and has had many prestigious wrestlers such as Penn State wrestler Nico Megaludis, Altoona's DJ Hollingshead who has committed to Cornell, and Team USA's Spencer Lee who has been overseas wrestling for the Team USA.
"I want what is best for the kids," said Jody Strittmatter, "I'm not saying we will or won't have kids going to Iowa…. I stay out of the recruiting process, our job is to get the kids better in the room."
In 2012, Flo Wrestling named Young Guns the number one wrestling club in the country.
"I was very surprised, but it was nice to see the kids get recognized," said Jody in an interview for Iowa University's newspaper, Hawk Central.
About the Contributor
Derrick Harris, staff writer
Hi, my name is Derrick. I'm a freshman and I was born on March 21, 2000. I like to ride 4-wheelers/dirt bikes, I wrestle, and I like to hunt. I like country...