Gooding, Better, Best: Senior Kylee Gooding Makes Her Mark on the Volleyball Team
As the only senior on the volleyball team this year, Kylee Gooding knows that she has a lot of responsibility on her shoulders, and that's okay with her.
"I feel like people expect a lot from me since I'm older," said Gooding. "You have to be mentally tough every minute of every game and practice."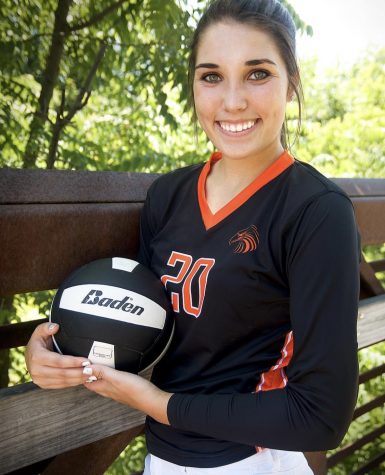 Elected team captain at the start of season, Gooding is excited to be a role model and lead the girls to victory.
Gooding first came to Tyrone High School in November 2017. Prior to her move, she attended State College High School and Bishop Guilfoyle.
She first took interest in volleyball from her middle school friends who played.  She started playing the sport as an outside at Mount Nittany Middle School, where she quickly developed a passion for it. Since then, she has competed in six tournaments with her High School teams. She has also played on  three different travel teams, including: Relentless, Revolution, and Horseshoe. 
Gooding not only loves the physical aspects of the sport, but she also loves the constant need for mental strength that comes with it.
Her teammates are very supportive of her leadership position, and know that she has the potential to lead them through a successful season.
Sophomores Mattie Cherry and Makenna Bauer have known Gooding for only a year, but it feels like they've known her forever.
"Kylee is a great teammate. I love playing with her. She's also a great leader, and just makes everyone feel good," said Cherry.
Cherry and Bauer appreciate her enthusiasm during games and practices, and her willingness to motivate others.
"Kylee is a great leader to all of us. She has a good energy, and she gives great advice," said Bauer.
Gooding wants the current and future members of the team to never give up on each other and always put for their best effort.
"You may be small, but you'll always be mighty," said Gooding.
Tyrone Varsity Volleyball Coach Mike Kraft also has high expectations for Gooding as a future athlete and student. Kraft describes Gooding as a passionate and dedicated player, who is also an extremely good teammate with contagious work ethic and leadership.
"Kylee will always be viewed as a leader on and off the court. I expect her to challenge herself and be a positive role model for her peers around her," answered Kraft, "I want her to know that she always taught me more about coaching and life and dealing with challenges than anyone I have ever coached. She will  be missed by me and her teammates."
After knowing Gooding for only two years, Kraft says she has proved herself as a high level athlete, and will continue to be one.
"The sky is the limit for Kylee," says Kraft, "and she will go as far as she wants to."
After graduation, Gooding will attend Penn State Mont Alto for her Bachelors in nursing, where she also hopes to carry on her volleyball career.
Leave a Comment
About the Contributor
Sara Shock, Staff Photographer/Writer
Hey! Sara Shock here. Welcome to my profile. This is my second year in Eagle Eye. I am in YAN, Aevidum, NHS, and student council. My interests are photography,...