Family Clothesline to Open Tyrone Facility
One of the largest school-specific apparel stores in the country, The Family Clothesline of State College, has expanded its business into Tyrone.
The Family Clothesline purchased the building recently known as the Bat Cave as a manufacturing and storage facility for their growing Penn State clothing and merchandise business.
"While we have no plans to open up a Penn State retail store in Tyrone, we are excited about being able to offer state of the art custom apparel services in our community," said owner Scott Gummo.
"
Tyrone is a very special place to me and it was a natural fit to relocate our manufacturing and warehouse facilities back to my community"
— Scott Gummo
Tyrone area residents John and Susan Gummo founded the Family Clothesline in downtown State College in 1985. The store has over 10,000 square feet of retail space dedicated to Penn State apparel and merchandise.
"It all started with a little store in the basement and now it's one of the biggest college retail stores in the country," Gummo said.
The Gummos' two sons, Ben and Scott, grew up around the family business.
"I started helping out at the store when I was five. My job was to load and unload the UPS trucks in the summertime everyday. Then my dad would give me $5 in quarters so we could play arcade games at Playland," said Scott Gummo.
With the Gummo's two boys working in the store, the Family Clothesline became a true family business.
Throughout the 1990s and 2000s, as Penn State grew, so did the Family Clothesline. With flourishing sales, both retail and online, it has grown to be one of the largest specialty collegiate apparel and merchandise stores in the country.
In 2017, store founder John Gummo unexpectedly passed away, and the Gummo brothers soon took over the family business.
While the business is based in State College, Tyrone has always been home for the Gummo brothers and when they needed to expand, it was natural for them to look to their hometown.
"Tyrone is a very special place to me and it was a natural fit to relocate our manufacturing and warehouse facilities back to my community," said Scott Gummo.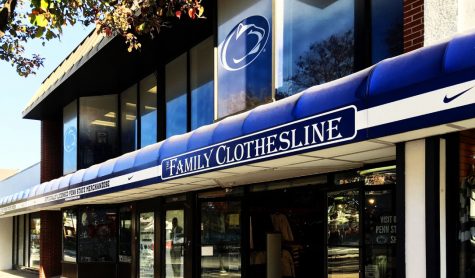 The location, formally known as Hodes Scrap Metal was a good fit because of its available space and location. Under thirty minutes from their retail store via I-99, the location is ideal.
The building will be used as an online fulfillment center and to expand its screen printing capabilities. With the expansion, some new employment opportunities for the borough may become a possibility.
"This screen-printing business also allows us to produce custom apparel for local businesses, organizations, events, and teams," said Scott Gummo.
Recently, The Family Clothesline was able to work with the Tyrone Elementary PTO to create a fundraising program with custom apparel, hats, and souvenirs, which can all be purchased on The Family Clothesline website.
"We are proud to provide cool and creative custom apparel for many of the Tyrone sports teams," said Scott Gummo.
The Gummos are excited to bring new industry to the Tyrone community and are looking forward to continued growth.
"We always wanted to bring our facility to the area and the timing worked out to make the move," Scott Gummo said.
About the Writer
MacKenzie Hyde, News Editor
MacKenzie Hyde is a sophomore at Tyrone. She loves to be involved in her school and community. This is her second year of writing for the Eagle Eye. This...