Eagle Eye Promposal Contest: Sisters B4 Misters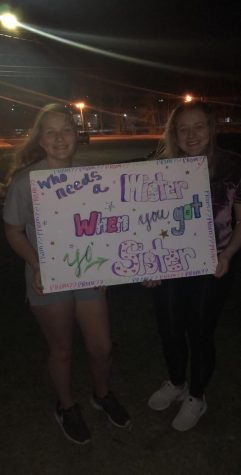 Junior Lexi Kagarise thought the best way to spend her junior prom would be with no one other than her best friend, sophomore, Zoey Hampton. With the help of Zoey's mom Lexi was able to surprise Zoey when she promposed the other evening.
Zoey's mother told her that they were going to the Village Pantry to get dinner and when she walked outside Lexi was there with a sign that said, "Who needs a mister when you got yo sister..PROM?". Zoey had intentions that she was going to go to prom with her best friend but she was surprised because she was not expecting to see Lexi.
Although, Zoey was only concerned about the Village Pantry she was promised she was getting but they happened to have closed at 8. In celebration, Zoey and Lexi got Sheetz for dinner instead.
---
Promposer: Lexi Kagarise
EE: Why did you choose this person to ask?
LK: "I thought it would be the best way to spend my junior prom by going with my best friend, Zoey."

"

I thought the best way to spend my junior prom would be by going with my best friend, Zoey."

— Junior Lexi Kagarise
EE: Where did you get the inspiration for the idea?
LK: "My brain."
EE: What relationship do you have with this person?
LK: "She is my BEST FRIEND!"
---
Promposee: Zoey Hampton
EE: Give your side of the story. Why do you think they asked you?
ZH: "Lexi and I have been really close for a little bit now and she told me she was going to take me to prom with her."
EE: Describe in detail how you were asked and how you felt.
ZH: "Well, I thought my momma and I were going to the Village Pantry for dinner so I was excited but I walked outside and Lexi was there with her sign. I was then confused and salty because I wasn't expecting to see her and I really wanted to go to the pantry, but it was closed. We got Sheetz for dinner instead so it all worked out."
EE: Did you have any suspicions that you were going to be asked by them?
ZH: "Yeah, because she told me she had to think of a way to prompose to me but then she told me she wasn't promposing to me anymore. Later Lexi changed her mind again and we went together to get the stuff for her to make the poster. So I knew I was going to get asked just I didn't know when."
EE: Why should you win the contest?
AL: "We think we should win because this is one of the only few girl to girl promposals we have seen to enter the contest. Plus free prom tickets would be pretty sweet!¨
Leave a Comment
About the Contributor
Lauren Taylor, Social Media Director
Hi! Welcome to the Eagle Eye! My name is Lauren Taylor. It's SENIOR YEAR BABY. Bless up. This is my third and final year being apart of the Eagle Eye staff....