Eagle Eye Promposal Contest: Shining Bright like a Sunflower at Prom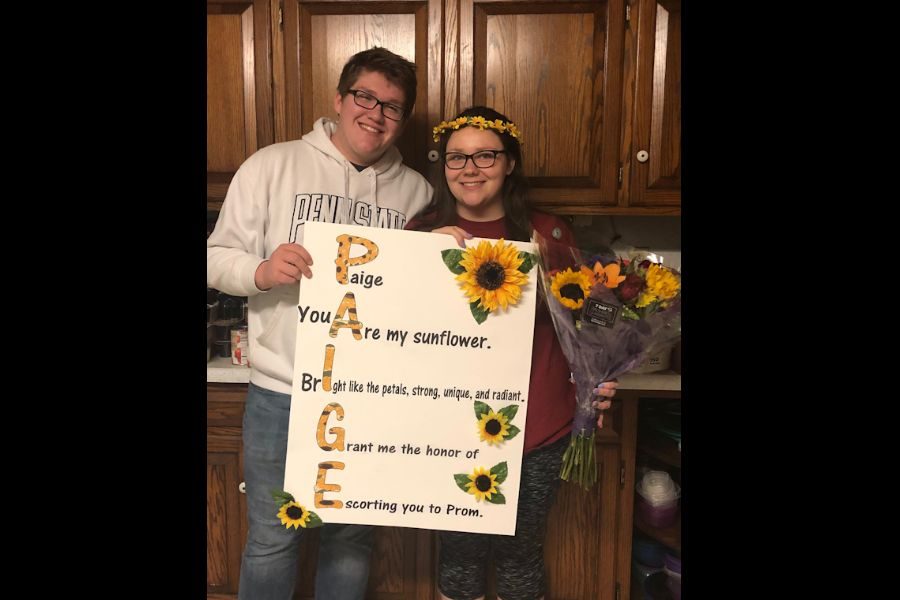 Juniors Chris Wilkins and Paige Kephart have been dating for eight months, and Chris knew his girlfriend deserved a special and loving promposal.
Taking him two weeks, Chris used Paige's love for sunflowers as the promposals theme. While she was at work, Chris hung sunflowers on the wall of her room and left a trail of leaves leading into it. Spelling out her name PAIGE, Chris made a sign saying "Paige, you Are my sunflower, brIght like the petals, strong, unique, and radiant, Grant me the honor of Escorting you to PROM" and placed it on her bed and walked in with a bouquet of sunflowers.
---
Promposer: Chris Wilkins 
Eagle Eye: Describe in detail how you asked them.
CW: "It took me about 2 weeks to fully plan the whole promposal out. I wanted to do it on a day where I could surprise her when she got home from work. I went to her house around 7:00 on Thursday night, the hours before she got home. I started hanging fake sunflowers all over her wall and left a trail of leaves leading into her room. I put the poster on her bed and waited for her to arrive. I waited until she read the poster and then I surprised her with a bouquet of flowers."
EE: Why did you choose this person to ask?
CW: "She is my girlfriend and I love her more than anything in the world." 
EE: Where did you get the inspiration for the idea?
CW: "I know she loves sunflowers and I wanted to do something that she would love."
EE: What relationship do you have with this person?
CW: "She is my girlfriend and I love her more than anything in the world."
---
Promposee: Paige Kephart 
Eagle Eye: Give your side of the story. Why do you think they asked you?
PK: "I think Chris asked me because we are dating and we really wanted to go to prom together. Also, I've been asking him about it for a little while, so he was probably tired of hearing about it." 
EE: Describe in detail how you were asked and how you felt.
PK: "Chris decorated my room and waited for me to get home to see. After I set all my work stuff down, he came around the corner and asked me to prom with flowers."
EE: Did you have any suspicions that you were going to be asked by them?
PK: "I knew that he was going to ask me at some point, I just didn't know when."
EE: Why should you win the contest?
PK: "We should win the contest because Chris put a lot of thought into this. He even had help from my mom, dad, and his mom. The promposal was very sweet and his hard work is seen in the poster. He had some trouble hanging the flowers, but the finished product was perfect."
View Comments (1)
About the Contributor
Olivia Watson, News Editor
Hi! My name is Olivia Watson, and I am a senior. I have spent my whole life at Tyrone and have always been a proud Golden Eagle. While I have been at this...