Eagle Eye Promposal Contest: Searching for a Winning Promposal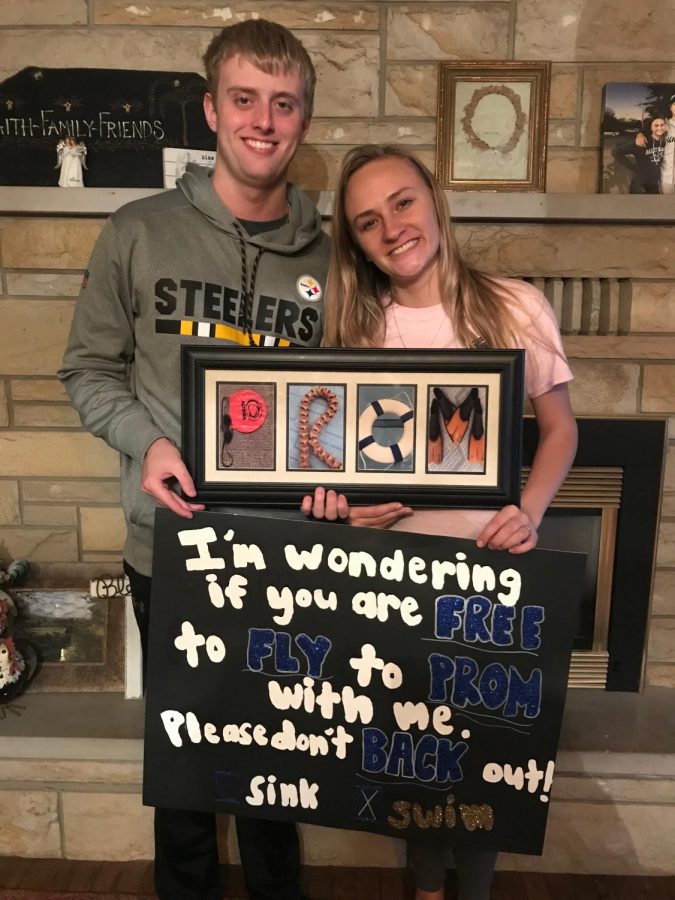 Senior Ava Focht and TAHS Alumni Bryce Bauer will be celebrating their third and final prom this year along with their two year anniversary.
Switching it from from the past two years, Ava decided she would now prompose to Bryce. Since Bryce swims in college, Ava knew she wanted to incorporate this into the promposal. Ava also knew she wanted to continue the scavenger hunt theme and had Bryce search around her whole house to find her holding a sign decorated with swim equipment saying "PROM?".
---
Promposer: Ava Focht 
Eagle Eye: Describe in detail how you asked them.
AF: "I made a sign with a swimming theme since he swims in college. I also made a picture frame with swimming equipment spelling out "PROM". Then, I did a scavenger hunt theme with notes since he did that for me the past two years."
EE: Why did you choose this person to ask?
AF: "He's been my boyfriend for almost two years now and this will be our 3rd prom together. It was just a given." 
EE: Where did you get the inspiration for the idea?
AF: "He did a scavenger hunt theme for the previous two years, so I stuck with that idea."
EE: What relationship do you have with this person?
AF: "He's my boyfriend."
---
Promposee: Bryce Bauer 
Eagle Eye: Give your side of the story. Why do you think they asked you?
BB: "I came over to Ava's house and noticed a note on the door so I followed the notes which took me on a scavenger hunt around her house that ended with her holding the sign asking me to Prom. I think she asked me because we've been dating for almost 2 years." 
EE: Describe in detail how you were asked and how you felt.
BB: "I was asked after completing a scavenger hunt and I felt happy that she finally decided to ask me."
EE: Did you have any suspicions that you were going to be asked by them?
BB: "I knew I'd be going to prom with her but I was surprised she promposed to me."
EE: Why should you win the contest?
BB: "Because this will be our 3rd prom together and we've stuck with the scavenger hunt theme each year."
Leave a Comment
About the Contributor
Olivia Watson, News Editor
Hi! My name is Olivia Watson, and I am a senior. I have spent my whole life at Tyrone and have always been a proud Golden Eagle. While I have been at this...