Eagle Eye Promposal Contest: Bauer's Flower Power
Hang on for a minute...we're trying to find some more stories you might like.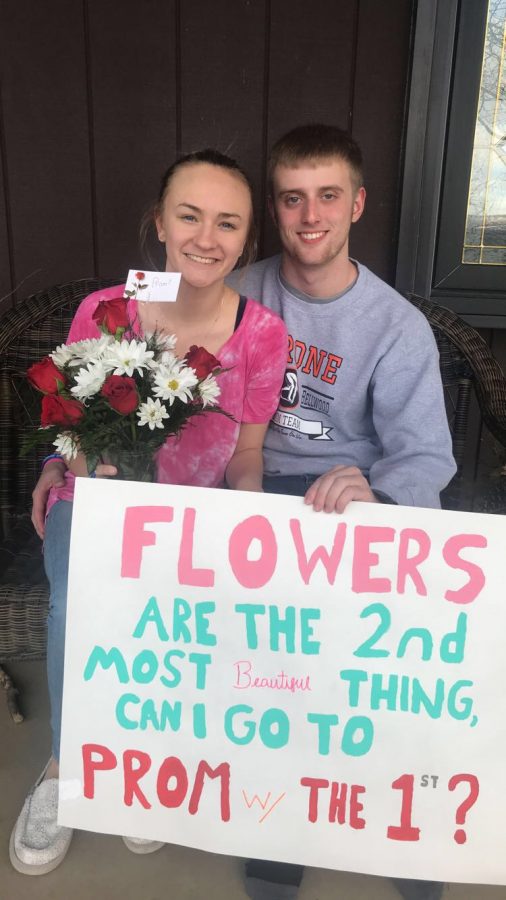 Senior Bryce Bauer and junior Ava Focht are the definition of high school love birds. For their second prom together, Bryce decided to stick close to his scavenger theme from last year.
By putting a note in her mailbox, and texting her to come to her room, he was standing there with a sign saying "Flowers are the 2nd most beautiful thing, can I go to Prom with the 1st?" while holding a bouquet of flowers.
Promposer: Bryce Bauer
Eagle Eye: Describe in detail how you asked them.
Bryce Bauer: "Following the same theme as my last years promposal to her which was a scavenger hunt, I put a note in her mailbox. Then I went to the backdoor of her house to text her to go to her mailbox and when she did that I went inside her house to room. I waited for her to come where I was holding a sign and flowers."
EE: Why did you choose this person to ask?
BB: "She is my girlfriend."
EE: Where did you get the inspiration for the idea?
BB: "I got the inspiration because she really likes flowers and she's really beautiful so it worked perfectly for her."
EE: What relationship do you have with this person?
BB: "She is my girlfriend."
---
Promposee: Ava Focht
Eagle Eye: Give your side of the story. Why do you think they asked you?
Ava Focht: "He is my boyfriend and I have been persistently asking him to prompose to me for a while now."
EE: Describe in detail how you were asked and how you felt.
AF: "Last year, he did a scavenger hunt type of promposal and sort of did the same idea this year. He texted me to go check my mailbox and when I did, there was a note to go to the messiest place in my house. I knew he meant my room. When I did, he was standing there with flowers and a sign. I was very happy and surprised. The saying was so sweet."
EE: Did you have any suspicions that you were going to be asked by them?
AF: "I was pretty sure he was going to ask me because he is my boyfriend. I expected him to prompose, but I was still surprised."
EE: Why should you win the contest?
AF: "The idea was very sweet. Bryce put a lot of work into it and did a great job. It made me very happy and the sign was extremely adorable. I loved it so much."

About the Writer
Olivia Watson, News Editor
Hi! My name is Olivia Watson, and I am a senior. I have spent my whole life at Tyrone and have always been a proud Golden Eagle. While I have been at this...