Eagle Eye Jumps on the Podcast Bandwagon
Podcasting is the Eagle Eye's newest form of media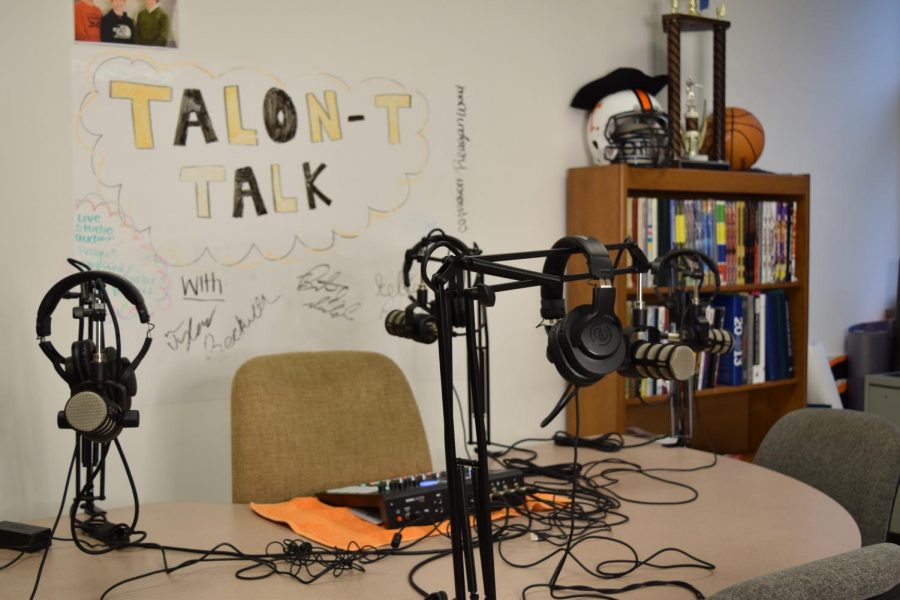 Podcasts are one of the fastest growing forms of media today. According to Edison Research, the popularity of podcasts has tripled in the past six years, with over 62 million regular listeners just in the United States.
Not to be left behind, the Eagle Eye recently invested in a state of the art podcast studio for its journalism program.  
"Students have shown interest in doing podcasts in the past. We did a few last year with just a single USB mic plugged into a computer. It worked, but it wasn't the best sound quality and we had no ability to mix the audio. This year we had some funds available from the money we made hosting the Homecoming Dance and I thought this would be a logical next step for the Eagle Eye," said adviser Todd Cammarata.
The Eagle Eye recently purchased a Rode Podcaster Pro, which is described by Rode as "the world's first fully integrated podcast production studio."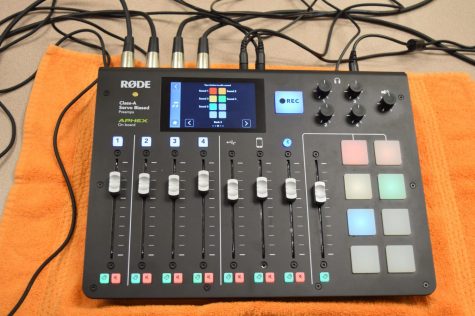 "The Rodecaster Pro is a really unique new product," said Cammarata. "Basically, it's a mixer combined with a digital recording device that is designed specifically for podcasting. It has four XLR mic inputs, so you can have four people together on a podcast. Each mic input can be individually customized via the control panel and it records in multitrack for post-production editing. It also has a bank of customizable prerecorded sound effects that can be used live during a podcast.  You can also record phone calls via Bluetooth and input a computer with the USB port.  And everything easily records to a micro SD card."
Several groups of Eagle Eye students, and a few who are not currently in the class but have an interest in podcasting, have used the system to create their own podcasts. 
"We have three shows currently in production. One of them is wrapping up now and we have another show that will hopefully debut next week," said Cammarata.
The first show to use the new equipment was Talon-T Talk, featuring interviews with current Tyrone students. Hosts Tyler Beckwith, Kelton Raabe, and Brent McNeel interview one talented student each week. Guests have included wrestler Hunter Walk, hockey player Micheal Buck, swimmer Callie Maceno and basketball players Emma Getz and Brandon Lucas.
The show has been published nationally on the Best of SNO website and was the first Eagle Eye podcast to have over 100 plays.
"
It made me feel proud to win Best of SNO for podcast because it is a very new thing at Tyrone and the show has been very successful"
— Tyler Beckwith
"It made me feel proud to win Best of SNO for the podcast because it is a very new thing at Tyrone and the show has been very successful," said cohost Tyler Beckwith.
There is also a podcast on the popular Disney Plus series The Mandalorian hosted by Haydn Loundenslager, Jesse Walston, Noah Zimmerman, and Brailin Baker. 
"It's fun. We love Star Wars and we get to express our opinions to a bigger audience," said Mandalorian podcast cohost Jesse Walston.
The other podcast currently featured on the Eagle Eye is M & S Cases and Conspiracies hosted by juniors Mckenna Bauer and Sarah Jackson. 
"We dive into the most famous cold and murder cases as well as conspiracy theories to give our opinions, and open conversations up about these mysteries," said cohost Sarah Jackson.
Eagle Eye podcasts can currently be found on most popular podcasting platforms, including Apple Podcasts, Breaker, Google Podcasts, Overcast, Pocket Casts, Spotify, Stitcher, and Anchor FM.
About the Contributor
Kelton Raabe, Staff Writer
Hello, my name is Kelton Raabe. I am Junior at Tyrone. This is my second year in Eagle Eye. I am a part of the prestigious boy's varsity soccer team and...