College of the Week: Penn State Altoona
Staff Writer Bailey Christine offers information and insight on colleges for Juniors and Seniors searching for their future.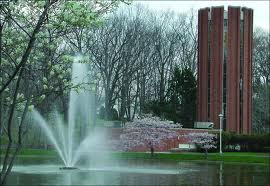 College of the Week: Penn State Altoona
Bailey's Take: Penn State Altoona is one of the more poular options for students of Tyrone. It is a good option for people who would like to stay close to home and not have to stay on campus. The only downfall is that some might consider it a "13th" grade. Some people would like a new start when they move onto college.  Penn State Altoona may not provide the fresh start that many are looking for. Overall when it comes to the quality of the school I give Penn State an A+ in my book.
Location: Altoona, PA (est. 20 mins from Tyrone)
Student Enrollment: 3,863 students
Athletics available: Penn State Altoona is part of the NCAA's Division III program. Penn State has 17 varsity athletic teams to play on.  They have had a lot of previous championships and some of the sports. The women's volleyball team was the 2011 AMCC champions along with the men's baseball team. The 2010 AMCC champions in golf was Penn State Altoona and the 2009 ECAC South Region Champions was Penn State Altoona's baseball team.
Financial Aid: Financial Aid is available to students. In Fact 85% of students enrolled at Penn State Altoona have received financial aid.
Degrees: Penn State Altoona offers 21 baccalaureate degrees, 6 associate degrees and 19 minors. There most popular majors include Engineering, Psychology, Business, and Criminal Justice.
Activities: Penn state Altoona offers variety of activities for students to partake in. The have 90+ clubs and organizations, 2 fraternities, community service opportunities, and much more.
Visit Penn State Altoona's site http://www.altoona.psu.edu/aboutus/ for more information.
Leave a Comment
About the Contributor
Bailey Christine, Staff Writer
Bailey is a Senior at Tyrone High School. He has been a member of the Boys Varsity Soccer team for 4 years now. He is involved in various music activities...