BE KIND
With constant reminders of sadness in the world, why not try and make someone's day brighter?
"
The most important things we learn in school are not academics, but how to learn to live with others.
— Mr. Cummins McNitt
Especially at school, things can quickly become draining and stressful, but small acts of kindness can go beyond a moment, and more often than not they only take seconds to do.
"The most important things we learn in school are not academics, but how to learn to live with others. Life is so much easier to get through when we are kind and honest. If my students learn anything from me I hope it is that love opens the mind and the soul to what is good in this world," said Tyrone social studies and driver education teacher Cummins McNitt.
Here's a compilation of simple acts that can do today that might just put a smile on someone's face:
Hold the door open for the person behind you – it's so easy and it feels great when people do it for you.
Thank teachers and staff for their help and commitment – a simple please and thank you make people feel seen and appreciated.
If you have excess supplies, lend them to those who lack what they need – if you've ever shown up to class without a writing utensil, you know the feeling of relief when someone lends you a pen or pencil.
Invite others to sit with you at lunch – try to be the go-to person!
Give genuine compliments! – a unique and friendly token of admiration boosts confidence and self-esteem.
Pair up with the peer that doesn't have a partner – people will remember the kindness you show them especially when you go out of your way to make them feel included.
Encourage people – giving people pep talks when needed can create a safe space and allow for others to grow.
Send "thinking of you" texts/emails to make people feel appreciated – knowing that people care can turn someone's day around.
Donate classroom supplies if you have extra – teachers can always use supplies.
Smile to peers and staff as you pass them in the halls – smiling tells others they make you happy which will make them happy.
Remember also that teachers and staff are here if help is needed.
"Teachers are here because we care about our students. If you have a positive bond with a teacher I guarantee you that teacher will do whatever it takes to help you through your struggles. Some of the most important moments in my life have been the special bonds that I have built with my students," said McNitt.
Continue to spread positivity, and be kind Tyrone!
View Comments(1)
About the Contributor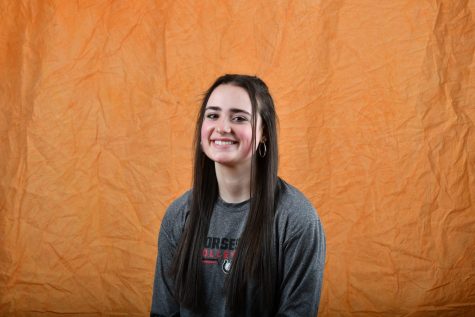 Vivian Sciarrillo, staff writer
Introducing... Vivian Sciarrillo. This is her first year writing for the Tyrone Eagle Eye newspaper and she is in her sophomore year. When she isn't...