This Tiger Doesn't Roar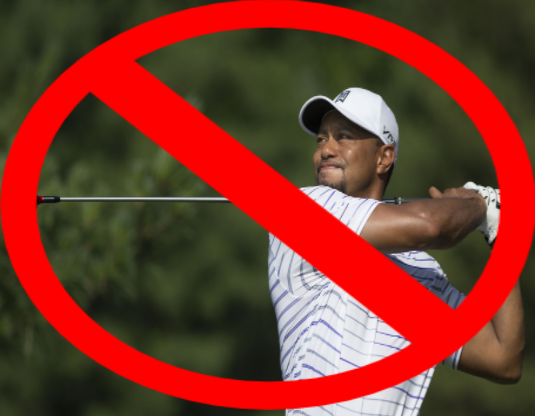 Tiger Woods has dominated the game of golf ever since he turned pro in 1996, his career highlighted by an astonishing 79 victories and 14 major championships.
Everyone in the golfing world looks at him as a hero, many young golfers look up to him as the role model, and fans believe he is the savior of the PGA.
In reality, there are many aspects of his career that tatter his image.
"
Tiger Woods is your typical high school "popular kid" that is an egotistical loser."
— Brent McNeel
Although Tiger's PGA Tour wins represent the pinnacle of achievement in the sport, his life is riddled with scandal.
Tiger Woods fancies to paint himself as a family man and a loving husband, but does a family man have affairs with a hefty group of women? Does a family man get arrested for DUI's seemingly all of the time? Does a role model use drugs? The answer is clear: ABSOLUTELY NOT!
According to CBS sports, when Woods was arrested in May of 2015 for falling asleep behind the wheel, he failed a field sobriety test and had five different drugs in his system.
Tiger thought it would be a great idea to mix up a cocktail of drugs and then sit in his $200,000 sports car and drive.
Even after this debacle, young golfers across the nation still look up to him as a role model in the game. They are not to blame. The true culprit is the media.
Every analyst and sportswriter talks about "The Great Tiger" and how much he has done for the game of golf.  I can't tell you how many times on the Golf Channel broadcasters praise Tiger like a god whether he shot a 62 or 92.
On any given Sunday, major network broadcasts will cover Tiger's 50-foot attempt for a triple-bogey while Justin Thomas is setting a course record shooting a ten-under 62.
Also, not only is Tigers personal life off the course is in shambles, his treatment to fans on the course is nothing short of ridiculous.
On many occasions, Tiger is reported as being "rude" and has ignored fans while playing golf.  
Arnold Palmer once said, "The reason we are here is that of the fans."  Arnie knew what fans meant to the game and he appreciated them.
Rather than having a jerk like Tiger as a role model, one should look up to a Phil Mickelson or Rory McIlroy
Let's face it, Tiger Woods is obsolete. Tiger has not won on tour since his victory in 2013.
As of 2015 Tiger ranked 73rd in strokes gained putting, and his scoring average was consistently outside of the top ten. Even though Tiger hasn't been in the winner's circle in five years, everything he does is seen as something done with the grace of some kind of golf god.
To most of the golf world, Tiger Woods is the messiah and he fancies himself as such.
Tiger Woods shouldn't be the face of the modern game of golf and should not be a role model to young golfers. It's time to tell Tiger to take a hike. Just don't let him get behind the wheel.
View Comments (1)
About the Contributor
Brent McNeel, Staff Writer
Hello, my name is Brent McNeel. I am a senior at Tyrone High school. This is my first year in Eagle Eye. I am the , the senior representative to the school...