Tyrone Senior Thankful to Be a Golden Eagle
Back when she was in sixth grade at Philipsburg Middle School, Tyrone senior Beverly Eirich struggled both academically and socially. Eirich has autism and as a result was having a lot of difficulty in school.  Things were not going well and her family was worried that she wouldn't make it to graduation.
"I was failing every class imaginable, and they wouldn't let me play any sports," said Eirich.
Eirich's mother, Ann, a Tyrone High School graduate, felt that a move back to her hometown might help her daughter better succeed in school, so the family moved here in the summer before Bev's seventh-grade year.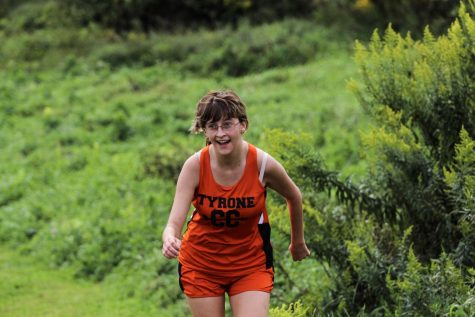 Since then Bev has worked hard to improve her social and academic skills and is now thriving in her senior year.
"[Bev] always talks about how much better people treat her here at Tyrone. She is proud to go to Tyrone," said her special education teacher Sarah Latchford.
Bev's mom agrees that the move to Tyrone has been very positive for her daughter.
"She is happy when she is going to school and when she comes home from school. She loves it here," said Ann.
According to Bev and her mom, the people at Tyrone have done everything in their power to help.  They give a lot of credit to the work of her general and special education teachers for her turnaround.
Bev's teachers are proud of how much she has grown and improved since moving to Tyrone.
"Beverly speaks up for herself.  She truly wants the world to be a better place and for everyone to treat each other kindly," said Latchford. "She is a lot more positive this year.  She is involved in a lot of activities [and] gives good advice to students who need it.  She is more confident in school activities and represents Tyrone in a positive way."
According to Bev, her favorite subject is Eagle Eye News, where she is a staff photographer and even occasionally writes stories for the online school newspaper. 
"Bev has so much enthusiasm for her school and does a great job as one of our photographers. This year she has learned how to take, edit, process and publish pictures on our website," said Eagle Eye Advisor Todd Cammarata, "Bev is also one of our most loyal Eagle Eye readers, she holds the record for most comments on the Eagle Eye with almost 250."
Many of Bev's classmates have also been positively impacted by her presence.
"Bev is always so happy when I see her and she always says hello to me in the hall, which is really nice. Her story is very inspiring and I love talking to her. Tyrone wouldn't be the same without her," said senior McKenzie Johnson.
Bev is a big Tyrone sports fan and a fixture at home sporting events, hardly ever missing a home football game or basketball game.  This year she can often be seen on the sidelines with an Eagle Eye camera in hand.
"
I am so glad that I came to Tyrone because it is a better environment for me. People are so much nicer here."
— Senior Bev Eirich
Eirich also enjoys participating in sports.  She is a member of the varsity track and cross country team.  Her favorite sport is cross country, in which she has earned three varsity letters.
"Bev is the best cheerleader we have and no matter what school we go to everybody knows her," said Tyrone cross country head coach Tammy Wills, "Many times when we get off the bus at away meets  the first question I'm asked by coaches and competitors from other schools is 'where is Bev, is she running today?'"
According to Wills, many times during races Bev would come upon a runner slower than her and realize that they were struggling, and instead of passing them she would run alongside and encourage them, sometimes all the way to the finish line.
"I will really miss Bev next fall. It has been great having her as a member of the team and I have really enjoyed coaching her," said Wills.
Looking back, Eirich is very happy to have made the move to Tyrone and is looking forward to graduation.  
"I still have friends in Philipsburg that I will never forget. My friend Misha and I have been close since kindergarten," said Bev. "But I am so glad that I came to Tyrone because it is a better environment for me. People are so much nicer here."
"
The people at Tyrone have done everything in their power to help.  They give a lot of credit to the work of her general and special education teachers for her turnaround."
View Comments (28)