Tyrone HS library offers free e-book downloads to all students
Students can now check out free e-books from the TAHS Library from home or anywhere
Keeping up with the latest technology, e-readers and e-books, the Tyrone Area High School library now offers students the ability to borrow e-books for their digital readers free of charge from anywhere.
The e-book library is available through the Tyrone High School library website, or click the icon below for direct access to Tyrone's e-reader site: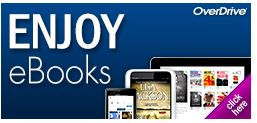 To log on to the site, students use their school username and password.  Just the student account username (first initial, middle initial, last name) is necessary, not the full tasd.us email address.
"I think once students try it, they will really like it," said Tyrone School Librarian KenGrady about the new e-reader program.
Gaining popularity in 2010, e-readers are essentially tablets created specifically for reading books. Depending on their memory capacity, each tablet can hold between 350-1500 e-books.
With many different brands taking advantage of this digital-reading frenzy, consumers have a lot to choose from. For example, there is the Amazon Kindle, Apple iPad, Android tablets, the B&N Nook and programs you can download such as Overdrive, to name a few.
The Tyrone High School library has purchased a program from Overdrive that is compatible with every major e-reading device that is also available as an app.
Much of the work to set up this program was completed by Mrs. Mary Riggle before her retirement in May of 2014.  Additionally, technical support was provided by network administrator Glen Drager.
Although the school's digital library is relatively small right now, with only 60 some books, they plan on ordering more books after they gain school board approval.
"Most of the titles on the site currently are more geared toward middle school, but we have money budgeted to purchase many more high school titles in the near future," said Grady.
Once downloaded, students will have access to the book for about two weeks. Borrowed titles will automatically expire when they're due, so students will never be charged a late fee.
Titles can also be returned early to make room for more checkouts.
Leave a Comment
About the Contributor
Kathleen Cempa, staff writer 10
Hey! My name is Kathleen Cempa and I attend the Grier School for girls as a sophomore! I've spent my entire life here in Tyrone and attended school at...