Third Marking Period Middle School Renaissance Stars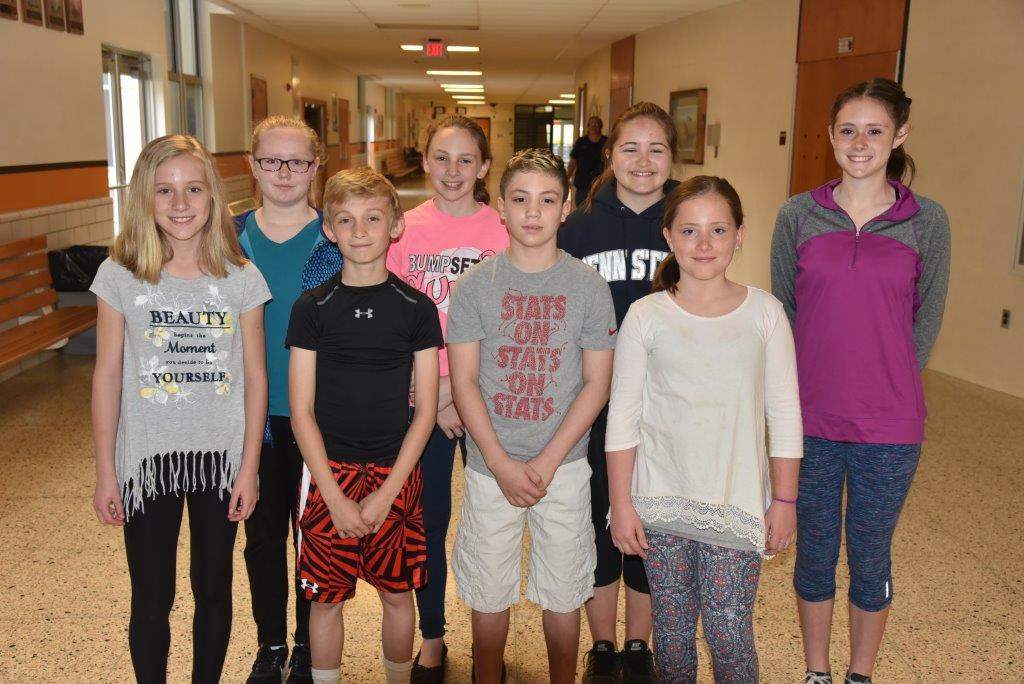 Another group of stars has been announced by the Tyrone Area School District Renaissance Education Foundation for the third marking period of the 2016-2017 school year. This marking period, the Tyrone Middle School teachers nominated eight students for recognition for outstanding academic achievement, positive attitude, or overall improvement.
In fifth grade, Breanna Paul was nominated by the Fifth Grade Team. According to the Fifth Grade Team, "Bree is an amazing young lady. She is the type of kid that every teacher wishes they could replicate. Bree is sweet, kind, funny, and caring. She works extremely hard and loves to learn. She comes in every single day with a positive attitude that makes everyone smile and want to work harder."
The Fifth Grade Team also nominated Laynie Walk. "Laynie is a kindhearted, sweet young lady. She is a breath of fresh air in our classrooms. She is very mature for her age and knows when to joke around and when to be serious. She makes us laugh on a daily basis and keeps everyone smiling. She's extremely trustworthy and reliable," said the Fifth Grade Team.
Sixth grader Colton Veres was nominated by the Sixth Grade Team. The teachers said, "Colton has consistently worked hard throughout the year and always completing work on time. He challenges himself to excel and puts forth the effort it takes for that to occur. In addition, Colton is supportive of his peers and willingly helps others."
Jaden Williams was also chosen by the Sixth Grade Team. "Jaden is a kind-hearted, hard-working student who excels in many aspects of education. She is prepared for class and is so attentive that she catches many nuances of education. She listens and remembers what is taught and has superb problem-solving qualities. Her positive and calm attitude each day has a great effect on others. Jaden has confidence, balanced with kindness; attributes that will serve her well over her years here at school," the Fifth Grade Team said.
Ellie Oakes, seventh grade, was nominated by the Seventh Grade Team. The Seventh Grade teachers said, "Ellie is a great leader and a very responsible student. Ellie strives for success every day. She observes safety by never getting into trouble in the hallways from class to class. She acts with integrity with every assignment that she completes."
Seventh grader Ashton Sipes was also chosen by the Seventh Grade Team. "Ashton is a determined student who always gives his best effort in the classroom. He is very courteous to his fellow classmates and shows great participation in class discussion. Not only does Ashton show good effort, his work backs up the effort by its high quality," said the Seventh Grade Team.
Eighth grade students Jenna Kemp and Chesney Saltsgiver were chosen by the eighth grade team. The eighth grade teachers said, "Jenna is a student who takes the time to make sure that her classwork and homework are not just completed, but done well. During class time, she is focused and sets an example for other students to follow in her manner and actions. With peers, Jenna is friendly and kind, willing to help them out when needed."
"Chesney is a student who takes pride in both her classwork and her homework. During class, she is focused, participates in the lesson, and is always willing to help out her peers. Chesney is a very friendly and polite student who interacts well with both her peers and adults. Chesney is an outstanding student to have in class," the Eighth Grade Team said.
About the Contributor
Hannah Gampe, Editor in Chief
Hello! My name is Hannah and I'm (finally) a senior at TAHS. I hope to be writing the swim stories and other student and alumni spotlights. This is my...