Veterans Day Remembrance: Pvt. Michael Fanella
Altoona resident Michael Fanella was just 21 years old in May of 1944. Hunched down in a foxhole, Fanella and his fellow artillerymen were taking cover under intense German fire during the Battle of Anzio on the Mediterranean Coast in Italy. Sometime during the firefight Fanella was hit in the chest by a bullet or shrapnel. A blood transfusion was attempted by a medic but it was of no use. Pvt. Michael Fanella was killed in action on May 30, 1944.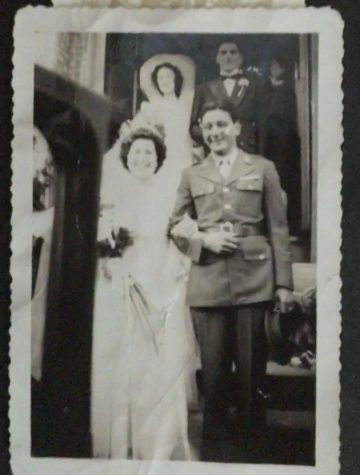 Fanella was one of 416,800 American soldiers, sailors, and airmen killed in action during World War II.
What makes his story so important to me, is that Fanella was a member of my family.  He was my great uncle, and learning about his story has inspired me to both research my family and appreciate the sacrifices made by veterans like Fanella throughout American history.
Fanella had a family, a job, and a bright future ahead of him until it was cut short when America needed him. Learning about my great uncle's story has been very difficult. I interviewed his brother, Dan Fanella, who is still alive and in his 90s. But even today, 76 years later, Dan does not like to talk about this sad chapter of our family's history. But through online research and one old newspaper clipping, I was finally able to gain enough information to write his story.
Fanella was born on January 31, 1923, in Landisville, New Jersey to a large family of Italian immigrants. He had four brothers and three sisters. He and his family would soon move to the booming railroad town of Altoona, Pennsylvania in search of work.
Being a child of the Great Depression made him a tough and knowledgeable kid. He and his brothers would take odd jobs to support the family. With many children, income was needed to feed all of them. They did jobs like plowing gardens and worked in an auto shop. When he was old enough, Fanella started working for the Altoona Railroad and was employed at the Juniata Shops. 
But another hardship would soon reveal itself. The rapid rise of the Axis powers threatened the free world. The thought of living under oppression worried the American people, but the scars from World War I had not yet healed. Americans did not want to get involved in another prolonged war thousands of miles away. But little did they know they would be the key to defeating the Axis powers.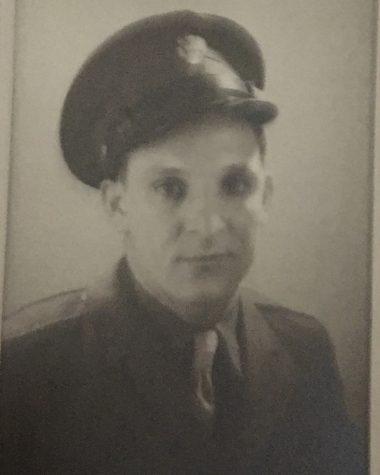 On December 7, 1941, the Americans found themselves vulnerable. Surprisingly, it was the Japanese who attacked first. Air bombing the naval base of Pearl Harbor and Hickam Airfield. Battleship Row was targeted by the Japanese, and the once-mighty Iowa class battleships were reduced to burning heaps of metal. On December 8th the U.S declared war on Japan. A few days later war was also declared on Germany and Italy.
Upon learning about Pearl Harbor, like millions of others, Fanella felt compelled to serve. On February 5, 1943, he enlisted in the United States Army. He was shipped off to basic training at Fort Bragg, North Carolina. After Basic, Fanella was assigned to field artillery training at Fort Jackson, South Carolina.
After receiving his training Fenella was assigned to the 584th Field Artillery Battalion and shipped to fight in the North African Campaign. Little did he know the journey ahead of him would be long and dangerous.
Fanella was a veteran of the North African campaign and helped the Allies to capture Sicily. One of the biggest obstacles he would face was Operation Shingle, the Anzio beachhead landings. The landings worried the Germans because the Americans were beginning to gain a presence in Europe.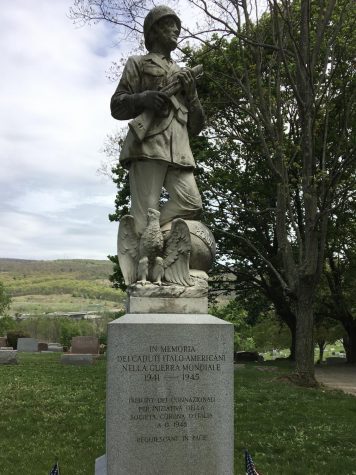 The American units were trapped on a small strip of land. A new operation had to begin. The breakout of Anzio.
Field artillery would be a key element in breaking out. By pounding the Germans with thousands of artillery rounds. Pounding the German defensive positions until they were forced to retreat. The artillery proved effective and the men were no longer contained in Anzio.
Fanella had done his job and been through some of the worst fighting of the war. In total, the allies suffered more than 43,000 casualties in the operation. 
On May 30th, 1944, Fanella and his unit were attacked as Germans began to spray gunfire toward his unit.
Fanella took cover in a fox hole as the enemy bullets were flying past the men of the 584th, the man that jumped into the foxhole with him was a Pittsburgh native. Sometime during the firefight Fanella was hit. While the details are unknown about his condition a blood transfusion was attempted but failed. Fanella said his last words to that soldier from Pittsburgh, asking him to inform his family of what happened. Michael Fanella was killed in action on May 30th, 1944 at 21 years of age.
The Fanellas would receive word of Micheal's death by telegraph a month later. No details were shared, just that he was killed in action in the Mediterranean.
Many months later the Fanellas were visited by the Pittsburgh native that shared the foxhole with Fanella when he died. The soldier told Fanella's family about how he served with him throughout the war and that he was present when he died. Although they were sad to hear the final moments of their son's life, the family was grateful that the soldier kept his promise to their son and returned to share the story with their family.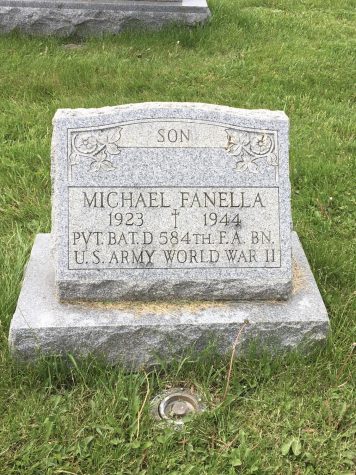 Today, very few reminders about Michael Fanella's life are still around. The only items that indicate he was ever alive are his tombstone, a handful of pictures, and a statue of a soldier in Calvary Cemetery in Altoona of a soldier with the names of local Italian-Americans that died in the war.
Although we do not know everyone that served and fought for our country, we owe everything we have to them. They stepped up when our country needed them too. There are so many more veterans whose stories are similar to Ptv. Michael Fanella but have already been lost to history.  I hope that need to share their story with someone so that we can always remember their bravery and sacrifice.
To all veterans past, present, and future, thank you. 
Leave a Comment
About the Contributor
Dean Grassi, Assistant Sports Editor
Dean Grassi is a hard working guy and fun to be around. He spends his days in Tyrone High by playing Football, Wrestling, and Tennis and is going into...