Penns Valley Rolls Past Eagles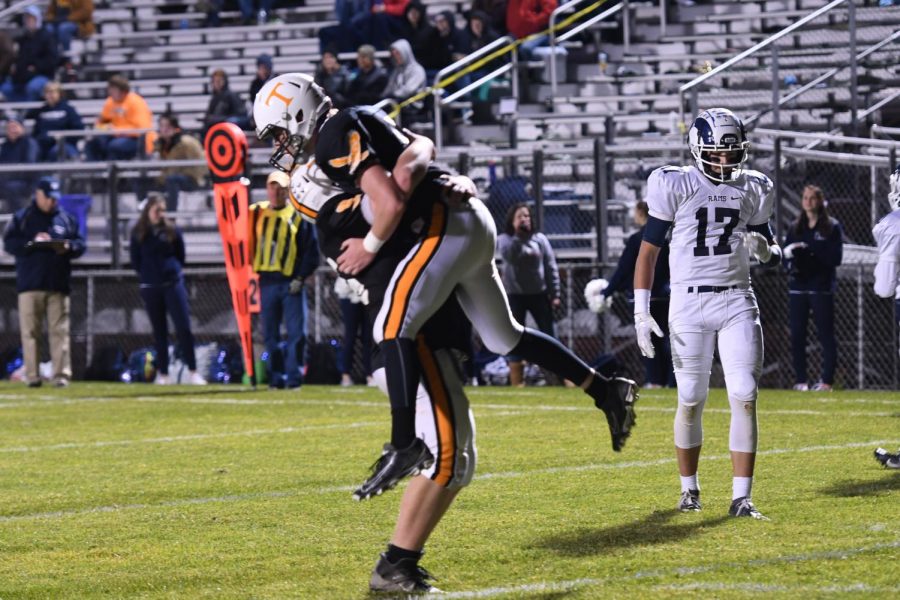 The Tyrone Golden Eagle football team suffered a crushing defeat Friday night on senior night. Tyrone held tough in the first half only being down 21-7. The recurring theme of injuries plagued the second half suffocating their chances of pulling the upset. 
The already banged up Golden Eagles lost two more two way starters Friday night when Damon Gripp was knocked out of the game with an ankle injury and Brandon Lucas after taking a shot to the head.
Penns Valley marched straight down the field on their first drive of the night on a long run by Baney giving Penns Valley a 7-0 lead only 1:03 seconds after the opening kickoff. 
Penns Valley extended their lead when the states leading passer Aaron Tobias connected with with Lied for a 54 yard strike extending their lead to 14-0 with 11:27 left in the second quarter.
Penns Valley was able to score one more touchdown before the half ended when Tobias took the ball in himself from 7 yards out making the score 21-0 with 2:52 left in the half.
Tyrone was able to cut into the PV lead when Keegan Gwinn who was filling in for the injured Lucas connected with senior Broc Zimmerman from 6 yards out making the score 21-7 with 2.9 left in the half.
Penns Valley came out determined in the second half as their offense exploded for 41 points over the final two quarters. Tyrone was able to score their second touchdown of the game when Gwinn connected with Brandon Homan right at the start of the fourth quarter.
With the loss Tyrone moves to 2-7 on the season. They look to close out 2019 with a win this Friday when they travel to Huntingdon. 
SCORE BY QUARTERS
Penns Valley 7 14 20 21 — 62
Tyrone 0 7 0 7 — 14
First Quarter
P–Baney run (Brinker kick), 10:57
Second Quarter
P–Lieb 54 pass from Tobias (Brinker kick), 11:27
P–Tobias 7 run (Brinker kick), 2:52
T–B. Zimmerman 6 pass from Gwinn (Raabe kick), 2.9
Third Quarter
P–Snyder 29 pass from Tobias (Brinker kick), 11:08
P–Fisher 10 pass from Tobias (Brinker kick), 0:38
P–Tobias 13 run (kick failed), 4:28
Fourth Quarter
T–Homan 3 pass from Gwinn (Raabe kick), 11:51
P–Snyder 62 pass from Tobias (Brinker kick), 11:09
P–Fisher 32 pass from Tobias (Brinker kick), 7:55
P–Ilgen 55 run (Brinker kick), 4:18
TEAM STATISTICS PV T
First downs 15 14
Total yards 597 307
Rush yards 192 30
Yards passing 405 277
Passing (comp-att-int) 17-26-0 23-35-1
Punts-avg. 1-31 4-39
Fumbles-lost 3-1 3-1
Penalties-yards 4-45 4-35
INDIVIDUAL STATISTICS
RUSHING–Penns Valley, Baney 5-32, Snyder 1-15, Tobias 7-57, Ilgen 1-55, Homan 1-19, Brinker 1-12; Tyrone, Lucas, 6-(minus) 13, Clifton 8-15, Beck 2-0, Homan 2-3, Gwinn 5-16, Sprankle 6-6, Frazell 1-3
PASSING–Penns Valley, Tobias 17-26-0-435; Tyrone, Lucas 9-13-0-71, Gwinn 22-14-1-176.
RECEIVING–Penns Valley, Fisher 5-176, G. Ripka 1-36, Snyder 6-148, S. Ripka 2-3, Lieb 1-57, Homan 1-8, Braucht 1-13; Tyrone, Gripp, 10-109, Beck 2-8, B. Zimmerman 6-55, Homan 3-71, Parks 1-13, Sprankle 1-6.
About the Contributors
Michael Stoner, Sports Editor
Hi, I'm Michael Stoner. I'm currently a senior at Tyrone Area High School, and this is my third year as a member of the Eagle Eye staff. This year,...
Lucia Isenberg, Photo Editor
Hey there! I'm Lucia Isenberg and a Junior at good ol' Tyrone High. This is my third year in Eagle Eye and my second year as Photo Editor. I have started...