No ruffled feathers: Tyrone boys go undefeated in Backyard Brawl series
Tyrone's boys athletics dominate the 2014-2015 Bellwood-Tyrone rivalry
The Tyrone-Bellwood rivalry has been the stuff of legends for as long as anyone can remember. The famous Backyard Brawl on the gridiron has been played every year since 1939, the year Bellwood combined with Antis township to become Bellwood-Antis.
This rivalry has seen it all: coaching changes, class changes (from A to AA to AAA), school district changes — you name it. But one thing always remains the same: these two towns do not like to lose to each other.
"When you have two schools so close together and with such similar traditions, it is always a great matchup," Athletic Director and Dean of Students Luke Rhoades said.
Since the introduction of cooperative sports such as soccer and swimming, the rivalry has changed a bit. There are currently seven male sports played between Bellwood-Antis and Tyrone every year – football, cross country, golf, wrestling, basketball, baseball, and track.
In the 2014-2015 school year, the Tyrone boys pulled off something that will go down in the history of the Backyard Brawl:
The Golden Eagles went undefeated against the Blue Devils, finishing with a cross-sport record of 6-0-1 for the 2014-2015 school year.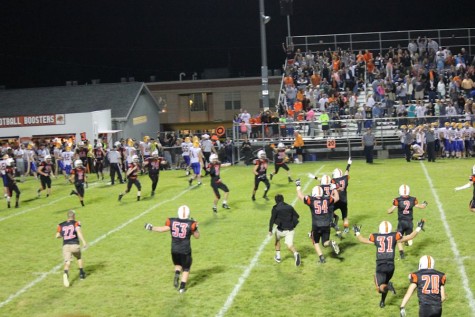 Football: Tyrone 18, Bellwood 14
In central Pennsylvania, football holds a special place in the hearts of many. It's the first Backyard Brawl of the year. It is also the only Backyard Brawl sporting event that has its own trophy. So, it's safe to say that the annual football game sets the tone for the rest of the year's rivalry.
Coming into the game, the Tyrone Golden Eagle football team held a 48-27-1 all time advantage against Bellwood.  After losing several key players to graduation, Bellwood was considered an underdog by many going into the game.  But as is so often true with heated rivalries, you can throw predictions out the window, because this year's Backyard Brawl was one of closest and most exciting games in recent memory.
Tyrone overcame a 14 point deficit to take a 4th quarter lead of 18-14 into the final minutes of the game.  But Bellwood would not give up and found themselves inside Tyrone's ten yard line and threating to score with just seconds left.  On the final play of the game Tyrone's Ricky Reader sacked Bellwood's Jake Burch to clinch the thrilling win for the Golden Eagles.
"The Bellwood rivalry is always intense," said Tyrone head coach Jason Wilson, "When the players step out onto the field in front of a couple thousand fans, their adrenaline just increases. After we got down early, the key for us was to just control those emotions and gather ourselves."
"It will probably be one of the most memorable games in recent history. There were several plays that switched the momentum from one team to the other throughout the entire game. We were down early, made the comeback to take the lead late in the fourth only to have a potential game winning final drive go clear down inside our ten," Wilson said.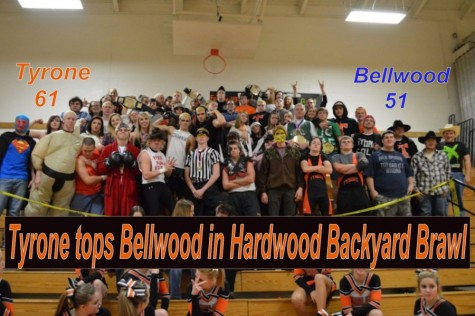 Basketball: Tyrone 61, Bellwood 51
Stung by their loss on the gridiron, Bellwood was looking for revenge on the hardwood.  Second only to football in general fan interest, the hardwood version of the Backyard Brawl is always interesting.
Relying on star shooter Nathan Davis to defeat the Golden Eagles, the Blue Devils came into the game ranked first in AA by the D6 Sports Network. Tyrone, with three new starters and without Brandon Gripp for the first time in four seasons, was unranked.
But Tyrone proved the prognosticators wrong in a scrappy, hard-fought contest, upsetting Bellwood 61-51.
"We knew going into the game that we had to stop Nate Davis, he obviously was their go-to-guy and I think we did a really good job keying in on him. Defense was the motor.  Overall, it was a great team win," said senior PG Shane Geis.
Tyrone took over the game with a scoring barrage from Tony Politza, Shane Geis, and Pooky Soellner. Each scored 14 points in the contest. Bellwood's Nate Davis also scored 14 points. However, none of his teammates were able to perform at the same level.
"We were thinking about playing them first game all summer. We were anticipating a very good game from the start. It was easily one of the most exciting games of the season," senior guard Pooky Soellner said.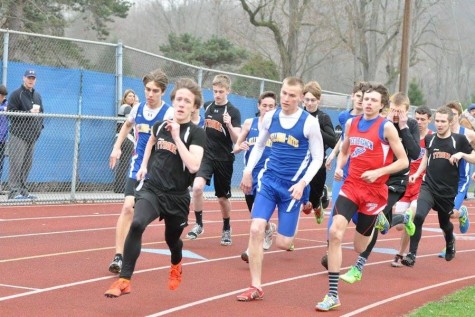 Track and Field: Tyrone 75, Bellwood 75
Wins against Bellwood in basketball and football are somewhat commonplace for Tyrone. However, while Tyrone dominates the record book in football, Bellwood dominates in track.
Bellwood's track program has been stellar for a very long time.  It has been at least a decade since Tyrone hasn't lost to the Blue Devils on the track. But this year, Tyrone took a few key wins here and there to tie Bellwood 75-75.
"Losing is sort of like kissing your opponent's butt, and winning is like kissing your girlfriend.  A tie is, well, you know, like kissing your sister–but since we have been kissing Bellwood's butts in track for over a decade, this tie is sort of like kissing your step-sister–a really good looking step-sister.  An unsettling if not twisted pleasure–sorry if that simile is not kosher, but it best describes how we feel right now," mused Tyrone head coach Steve Everhart after the improbable tie.
The Tyrone boys track team remained undefeated in duel meets for the rest of the season.  They also won the Mountain League title and finished second in District XI at the District Championship Meet on May 12.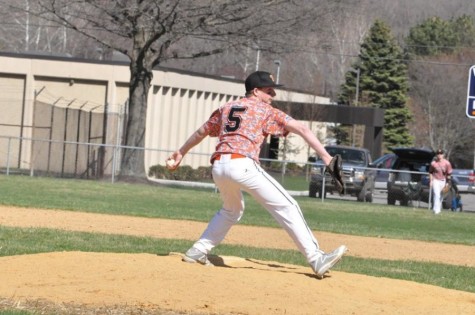 This year's Baseball Brawl may have been an even bigger surprise. Bellwood came into the game ranked second in the state according to Maxpreps, and were heavy favorites to beat Tyrone, who at the time was still looking for its first win of the season.
But thanks to some crafty southpaw pitching from sophomore Brian Gunter, Tyrone  knocked off the 8-0 Blue Devils 5-1 in an unthinkable upset, especially considering that Tyrone struggled the rest of the season, ending with only three wins.
"They were undefeated and we wanted to come out and prove that we were the better team, and that day we were," said senior Tristan Lingafelt.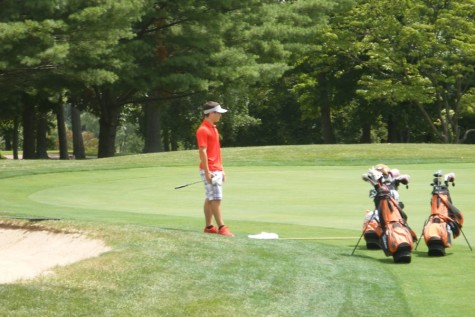 Golf:  Tyrone 394. Bellwood 419
But wait, Bellwood scored more points than Tyrone, they win! Nope, this is golf. And just like driver licenses, the less points you have in golf, the better.
Backed by the team leading play of freshman Ethan Vipond, the Golden Eagles were able to defeat the Blue Devils on the links in a tri-meet by 25 strokes.
"We hadn't beat Bellwood in a couple of years," said freshman Ethan Vipond, who carded a team leading 88 that day.  "It was nice to get a win against them and to stop that streak."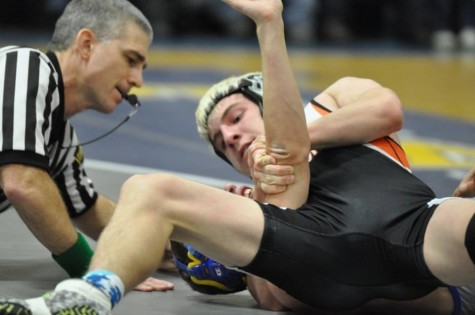 Wrestling: Tyrone 51, Bellwood 21
The Tyrone grapplers got a 51-21 win over Bellwood with pins from Ty Snyder, Stevie Colyer, Parker Alley, and Sage Dixon.
"Ty's pin was the biggest win of the night because he and Josh Wilson were two of the better guys in the district at 145," said Stevie Coyler.
"It was just about going out and giving all we had to beat them. It wasn't the individual effort, it was the team coming together, pursuing, and pushing ourselves to give all that we had to beat them," senior Ty Snyder said.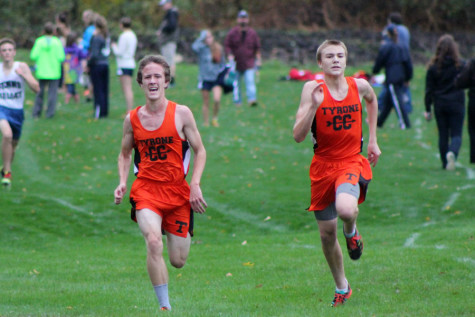 Cross Country: Tyrone 28, Bellwood 27
Tyrone's cross country team has greatly improved since last season. Much like track, Tyrone often loses to Bellwood in cross country. But this year, the tables turned on an exciting finish.
"The race went down to the wire, we won by one point.  I remember one of the kids from Bellwood said they really wanted to beat us because of the football loss," said Tyrone cross country runner Adam Zook.
"I think one of the best things about our meets with Bellwood is although it is a big rivalry, there is a lot of mutual respect between the runners from both teams.  Bellwood always has an outstanding cross country team and it is a tough meet. I think this makes a win against them even a little sweeter, because our runners know what an accomplishment it is to beat them," said head coach Tammy Wills.
"I remember Adam [Zook] almost passed a runner from Bellwood in the final stretch.  He didn't quite make it, but it was a really exciting finish and fortunately second place was enough to still give us the win," said girls cross country runner Kathleen Cempa.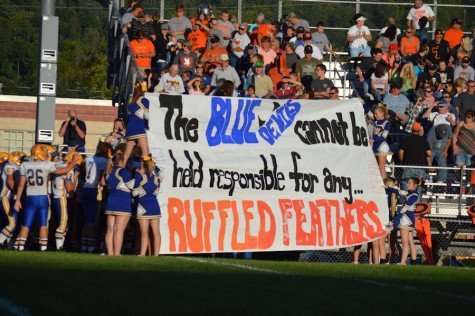 In our limited research, we cannot be certain when or if this has ever happened before. We also lack the clairvoyance to see into the future — ergo we could never know if this will ever happen again.
But the fact remains, the Tyrone boys did not lose to Bellwood even once in the 2014-2015 school year. And that is one for the record books.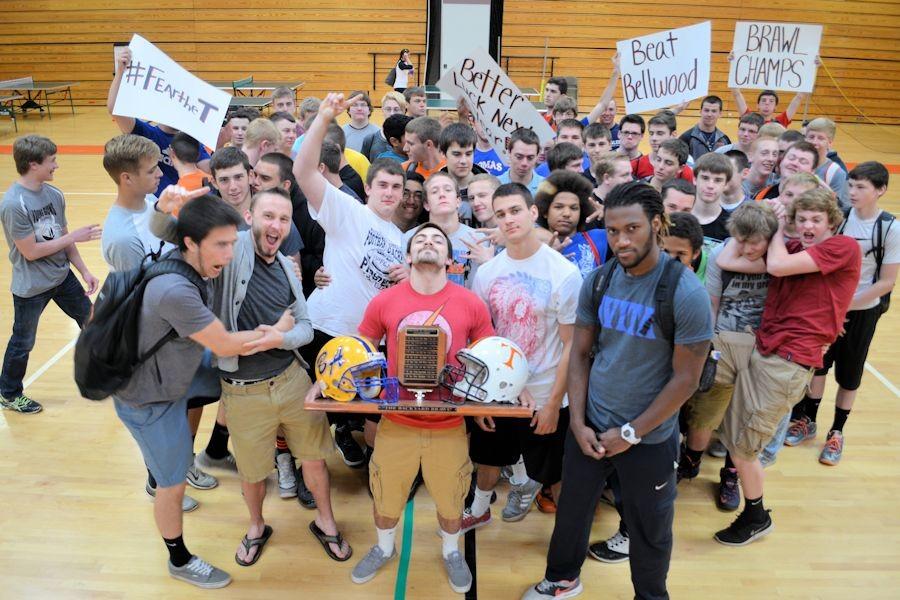 About the Contributor
Mark Lewis, Sports Editor
Hey good looking, come here often? My name is Mark Lewis and I'm a senior this year. DUDE, I'm super stoked to be the Sports Editor of this year's Eagle...