Tyrone defeats Bellwood 18-14 in "Back Yard Brawl" nail-biter
Key plays by Reader and Bakhsheshe seal the win for Tyrone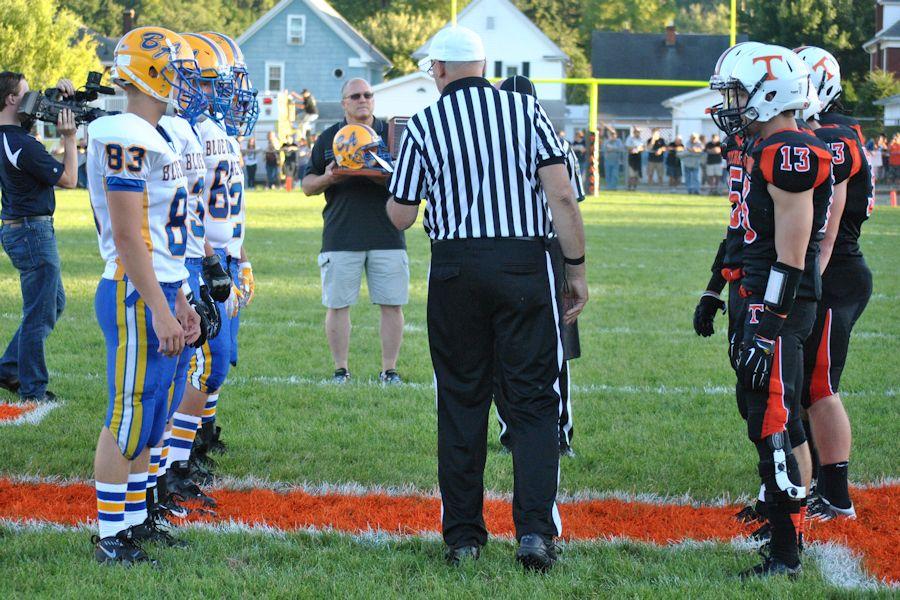 In one of the most exciting "Back Yard Brawls" in recent history, the Tyrone Golden Eagles defeated Bellwood Antis 18-14 at Grey Memorial Field.
In fitting fashion for this intense rivalry, the game came down to the final play. With Tyrone leading 18-14 and only six seconds left, Bellwood had the ball on the Tyrone six yard line.
As Blue Devil quaterback Jake Burch rolled out to his right, looking to the end zone, he met Tyrone defensive end Richard Reader.  Reader sacked Burch on the final play of the game to secure the win for Tyrone.
"The second I took down the quarterback I knew it was all over.  It was an amazing feeling," said Reader, "that last drive the whole defense knew what had to be done to win the game. We all had to do our job and go 100%. It came down to who was better conditioned."
"
The second I took down the quarterback I knew it was all over. It was an amazing feeling"
— Defensive end Ricky Reader
The game began much differently for the widely favored Eagles.  By capitalizing on two Golden Eagle turnovers, the Blue Devils grabbed the early lead.
Early in the first quarter,  Bellwood quarterback Jake Burch tossed an 80 yard touchdown bomb to Kyler Lardieri for their first score.  In the second, Bellwood running back Cameron Wood scampered in the end zone from 3 yards out, for the second resulting in a 14-0 Bellwood lead.
However, Tyrone showed some life right before halftime.  Senior quarterback Garrett Hunter connected with senior wide receiver Cameron Bakhsheshe on a 20 yard touchdown pass. The extra point attempt was no good, making the halftime score 14-6 Bellwood.
In the third quarter, with the game still 14-6, Bellwood was threating to take a commanding 21-6 lead when Cameron Bakhsheshe grabbed a momentum shifting interception in Tyrone's own end zone.
The interception set up a 95 yard drive by the Golden Eagle offense, resulting in a Aleic Hunter touchdown from 5 yards out.
Midway through the fourth quarter, with the score still 14-12 in favor of Bellwood, first year Head Coach Jason Wilson faced a huge decision on a fourth and four in Tyrone territory.  Rather then going for it on fourth down, Wilson decided to trust his defense and punt the football.
Tyrone junior Richard Reader responded with a booming 63 yard punt that pinned Bellwood at their own 4 yard line.
With that punt, the Golden Eagles defense wouldn't be denied. They stopped the Bellwood offense on a three and out, forcing a punt.  That set the Eagles up with great field position for the game winning drive.
On a crucial third-and-eight near mid-field, quarterback Garrett Hunter found Senior Nick Getz deep down field for a 41 yard gain, to the 2 yard line. Two plays later, Garrett Hunter scored on a quarterback sneak, giving the Golden Eagles the 18-14 lead, which they would hold for the duration of the contest.
Game Statistics
Bellwood-Antis  7 7 0 0 – 14
Tyrone  0 6 0 12 – 18
First quarter
BA-Lardieri 80 pass from Burch (Creppage kick), 2:05.
Second quarter
BA-Wood 3 run (Creppage kick), 9:29.
T-Bakhsheshe 20 pass from G. Hunter (kick failed), 2:08.
Fourth quarter
T-A. Hunter 5 run (pass failed), 10:59.
T-G. Hunter 1 run (pass failed), 3:45.
INDIVIDUAL STATISTICS
RUSHING: Bellwood-Antis-Lardieri 3-45, McMillan 9-27, Wood 12-20, Burch 10-11, Mock 1-(-7). Tyrone-A. Hunter 24-151, Sleeth 6-20, G. Hunter 9-(-10).
PASSING: Bellwood-Antis-Burch 9-15-1-159, Lardieri 1-1-0-(-4), TEAM 0-1-0-0. Tyrone-G. Hunter 9-16-1-130.
RECEIVING: Bellwood-Antis-Lardieri 3-94, Miller 3-47, Wood 2-10, Taylor 1-8, Brunner 1(-4). Tyrone-Getz 5-80, Bakhsheshe 1-20, Crawford 1-19, A. Hunter 1-7, Sleeth 1-4.
INTERCEPTIONS: Bellwood-Antis-Lardieri. Tyrone-Bakhsheshe.
TEAM STATISTICS
First downs  BA – 13  T – 17
Rushes-yards BA – 35-96  T – 39-161
Passing (comp.-att.-int.)BA – 10-17-1 T – 9-16-1
Yards passing BA – 155 T – 130
Total yards BA – 251 T – 291
Fumbles-lost BA – 1-1 T – 3-1
Penalties-yards BA – 6-55 BA – 6-68
Punts-avg. BA – 4-31.7 T – 2-47
About the Contributors
Bry Taylor, staff writer
Hi, I am Bry Taylor. I'm a senior. I play on the varsity football team.  I've  been involved in football since I was seven years old. I'm also a huge...
Carly Crofcheck, Social Media Director
My name's Carly Crofcheck. I've been in the Tyrone Eagle Eye for four years and I'm a Senior at TAHS. Last year I was the Editor in Chief, this year...