Lady Eagles Still Searching for 2nd Win of Season
The Lady Eagles are still looking for their second win of the season and fell short to the Clearfield Lady Bison and the Penns Valley Lady Rams in conference play.
"These were two very disappointing games, games we could've won," said head coach Peter Baran.  "We aren't hitting the ball.  But I believe in this team, and they need to believe in themselves and have fun while doing it!"
On Monday, the Lady Eagles traveled to Clearfield to take on the Lady Bison.  In the first inning, the Lady Bison were quick to score 5 runs, giving them the lead.
Clearfield senior Raeleigh Redden was strong in the circle, giving the Lady Eagles very few hits.
"We need to start hitting," said junior Madi Grazier.  "If we start making contact, we will be able to run with teams.  Without hitting we will remain scoreless."
The Lady Bison went on to win the game 10-0 after the 5th inning.
Penns Valley 10, Tyrone 0
It was a very similar fate for the Lady Eagles as they took on the Lady Rams last night.  
Although the score would tell you that the game was not close at all, for the first two innings, the Lady Eagles put up a fighting chance against the Lady Rams.
Penns Valley senior Harlee Hess struck out three batters in the first inning, but also gave up her first hit of the night to Grazier, but senior Anna Baran was strong as well.  She struck out the first three Penns Valley batters leaving the score 0-0 at the end of the first.
It was thought to be a pitching duel, but as in games past the Lady Eagles had their "one bad inning" involving errors, hits, and walks, to give the Lady Rams more motivation to win the game.
The Lady Rams went on to win the game 10-0 after 5 innings.
Your Lady Eagles will be back in action on Friday, April 22nd, in Philipsburg to take on the Lady Mounties at 4:30 in conference play.
SCORE BY INNINGS
Tyrone: 000 00X X- 0 2 0
Clearfield: 522 01X X-10 9 3
2B-Jones, Bishop (C).
Multiple hits-Jones 3, Bishop 2, Cline 2 (C).
RBI-Bishop 2, Jones 2, Sartin 2, Feder, Redden (C).
WP-Redden. LP-Eaken.
SO-Baran 6, Redden 4.
BB-Redden 2, Baran 3.
Records: Clearfield (2-4); Tyrone (1-6).
Leave a Comment
About the Writer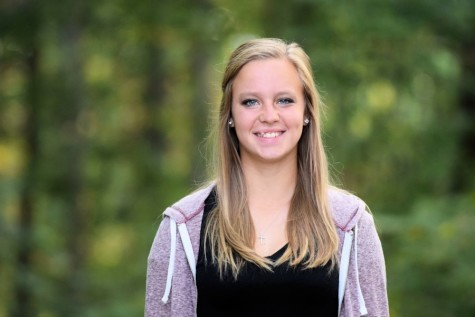 Anna Baran, Sports Editor
Hi! My name is Anna and I am in 12th grade. My favorite things to do are play softball and soccer. Sports are my passion. I enjoy playing all sports, whether...