Lady Eagles Fall to Three Tough Teams
Loses to Bellefonte, BEA and Bellwood this week
The Lady Eagles softball team is still struggling to find their groove after three tough losses last week to quality teams because of many errors in the field.
"We played tough against Bellefonte, but fell short the same against BEA and Bellwood.  We need to have confidence in ourselves that we can play with anybody," said head coach Peter Baran.
Tyrone 0, Bellefonte 6
On Wednesday the Lady Eagles faced the Bellefonte Lady Raiders, and fell 6-0.  All of Bellefonte's runs were unearned.  Senior Anna Baran was very strong in the circle, but errors got the best of the Lady Eagles.
"We played such a good game minus the errors," said junior Madi Grazier.  "It's hard to know that without of the errors, we could've ran with that team."
Bald Eagle 15, Tyrone 1
After Wednesday's heartbreaking loss, the Lady Eagles took on the Bald Eagle Area Lady Eagles on Thursday.
Senior MacKenzie Eaken pitched a solid game only allowing 2 earned runs, but the errors were still held back the Lady Eagles from remaining in the game as they suffered their second loss of the week 15-1.
"Although the score didn't show it, we were in the game the whole way.  We just have that one 'bad' inning that we need to get rid of," said Eaken.
Tyrone 0, Bellwood 13
After the Bald Eagle game, the Lady Eagles began to prepare for their final game of the week against the Bellwood Lady Blue Devils.
The Lady Eagles knew that it was going to be a tough match, but they were determined to win to say the least, but they still fell short due to errors in the field, losing 13-0.  Bellwood senior Taylor Shildt was strong in the circle, allowing very few hits and striking out many to keep the Lady Eagles off the bases.
"Taylor is a strong pitcher," said Baran.  "We weren't expecting to see her on Saturday morning and we were not prepared for her pitching style."
The Lady Eagles will be back in action tonight at 4:30 in Clearfield to take on the Lady Bison in conference play.
SCORE BY INNINGS
Tyrone: 000 000 0-0 5 6
Bellefonte: 011 121 X-6 6 3
2B-Hosko (T); Baney, Bernier, Gates (B).
Multiple hits-Hosko 2 (T).
RBI-Wetzler, Ault, Trexler, Maurer, Baney 2 (B).
WP-Bernier. LP-Baran.
SO-Baran 3 (T); Bernier 5 (B).
BB-Baran 3 (T); Bernier 1 (B).
Records: Tyrone (1-4); Bellefonte (5-0)
Leave a Comment
About the Writer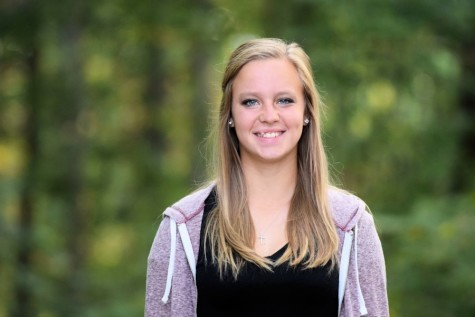 Anna Baran, Sports Editor
Hi! My name is Anna and I am in 12th grade. My favorite things to do are play softball and soccer. Sports are my passion. I enjoy playing all sports, whether...