Lady Eagles Defeated in Overtime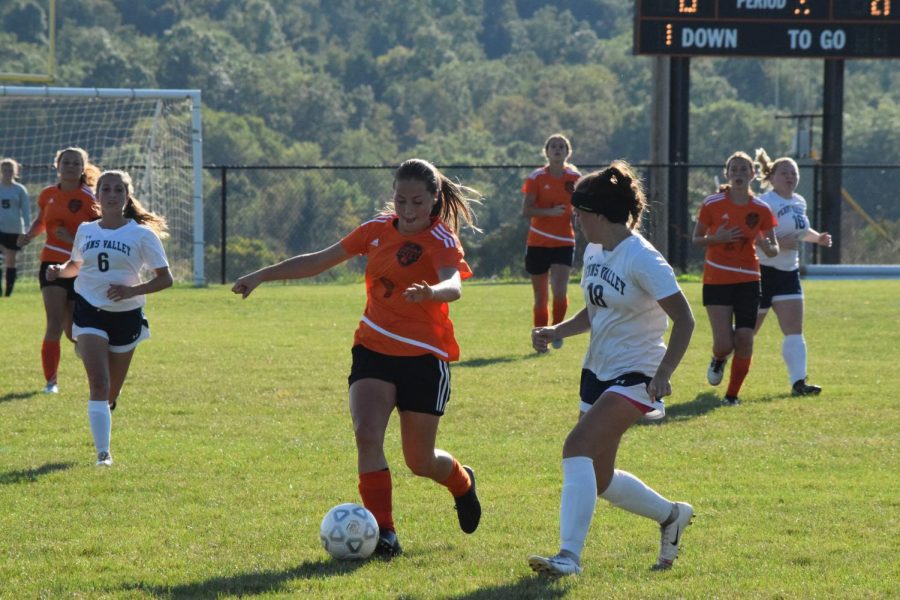 Mother Nature did not help in the Tyrone Lady Eagles soccer team's loss against Penns Valley last Thursday. It was cold the whole game and a little after halftime it started to pour down rain making the field and ball very slippery. Both the Lady Eagles and Lady Rams played hard, but Tyrone fell in overtime 5-4. 
In the first half of the game, the Lady Rams scored within the second minute, but Tyrone came back strong when Chloe LaRosa dribbled passed the defense and scored. Both teams continued to play strong until Penns Valley scored again in the twenty-first and twenty-second minute, leaving the first half 1-3. 
"
I think we played a tough game. To be down by three goals and then come back and tie it up and go into overtime."
— Lindsey Parks
In the second half, the Lady Rams came back and scored another goal, but Tyrone did not back down. Tyrone's LaRosa found the back of the net to score two more goals, one assisted by freshman Avalyn Moore. LaRosa brought the Lady Eagles back into the game with only being down by one goal.
Tyrone continued to take many shots but couldn't get the ball to hit the goal until the last minute of the game. The ball bounced up to hit a Penns Valley player in the arm and the referee called for a penalty kick, due to the handball being inside the 18. LaRosa then took the perfect chance to tie and brought both teams to overtime. 
"I think we played a tough game. To be down by three goals and then come back and tie it up and go into overtime," said Tyrone's sophomore captain Lindsey Parks.
During overtime, both teams played very intensely making the audience anxious with all the shots on both goals. No goals were made until Penns Valley took a throw-in and threw the ball over Tyrone's defense heads and Penns Valley player, Hannah Montminy dribbled the ball to the net and scored with a lucky shot. That goal allowed Penns Valley to beat Tyrone, ending the game with 4-5.
"We played great. There's nothing you can do about them winning by a lucky shot," Lindsey Parks explained. 
Score
Penns Valley– 3 1 1- 5
Tyrone– 1 3 0- 4 
First Half: PV- Montminy (unassisted), 1:39; T-LaRosa (unassisted): 2:07; PV- N. Denger (Montminy), 21:50; PV- Montminy (unassisted), 22.53
Second Half: PV- Korman (Montminy), 44:15; T- LaRosa (unassisted), 51:11; T- LaRosa (Moore), 72:26; T-LaRosa (penalty kick), 79:19.
Overtime: PV- Montminy (unassisted), 86:21.  
About the Contributor
Hailey Vanish, Staff Writer
Hey, I am Hailey Vanish and I am a freshman this year at Tyrone. This is my first year at Tyrone and in Eagle Eye. I play soccer on the varsity Lady Eagles...