Inside the Golden Raffle
Everything you've ever wanted to know about the Golden Raffle but were afraid to ask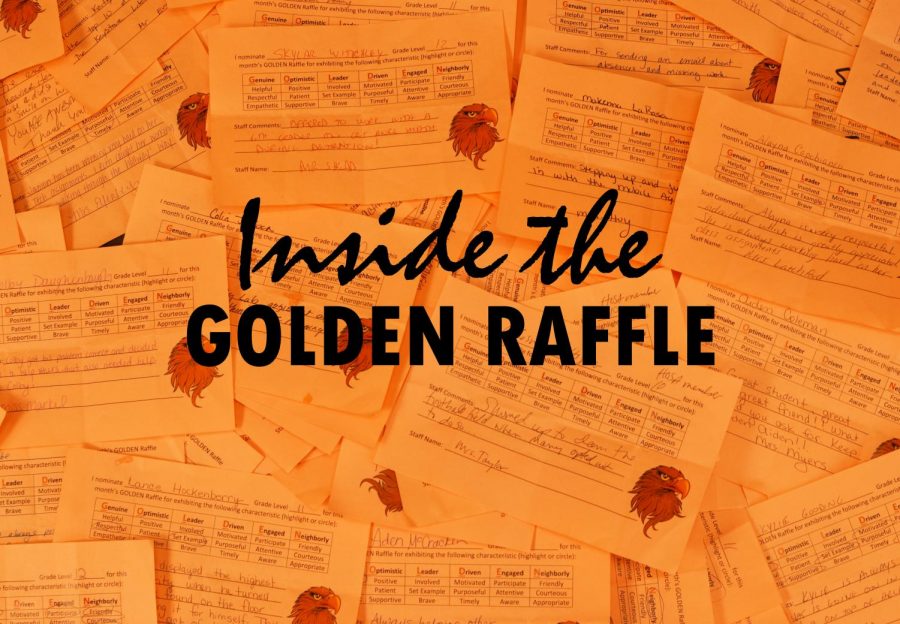 The Golden Raffle was one of the first school improvement initiatives implemented by the Golden Revolution school climate committee last year. Since the monthly prize drawing began in September 2017 it has awarded over $1200 in gift cards and prizes to students of Tyrone High School.
The raffle is held each month to reward students for being GOLDEN, an acronym created by the Golden Revolution student committee to encourage behavior that enhances the school climate. GOLDEN stands for Genuine, Optimistic, Leader, Driven, Engaged and/or Neighborly.
Students are nominated by teachers and staff for exemplifying one or more of the GOLDEN characteristics. The winners are randomly drawn from all the nominations live on Channel T. As the names are drawn, the forms are read so that the students know why the winners were nominated.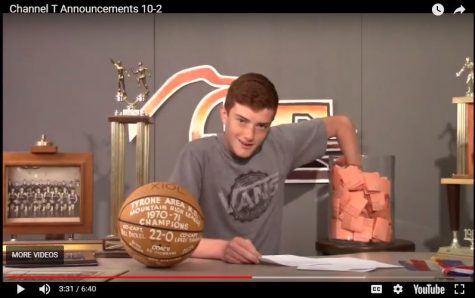 In October 2018 120 students were nominated for the raffle. The Eagle Eye was able to obtain and analyze all of the nominations made in October and found some interesting statistics.
The winners were seniors Haylee Blowers and Olivia Watson, and juniors Nic Light and Noelle Bickel.
Blowers was nominated by Mrs. Hoy for a class project and helping with the mobile ag lab.  She won a $25 Amazon gift card and used it to purchase a new phone case.
Watson, who was nominated by Mr. McNitt for her leadership in the Youth Action Network, received a $25 Barnes and Noble gift card.
"I was excited because who doesn't love free stuff," said Watson, "I really like [the raffle] I feel like it really promotes students to do good in the school."
Bickle was nominated by Mr. Everhart for "being 'driven' to score in the top ten of her class on the Keystone Literature Exam."
Junior Nic Light was nominated by several teachers including Miss Shick for finding money in the hall and making the effort to return it to its rightful owner.
Light received a $25 Burger King gift card. "I bought 12 Hershey's pies at once," said Light.
But what about the 116 other nominations left in the jar? What exactly does it take to "Be Golden" and earn a chance to win a prize in the Golden Raffle?
There were a total of 120 nominations in the month, which is an average of just under five and a half nominations per school day.
Each nomination in October had roughly a 1 in 30 chance of winning.
Fourteen students were nominated more than once, the most being three nominations for junior Nic Light.  The increased odds paid off for Light, as he was randomly chosen as one of the October winners.
The nominations were made by 31 different teachers and one support staff member.
Considering that there are approximately 100 employees in the high school, including teachers, support staff, custodians, cafeteria workers and others, about 30% of the teachers and staff at the high school made a nomination in October.
Ag teacher Tiffany Hoy submitted the most nominations of any staff member in October with 21. Most of her nominations were for students who helped with the Mobile Ag Lab. Next was health tech teacher Christie Taylor. She nominated 16 students, most of whom helped with the HOSA Blood Drive.
Other teachers with five or more nominations for the month were Mrs. Beigle, Mr. Cammarata, Mr. Everhart, and Mrs. Myers. Only one staff member (non-teacher) made a nomination in October; that was Tammy Harmon.
By grade level, the least nominated class in October were the freshman, with 22 nominations. Next were the sophomores with 27, then the seniors with 31. The most nominated grade level was the juniors with 40 nominations in October.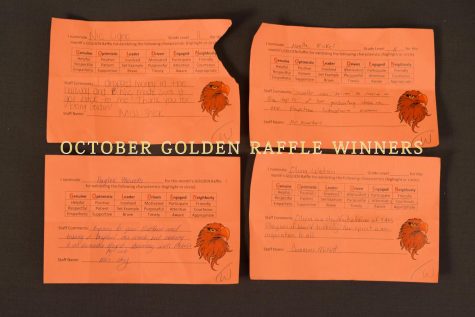 Girls outnumbered guys in nominations by a wide margin, with 71 females and 49 males, approximately a 60/40 split.
So what is most likely to get a student nominated for the Golden Raffle?
By far the most common reason that students were nominated was for helping others students.
The second most common reason was for outstanding academic effort.
The third most popular reason for getting a nomination was for helping a teacher or staff member.
Two of the more interesting nominations in October were for separate and unrelated incidents in which a student found money in the hall and instead of keeping it for themselves made the effort to find out who the money belonged to and returned it.
For the most part, the Golden Raffle has been seen by students as a positive addition to the high school and a way to reward students for doing something good.
"I think they need to do more positive rewards [like the Golden Raffle], instead of focusing so much on the bad," said October winner Nic Light.
Below is a complete list of everyone who was nominated (students nominated more than once are listed multiple times):
Albert, Trenton
Alley, Joni
Baran,Cate
Barr, Olivia
Bartel, Emma
Bauer, Makenna
Beck, Olivia
Bickel, Noelle
Blowers, Haylee
Borman, Marley
Brenneman, Luke
Breon, Whisper
Buck, Libby
Byers, Jeremy
Capobianco, Alayna
Coleman, Aiden
Conte, Nevaeh
Dalesio, Anthony
Daughenbough, Colby
Dell, Seth
Denny, Hanna
Denny, Hanna
Detwiler, Adam
Detwiler, Emily
Diebold, Karly
Diebold, Maddie
Dry, Karlie
Escala, Brandon
Ferguson, Andrew
Fink, Jazmin
Fink, Jazmin
Fleck, Lyndsey
Foy, Bri
Foy, Bri
Gailey, Elise
Gampe, Hannah
Gampe, Hannah
Gleason, Elaina
Gleason, Elaina
Gooding, Kylie
Goodman, Miranda
Grieco, Allie
Harpster, Cody
Hite, Luke
Hite, Luke
Hockenberry, Lance
Hoover, Sarah
Hoy, Garin
Johnston, Logan
Jones, Ally
Keller, Casandra
Keller, Lasandra
Kensinger, Dale
Kephart, Paige
Kohler, Laura
Labor, Taylor
LaRosa, Jayde
LaRosa, Makenna
Leech, Cheyenne
Lehman, Cory
Lehner, Jack
Lewis, Jack
Light, Nic
Light, Nic
Light, Nic
Locke, Stephon
Lucas, Brandon
Maceno, Callie
Mallon, Trinity
McCracken, Aden
McCracken, Aden
McMullen, Meghan
Miller, Allison
Miller, Haley
Moore, Hannah
Oaks, Ellie
Peterson, Grace
Phaler, James
Phillips, Devin
Plummer, Kaitlyn
Raabe, Kelton
Ray, Dominick
Reader, Arianna
Reader, Arianna
Rhodes Ryan
Rice, Ebonee
Ronan, Reilly
Saltsgiver, Chesney
Shaw, Shannon
Shock, Sara
Shultz, Paige
Shultz, Paige
Shultz, Rodney
Sprankle, Brandon
Steele, Chad
Taylor, Malia
Thomas, Lucas
Updike, Kaylee
Updike, Noah
Vail, Kaden
Walk, Hunter
Walk, Nathan
Warner, Mckayla
Watson, Olivia
Watson, Olivia
Weaver, Lexus
Webster, Paige
Webster, Paige
Wilkens, Chris
Wilkens, Chris
Williams, Guy
Williams, Jillian
Wills, Alivia
Witchley, Skylar
Woomer, Sam
Yaudes, Colin
Yaudes, McKenna
Yazzie, Travis
Yazzie, Travis
About the Contributor
Haydn Loudenslager, Staff Writer
Hello my name is Haydn. I am a junior who wears five watches for no reason at all. I spend most of my time at home playing video games, listening to music...