Hoagie Wars: East End vs. Macs Market
Two of Eagle Eye's top men set out on a quest to find out which Tyrone hoagie is better.
Every great American town has its own take on the classic sandwich.  Philadelphia has the cheesesteak, towns along the coast of Maine have their lobster roll, New Orleans has the po'boy, Primantis in Pittsburgh adds slaw and fries to the classic deli sandwich…and the list goes on.
In Tyrone, it's the hoagie that reigns supreme.  Not just any old Subway-style hoagie, but a Tyrone hoagie, with three types of meat and provolone cheese on a soft seeded roll, piled high with raw onions and spices.
But who has the biggest and baddest hoagie in town? 
Mac's Market or East End?
The Eagle Eye recently set out on a quest to put an end to this great debate.
First, we took the question to our social media audience.  As it turns out, the people of Tyrone's Twittersphere are fairly evenly divided on this question. Our Eagle Eye Twitter poll brought in 132 votes. Mac's had the edge with 55%, or 73 votes. East End had 45%, or 59 votes.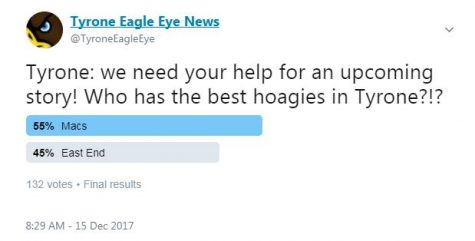 So in our unscientific poll, Macs was the winner by a relatively modest 10%.
Since this didn't provide us with a definitive answer, we decided to take matters into our own hands. A quick trip down Columbia Avenue and we brought two of Tyrone's best hoagies back to the Eagle Eye taste-testing room (by the way, thanks to our adviser Mr. Cammarata for purchasing the hoagies).  There we did a scientific study to come up with the final answer to the great Tyrone hoagie debate.
PRICE
Being the working class town that it is, both classic Tyrone hoagies are affordable, but East End is the most affordable.  There you will pay just $3.98 for a famous hoagie.  It's also important to say that East End is a cash only establishment.
At Mac's Market, the classic hoagie is an even $5. However, the hoagie at Macs is several inches longer than East End. 
If the price is the number one motivating factor in your hoagie choice, we have to give a slight edge to East End.  But if size is what matters most, go for Macs.
WAIT TIME
At Mac's Market, our wait time was about six minutes.  At East End, we waited for roughly two minutes.  While both establishments were relatively prompt, Macs has a larger menu and is generally more crowded with people not only purchasing sandwiches and pizza but also meat and deli items.  So if you're just looking for the quick bite to eat, East End is usually the way to go.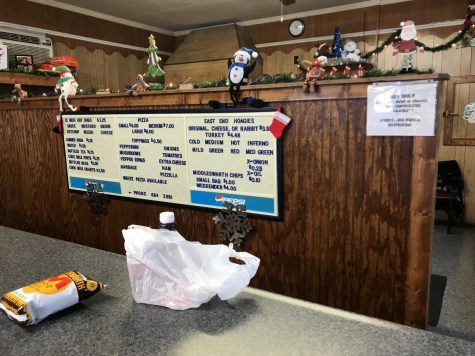 TASTE
Let be honest, this is what it's all about. For our review, we broke down each element of the hoagie and reviewed them separately:
BREAD 
The bread on the East End hoagie was somewhat stiff and cold, whereas the sandwich we ordered from Macs was a bit on the soggy side, perhaps due to a more generous amount of dressing.  Advantage: Neither.
MEAT
Salami, bologna, and ham were present in both sandwiches.  On the East End hoagie, there was more depth to the meat, possibly even more of it. Yet it seemed like the quality was lower with a slightly more rubbery texture.  At Macs, there appeared to be less meat whenever you looked at the sandwich from the cross-section. However, you could taste the meat more prominently and it tore apart easier than it's counterpart. Advantage: Macs.
CHEESE
East End and Macs Market both had provolone cheese, neither of which had a prominent taste. Honestly, both could probably do better on the cheese. Advantage: Neither.
ONIONS, LETTUCE, AND SPICES 
At East End the onions were cut much smaller than Macs with a prominent blend of spices on top. Unfortunately, the onions themselves were a bit strong.  The onions on Mac's hoagie were larger, sweeter and fresher, but the layer of spices on top didn't seem to have as much flavor as East End.  There was just the right amount of lettuce on a Macs hoagie and it defintiely added some additional crunch and flavor. Advantage: Macs.
TOMATOES
East End featured a good quantity of tomato that brought all the flavors together.  On the Macs hoagie, the tomatoes were not as good and you could barely tell that they were there.  Advantage: East End.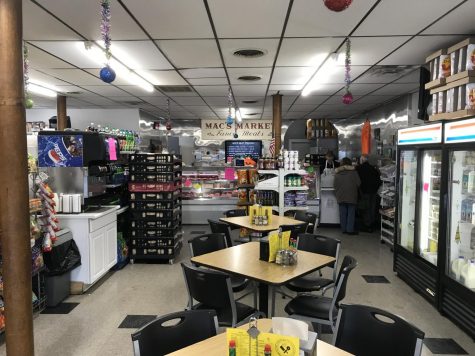 DRESSING
An excessive amount of oil dripped off the back of the East End sandwich.  There was a little less oil on the Macs hoagie but much of the dressing seemed to have soaked into the bread resulting in it being a bit soggy. Advantage: Neither.
THE FINAL SCORE
It was surprisingly close.  For all the passion that Tyrone has for their favorite hoagies, these two sandwiches were very similar in taste and quality.  East End exceeded our expectations, but in our personal opinion, it was not quite up to par with their rivals over at Mac's Market.
Final score:
East End  – 6/10
Macs Market – 7.5/10
Mac's Market is our winner!  Feel free to agree or disagree and give us your opinions in the comments.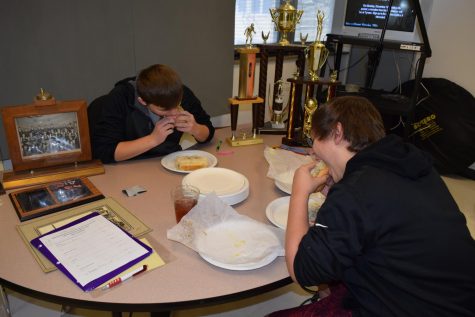 View Comments (28)
About the Contributors
Kolby Cowher, Staff Writer
Hello, I am Kolby Cowher, but you can call me Mr. Cowher. I'm just a simple man trying to make my way in the universe. I joined Eagle Eye to hone my skills...
Devon Henninger, staff writer and videographer
Hey bub, I am a senior (Big Cheese, I know) at Tyrone Area High School. Currently, I am a part of the Blair County Young Republican (unofficially) and...