DelGrosso's Amusement Park announces $12.5 million waterpark expansion for 2016
Tyrone students and park employees react with mix of excitement and nostalgia
Hang on for a minute...we're trying to find some more stories you might like.
DelGrosso's Amusement Park in Tipton will be making a big splash in 2016.
DelGrosso's Park officials announced a major water park expansion including a lazy river and wave pool.  According to Amy Mearkle, Delgrosso's marketing representative, this $12.5 million investment will be the largest expansion project in the parks 68 year history.
The expansion features a 14,000 square foot wave pool and 2.4 foot deep lazy river.  The entire project will be integrated into the current Tipton Waterworks and Rapids.  The area will also be re-themed in an Italian décor with a Leaning Tower of Pisa and Italian style tipping buckets and vases.
The expansion is estimated to add two or three full time positions and 100-130 additional seasonal jobs, on top of the 500 seasonal jobs that the park already employs.
The lazy river and wave pool will be located where the miniature golf course and go-kart track once stood.
While most students and seasonal park employees were excited by the announcement, some were nevertheless sad to learn that the go-kart track and miniature golf course have been removed to make way for the new project.
"I'm a little disappointed [to see the go-karts and mini golf go], but I think the lazy river is a great idea.  I definitely support it.  It will be a great expansion for DelGrosso's," said Tyrone senior and park employee Lena Walk.
"I'm really upset that we lost mini golf because it was my favorite place to work," said Tyrone senior Blake Brooks, "it was a really fun part of DelGrosso's. It was part of a tradition, but now its over."
According to Mearkle, the decision to remove the miniature golf and go-kart areas was based on declining usage in the last few years.
"One of the trends in the amusement park industry is waterparks and water features because it allows people to come to your park and spend longer amounts of time.  As the usage declined, [expanding the water park] was a business decision to bring more people, allow them to have more fun and stay longer at the park," stated Mearkle.
Fortunately the former employees of the mini golf and go-kart track will still have jobs at the park.  All employees of the go kart and mini golf course received a letter from DelGrosso's asking them to return for this season and relocate to another area.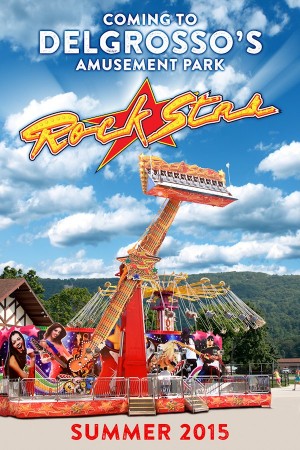 In addition to the 2016 waterpark expansion, this summer DelGrosso's will also add a new thrill ride to its lineup, "The Rockstar."
According to Mearkle, this ride was about a half-million investment. Rockstar gets it's name because it looks like the neck of a guitar. The ride will seat 22 riders and take them 55 feet in the air as the ride moves in a swinging motion.  After reaching the top, the ride does a complete circle.  The Rockstar will be located near the site of the former Space Odyssey ride.
While the waterpark construction will be an ongoing project throughout the summer and fall of this year, the park will be open as normal.  There will be a temporary ticket booth located closer to the water slides while the park is under construction.
According to Mearkle, season passes price will remain at their original cost of $79.95.
"We're making the park better so we hope that the community will enjoy it and come out, and be a part of it," said Mearkle.

About the Contributors
Courtney Kurtz, staff writer
Hey, my name is Courtney. I am 17 years young and a senior at Tyrone. This is my first year on Eagle Eye News. I am involved in student council, YAN, Renaissance...
Grace McKernan, Photo Editor
Hi! I'm Grace McKernan and I'm a senior this year at good old TAHS. I'm the photography editor for the Eagle Eye. Other activities I participate in include...