Christmas Cards for Maddox
The Christmas season is filled with Christmas carols, cookies, presents, and cards for your loved ones.
All fourteen year old Maddox Hyde wants for Christmas are Christmas cards from around the world.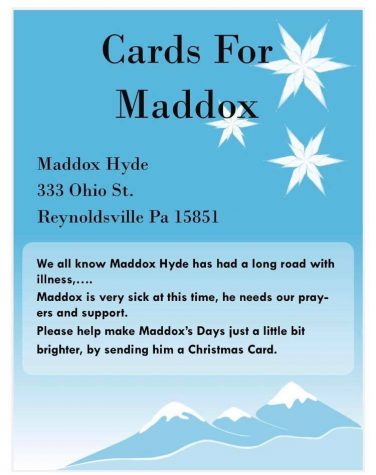 Maddox is an eighth grader from Reynoldsville, PA who attends DuBois Area Middle School. Hyde has battling neuroblastoma, a type of cancer, since he was six years old.  
To help grant his wish, the Eagle Eye is proposing that each high school homeroom decorates a Christmas card to send to Maddox.
The card making is optional, but if a homeroom would like to decorate and sign one for Maddox, cards will be delivered to homeroom teachers on December 11th.
The following should be written somewhere on the front of the card: Tyrone Area High School, the homeroom teacher's name, and the year.

The inside of the card can be designed however the students would like, and while students aren't required to sign or write a personal message, doing so is encouraged.
The "Cards for Maddox" idea has been circulating around Instagram, Snapchat, VSCO, Twitter, and Facebook and has become a trending topic on these platforms. Help make Maddox's Christmas wish come true by designing your homerooms' card.
Maddox's mother, Kristi Potter, has also created a Facebook page called "Friends of Maddox" where all cards, updates, and even donations are posted on.
Finished cards will be collected Friday, December 14th during advisory. If there are any questions, please email senior Eagle Eye editor Olivia Watson at [email protected] (only TASD students can use this email address).  Questions from outside the district can be sent to Eagle Eye adviser Todd Cammarata at [email protected] 
If anyone outside of the school would also like to send Maddox a card, his address is:
Maddox Hyde
333 Ohio Street
Reynoldsville, PA 15851
View Comments (1)
About the Contributor
Olivia Watson, News Editor
Hi! My name is Olivia Watson, and I am a senior. I have spent my whole life at Tyrone and have always been a proud Golden Eagle. While I have been at this...