'Be Golden' Staff Award Winner: Mr. Edward Vancas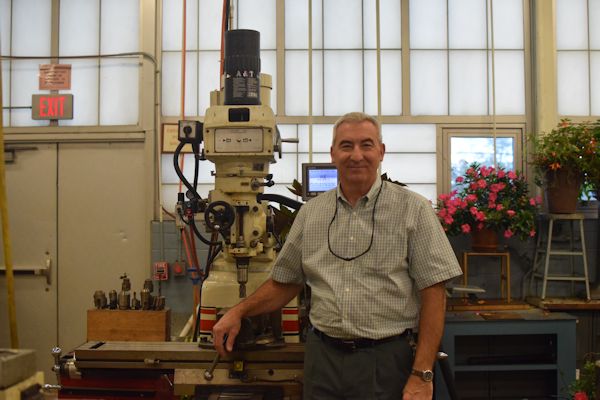 'The "Be Golden" award is a new faculty and staff recognition program at the high school.
This award is given weekly by a faculty/staff member to another faculty/staff member. Whoever receives the trophy on Friday is responsible for awarding it to someone else the following week. The only criteria are to give it to someone who has done something to make the school a better place.
"With the Positive Behavior Interventions and Supports (PBIS) initiative in our school, we want to not only recognize students for being golden but staff members as well," said Shannon Davis, the award program coordinator. "This is a way to personally thank people we work with every day, but don't always have the chance to show them how much they are appreciated."    
Last week the award went to Mrs. Christie Taylor.
She chose to give the award to Mr. Edward Vancas.
Mrs. Taylor's Quote:
"Mr. Vancas is our own residential expert in all things welding, safety, poodles, and polka!  This nomination is a small gesture to recognize all the great things he does for people, besides influencing young minds…  He is willing to help if you need a repair or two.  He's not afraid to get his hands dirty but still somehow ends the job looking neat and unwrinkled.  Mr. Vancas knows his sewers!  He is always up for a laugh or encouraging word with brutal honesty.  Mr. V is equally great with plants as he is with people…  Many consider him the unofficial Tyrone Area High School historian.  For all of these reasons and MANY more, we need to celebrate all things MR. VANCAS!  Just keep the mashed potatoes and sweatpants away… Thank you, Mr. Vancas for all you do!  🙂  ALL HAIL THE VANCAS!!!!!!  🙂 "
The Eagle Eye interviewed Mr. Edward Vancas about being this week's award winner:
Eagle Eye: What encouraged you to become a teacher?
Edward Vancas: "Teaching hands-on skills to students so they become successful members of their community. I always enjoy seeing students that have graduated and have good paying jobs related to the metalworking field."
EE: What do you enjoy most about being a teacher?
EV: "Communicating with staff members and students. Watching students learn a skill that they will be able to use the rest of their life."
EE: Is this your dream job? If not, what is?
EV: "This better be my dream job or I have made a 39-year blunder. being a shop teacher is my dream job, I wanted to become a shop teacher since I was a freshman in high school."
View Comments (3)
About the Contributors
Ava McCracken, Staff Writer
Hi! My name is Ava McCracken. I am a senior this year and this is my third year in Eagle Eye. I'm number two on the tennis team, so I plan on writing...
Lucia Isenberg, Photo Editor
This is Lucia's fourth year in Eagle Eye and her third year as Photo Editor. She is very excited to express her creativity and find new ways to take...