Baran Hits Milestone in Lady Eagles Last Game of the Season
Senior Anna Baran hit a milestone of 100 strikeouts in a single season in her final game of her senior season against the Bellefonte Lady Raiders.
"Anna pitched great.  She struck out 11 and recorded 101 strikeouts on the season.  I am very proud of her," said head coach Peter Baran.
"
It was amazing to achieve this milestone. This was one of my goals at the beginning of the season
— Senior Anna Baran
"It was amazing to achieve this milestone," said Baran.  "This was one of my goals at the beginning of the season, and I never thought I would hit it against Bellefonte, considering I was 10 away at the beginning of the game, and Bellefonte is a very strong team at the plate."
Going into the game, Baran was ten strikeouts away from 100 and was not expecting to hit the milestone against a good hitting team like Bellefonte.  However, when she recorded six Ks by the end of the third inning, she began to think maybe her goal was within reach.
However, Baran got stuck at 99 going into the final inning of her career. "If I would have ended at 99, I would have been disappointed," said Baran.  "I just knew I had to stay within myself and not let my emotions get ahead of me."
Baran was able to strike out the first two batters of the inning for her 100th and 101st strikeout of her senior season.
Although Baran struck out 11, Bellefonte junior Tara Baney was too much to handle, as she struck out the Lady Eagles 17 times, only allowing them to touch first twice, once on an error and again on a walk.
"It was a tough game.  We played pretty well defensively, but we couldn't hit," said Coach P. Baran.
"The outcome may have been different if some of our key players weren't missing from the game," said Baran.
The Lady Eagles finished a long and difficult season at 1-19, but hope for better things next year with a brand new group of freshman.
Tyrone will need to fill the spots left by Baran, MacKenzie Eaken, and Kalea Hammond, but head coach Peter Baran is sure they will.
"We have a strong 8th grade class coming up," said P. Baran.  "Cate Baran will look to pitch a lot, and I am interested to see where I can fit many of these talented 8th graders."
SCORE BY INNINGS
Bellefonte300 040 0 – 7 5 1
Tyrone000 000 0 – 0 1 6
3B-Wetzler.
Multiple hits-Vernier 2 (B).
RBI-Bernier (B).
WP-Baney. LP-Baran.
SO-Baney 17, Baran 11.
BB-Baney 1, Baran 2.
Records: Tyrone (1-19), Bellefonte (13-5).
Leave a Comment
About the Writer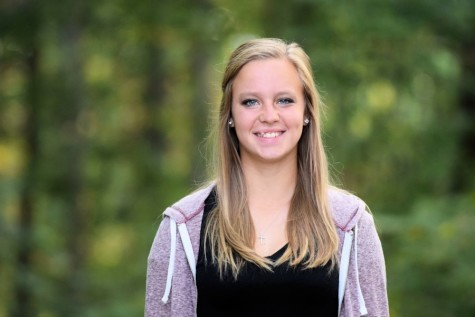 Anna Baran, Sports Editor
Hi! My name is Anna and I am in 12th grade. My favorite things to do are play softball and soccer. Sports are my passion. I enjoy playing all sports, whether...