Ask the Coach with Head Coach John Franco: Week 9
Every week of the football season, Eagle Eye writer and Junior football player Matt Clifton will interview Coach Franco.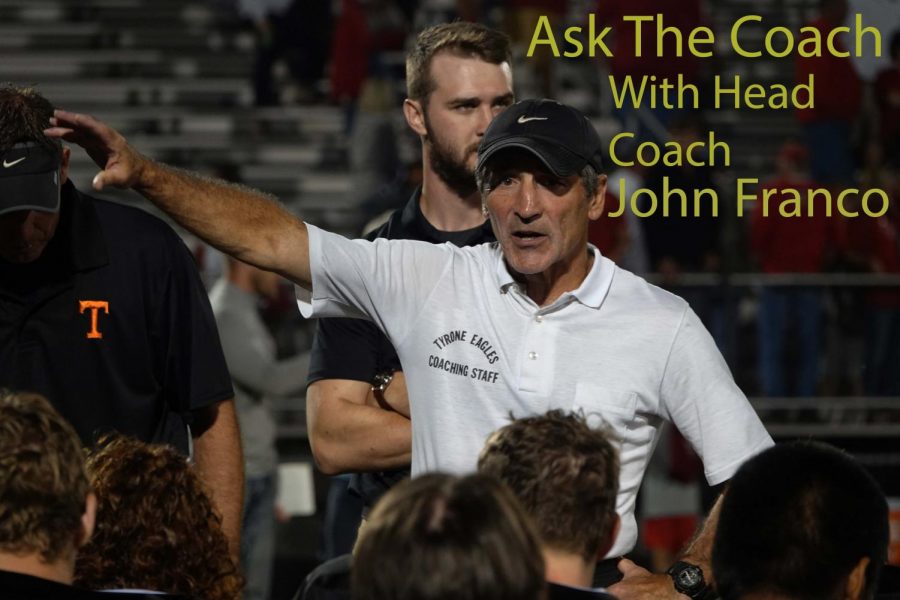 Eagle Eye: What are some things that went wrong against Hollidaysburg?
Coach Franco: "The thing that went wrong was the first play our linebacker hit the fullback right around his chest area and bounced off and he went about sixty five yards for a touchdown. That went wrong. Second thing that went wrong was they blocked our punt, and that was our first punt block this year. They made a great play, it's not like we did something wrong we have been a little slow getting the ball off but they made a great play. Then we threw an interception two plays later. So in the course of five plays we went from 14-13 to 28-13, and that's just a killer."
"
My main concern is our offensive line matching their defensive line because their defensive line is pretty strong."
— Coach Franco
EE: What are some keys to beating Penns Valley?
CF: "You have to contain the quarterback. This kid is probably the best thrower we've seen all year their receivers do a pretty good job. They throw a lot of short passes and a lot of bubble screens that break into long runs. Secondly, we have got to able to run the ball. This means our offensive line has to do the job they have to open some holes, our running backs have to run hard and they've gotta hit the holes. We have to make some plays. We got one guy making plays maybe two and we need more guys to make plays on both offense and defense and that's the key to winning the game."
EE: What do you think the defense has to do to shut down the Penns Valley offense?
CF: "They have to pressure the quarterback. it doesn't mean you have to sack him every time you have to break his rhythm. You have to get him moving around the pocket. It would be nice to sack him occasionally get some hits on him but you have to break his rhythm. You have to make him hitch again because he's not good if he has to look to that second or third receiver. He wants to catch it make him take his steps and throw. Second thing they do well is they run sweep and outside screens. That's why we've been working all week on outside run and pass plays. We 'll have to force them to run up the middle which they don't want to do. We have to defend the deep pass and they'll throw Post routes and Wheel routes until the cows come home and have to stop that."
EE: How do you think the lines match up against each other?
CF: "Not too bad. We're pretty similar, I think. They're size probably matches us. As in every game you play the key is always your offensive line versus their defensive line. Our offensive line has got to come through they have to outplay the Penns Valley defensive line. If that happens everybody benefits that keeps our offense going keeps our defense off the field and that is the key to any football game they're the most important group on the field and that will be true this week."
EE: How do the skill players match up?
CF: "I think our skill players match up pretty well. I think our quarterback can match up against their quarterback…if he's healthy. I think our receivers are equal if not better than their receivers. I think our running backs are pretty similar to their backs. They use a couple different backs as do we. My main concern is our offensive line matching their defensive line because their defensive line is pretty strong. It's not like they're all that big they're just strong and they're tough and our line needs to meet that."
EE: What is your favorite cake?
CF: "That's a good question….there's a couple of cakes I like. There is this one kind my daughter would get me in Pittsburgh. It's a kind of cinnamon cake I like. It's kinda like a coffee cake you can have with a cup of coffee."
About the Writer
Matt Clifton, Staff Writer
Hi, I'm Matt Clifton. As of now I am an 11th grader at Tyrone Area High School. This is my first year being a part of the Eagle Eye team. I'm going to...