Ask the Coach with Head Coach John Franco: Week 8
Every week of the football season, Eagle Eye writer and Junior football player Matt Clifton will interview Coach Franco.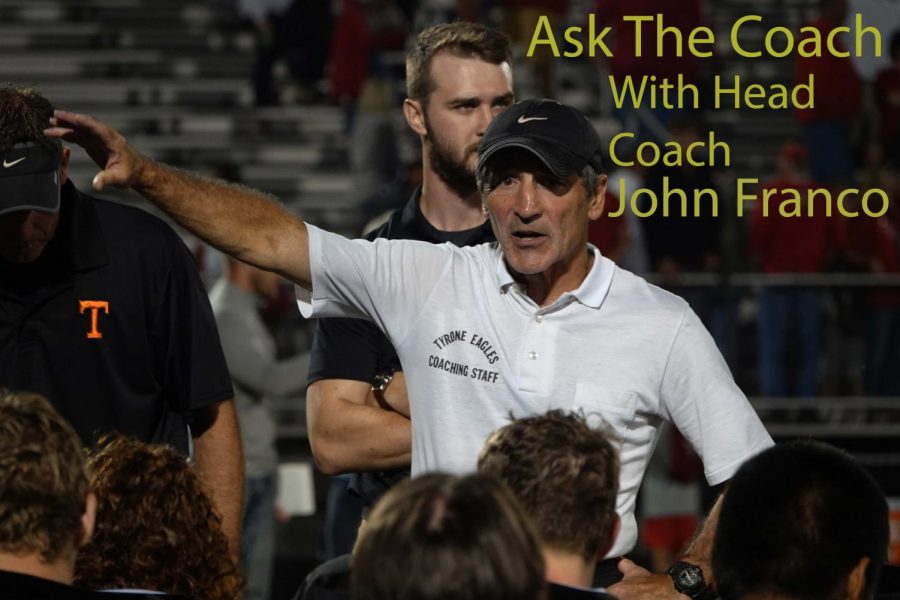 Eagle Eye: How do you think the team played against Clearfield?
Coach Franco: "I think we played really poorly in the first half but we played much better in the second half."
EE: Was there anything memorable in the game?
CF: "I thought that fourth quarter was by far the best football we played all year."
EE: What do you plan to do against Hollidaysburg and their size?
CF: "Hollidaysburg isn't that much bigger than teams we play. They just have more talent to choose from. They're pretty good. They have some decent lineman and some decent skill kids. They're a 5A school and they play some good competition, but at the same time, they're struggling like we are. We're just trying to get better every week. We have got to improve every part of our program every week and that's what we're trying to evaluate right now. We're trying to get every position better each week and that's what we're trying to do we're trying to get better and play our best game against Hollidaysburg that we've played all year."
"
We have got to improve every part of our program every week and that's what we're trying to evaluate right now."
— Coach Franco
EE: What are some keys to beating Hollidaysburg?
CF: "Our number one is we have to win the turnover ratio. Number two, we have to control the controllable penalties, these are penalties we call off side type penalties. Our final thing is we have to limit or even eliminate the explosive plays. If we can limit the explosive plays, win the turnover ratio and not make the offside type penalties, then we have a pretty good chance to win the game. Little things in the kicking game become important, snaps from our long snappers, catching the punts and kickoffs, also catching the snaps, making the blocks you're supposed to make during those phases of the game. All the little things we talk about on our chart are vital in a game like this. Again, I think they're really beatable and I think if we keep improving every week one of these games it's going to click and we're gong to play an awfully good game of football and we're going to pull out a really big win. It would be nice to start that this week."
EE: How do you think the team has been doing on "the little things"
CF: "That is where our problem has been. We're not doing a great job on the little things. We're not taking the correct steps for plays. That may be the biggest problem we've had and that is the hardest thing to do with the first year of a new program That is the main goal each day and each week – to do the little things correctly and the big things will take care of themselves."
EE: What is your favorite sport besides football?
CF: "That's easy my favorite sport is baseball… I love baseball."
About the Writer
Matt Clifton, Staff Writer
Hi, I'm Matt Clifton. As of now I am an 11th grader at Tyrone Area High School. This is my first year being a part of the Eagle Eye team. I'm going to...