Alumni Spotlight: James Oliver
Catching up with one of the best running backs in Tyrone football history
In two seasons as the Tyrone Golden Eagles starting tailback James Oliver put up some pretty impressive numbers. In 2012 and 2013 Oliver had 478 carries, over 4100 yards of total offense and 61 touchdowns. Oliver holds the sixth and ninth best all time single season rushing totals in Tyrone history. His total career rushing yards are fourth all time and he currently holds the school single game rushing record with 343 yards and single game touchdown record with six, both against Bald Eagle Area in 2012.
Oliver also won numerous awards for his performances on the field.  He was a 2012 second team Pennsylvania Football News All Star. He was featured on 247 Sports, was the WTAJ Player of the Week twice, Altoona Mirror Player of the Week twice, and on the Mountain League All-Conference Team and Altoona Mirror All Star Team two seasons in a row.
After high school, Oliver went to St. Francis University to continue his education and playing career. St. Francis ended up not being a great fit for Oliver, and he transferred to Division II Fairmont State in Fairmont, West Virginia, where this past season he finished with three touchdowns and the third most rushing yards on the team.
Also a great person off the field, Oliver is someone who could make you laugh and cheer at any point of the day. James' father also played football at the college and professional level, and taught him to be respectful to others and the game he loves. He taught James to give his all to his coaches and team from peewee football to college.
We caught up James recently and asked him a few questions about his past, present and future.
Eagle Eye: How is college life different from high school?
James Oliver: College is just a blast but also full of life lessons. It's like living alone and everything has to be done by you.
EE: What is the biggest thing high school students need to learn before heading off to college?
JO: Studying. You need to learn to develop some good study habits.
EE: Do you miss high school?
JO: Yes, I miss the relationships I made with the teachers and through football.
EE: How is college life going for you?
JO: My life is going great. I am learning how to be a better student and earn good grades. I'm learning from my mistakes.
EE: What are you studying?
JO: I'm majoring in criminal justice.
EE: What are your biggest accomplishments so far and what will you strive for these next two years of college?
JO: My biggest accomplishment is doing good for being a collegiate athlete. I'm striving to get my degree and constantly make the Deans List.
EE: What was the adjustment like when you switched for Saint Francis to Fairmont State and why did you switch?
JO: It was an easy adjustment. Saint Francis just wasn't for me and I didn't feel comfortable there.
EE: We hear things like "James was one of the best there was at the running back position." Along with the great stories coaches say about your fantastic high school career, do you feel like you could be drafted to NFL?
JO: I feel like I would be drafted because of the connections I've made at Fairmont. Plus all I need to do is get better and that is something I know I can do.
EE: There was one major flaw that coaches talked about and that was your blocking. It wasn't as good as they had hoped. Do you agree and have you been working on that?
JO: They are right about that. I realized anybody can be a great at running the ball, but blocking is something you have to work to be great at. I'm learning how I can get better and how to choose what to do in certain situations. I have also been improving my strength and speed.
EE: If you could be drafted by one team, who would it be?
JO: I would pick the Texans. Not only are they my favorite team, but I feel like I would be a good fit in their offense.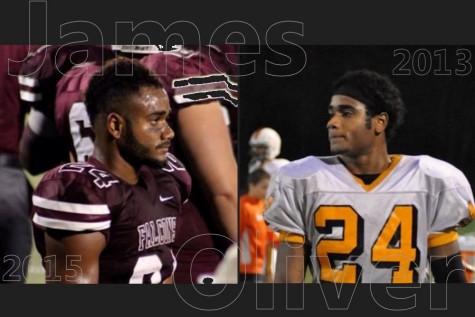 Leave a Comment
About the Contributor
Jamal Hicks, staff writer 10
Hello world! My name is Jamal William Hicks. I am 15 years old. This is my first year as a staff member of the Tyrone Eagle Eye News. I am happy to be...