Welcome Home: Tyrone Soldier Surprises Sister After 10 Month Deployment
Monday began normally for Tyrone first-grader Taryn Confer, but a big surprise at the end of the day had Taryn, her teachers, and nearly everyone waiting outside of the Tyrone Area Elementary School shedding tears of joy.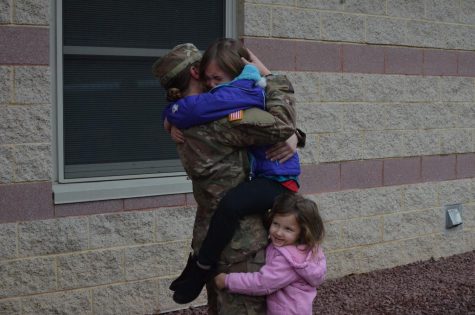 Taryn's big sister, 2015 TAHS grad Amber Chamberlin, has been deployed with H Troop 3/278th Armored Cavalry Regiment in Poland for the past 10 months.
Of course, Taryn really missed her big sister during her deployment, so when the sisters were reunited on Monday the scene was very emotional.
As the students in Taryn's class were wrapping up their lessons, Mrs. Myers had something special to show the class: a video of Tayrn's big sister Amber reading Taryn's favorite book.
This was a nice surprise for Taryn, who had been told that her sister wouldn't be home for another month, but nothing like having her big sister home again.
"I miss everything about her," said Taryn, "but mostly her cuddles."
But as the class packed up to go home, little did Taryn and her classmates know that her big sister would soon make a surprise appearance.
Shortly after the video, the class lined up for dismissal and waited for a couple of minutes to make sure everyone was in place. Then they all walked outside to find Amber standing just around the corner outside the main entrance.
Taryn was ecstatic and couldn't believe her sister was actually home.  Lots of hugs and tears followed.
"I was really glad to see my sissy home," said Taryn, "she tricked me by saying she won't be home for another month and I was really sad when she told me that."
"
I miss everything about her, but mostly her cuddles"
— Tayrn Confer
The tiny lie of Amber not returning for a month was quickly forgotten in the happiness that Taryn experienced. Everyone around her was crying tears of joy, as well as her.
"I was oddly nervous for the surprise, and once it happened I was overcome with a lot of emotions," said Chamberlin. "It was a very good moment. I was expecting more screaming, but her reaction was pretty much what I expected. Although when she started crying, that most definitely tugged on my heartstrings."
Chamberlin has served in the Army National Guard since she graduated from Tyrone in 2015. She joined after seeing her stepfather serve, realizing a childhood dream of continuing her family tradition of service.
Chamberlin described basic training as mentally and physically challenging, but the sense of accomplishment she felt made her realize the struggles were worth it.
So far she has had a very positive experience as a member of the National Gaurd. She has made friendships that will last a lifetime.
"I met strangers who would literally take a bullet for me and then they ended up becoming my best friends," says Chamberlin.
Amber hopes to be promoted to a sergeant this year, get the opportunity to go on future deployments, and eventually serve for twenty years.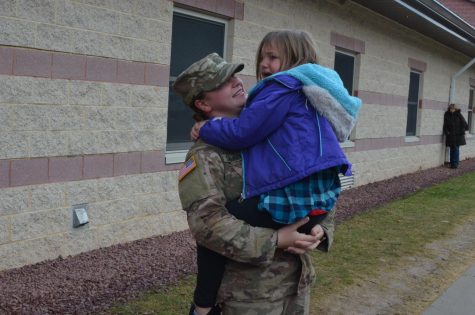 View Comments (1)